So Virat Kohli has chased down yet another target in T20I cricket. It's safe to say that whatever a batting side puts up first, there's a chance he will chase it down. His ability to pace an innings and accelerate just when it matters most is unparalleled in world cricket at the moment and the Aussies are the latest bunch to learn that.
Kohli scored 82 from 51 balls on Sunday night to help power India past the finish line and take the hosts to the World T20 semifinals. Victory tasted sweeter as it resulted in Australia getting dumped from the tournament.
Here are five amazing stats which prove – as if we didn't know – that Kohli is the best chaser… ever.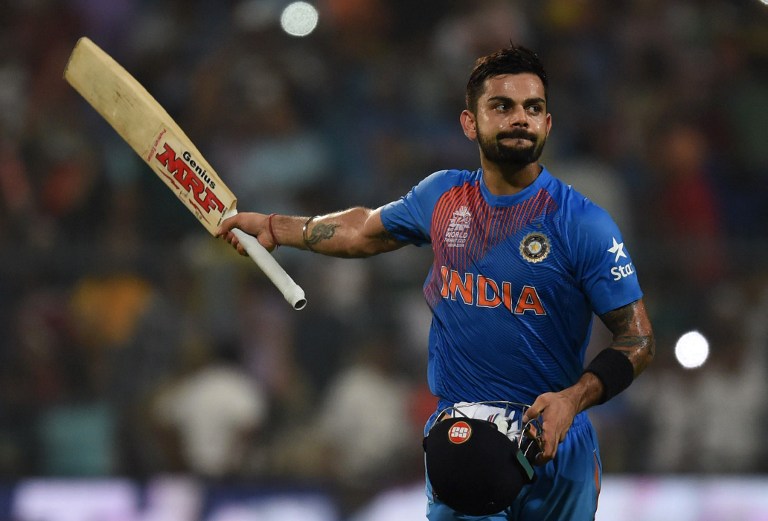 Staggering average
Kohli has an average of 122.83 in T20I run chases (17 attempts). The strike rate is 131. That's whopping. You simply can't stop someone with an average of over a 100 runs — and he doesn't even have a century in this format.
Ability to win games
India have batted second in 22 T20Is. They have won 17 of these games. Of these 17, Kohli was not out nine times. He did not bat on only three occasions. Moral of the story: if you can't get Kohli out, you lose. More or less.
The sheer number of runs
The total number of runs he has scored when India batted second – 918. And when India win while chasing – 737. That means more than 80% of his runs have come in successful chases. Brendon McCullum has scored 1006 runs while chasing. But here's the difference – McCullum's runs came in 38 innings. Kohli's? In 19. No competition man.
Fifties
In the 22 times that India have attempted to chase a target in T20Is, Kohli has scored 10 fifties. Eight of these have come in winning causes. No wonder India takes him for granted. A Kohli fifty = a win.
Australia and Pakistan's arch-enemy
His record against Australia in five T20I chases is: 214 runs in 154 balls at an average of 53.50. This includes two fifties, 16 fours and five sixes. The strike-rate: 138.96.
His record against Pakistan while chasing is: four matches, 218 runs in 158 balls at an average of 218 and a strike-rate of 120.44. He's hit 26 fours and four sixes and got to fifty twice. India won all these four games.
Feature image source: AFP