A lot of batsmen around the world will breathe easy now that Mitchell Johnson won't be charging in with blood on his mind. There are few bowlers in the modern who inspired fear in the way the Australian paceman did and his contests with batsmen around the world gave the game an edge of the seat quality that enriched the sport.
While watching Johnson bowl, Kevin Pietersen once tweeted: "There is a HUGE difference when facing someone at 140kmh compared to 150kmh … When you are facing someone as quick as Mitchell, your instinct occasionally makes you do things you shouldn't. PACE causes indecision."
And to make matters worse, Johnson could run through sides. Once he got on a roll and in a rhythm, it would take him little time to wreck an opposition.
Of course, there were lows too and at times, his legacy seemed to be quite uncertain. But he fought through it all and will probably go down as a legend of Australian cricket.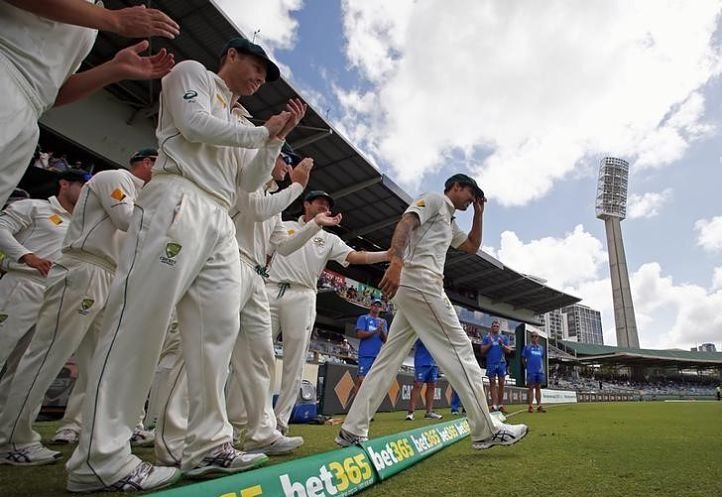 Here's a look at five of his best spells in Test cricket:
8-61 – 1st inns vs South Africa at WACA Ground, Perth, in Dec 2008
He made his Test debut only in 2007 — though Dennis Lillee who spotted him first as a 17-year-old thought this was pretty late given his talent. By 2008, he was playing in just his 16th Test, and arrived in Perth to take on the mighty South Africans. By the end of day two, the left-armer took 5-2 from 21 deliveries. The formidable middle-order trio of AB de Villiers, Jacques Kallis and JP Duminy all fell to catches behind off the bowling of Johnson. He had come of age but this still wasn't the Johnson who inspired fear. This was Johnson going by the textbook and showing off his innate talent.
5-69 – 2nd innings vs England at Headingley, Leeds, in August 2009
This was Johnson showing off his human side. His radar went awry, the English crowds sledged him at every opportunity and it rattled him. He began the fourth Test looking uncertain, but then took 3-1 from 14 deliveries at the end of day two to cement Australia's dominance in the match. It sometimes only took him a spell to change things around — and this was a prime example of that.
6-73 – 2nd innings vs New Zealand at Hamilton in March 2010
Johnson's six-wicket haul in the second innings sealed his second career ten-wicket haul as Australia rolled to a 2-0 series sweep of the Black Caps. This was Johnson slowly working his way back to his best — he didn't run through them in a jiffy, he did it through sheer hard work. And sometimes that is the only way to get back to your absolute best. You can't always depend on that one good spell.
6-38 – 1st innings vs England at WACA Ground, Perth, in December 2010
This was why you could never count Johnson out, and also showed why he would always be feared at Perth. The series had been a bit of a disaster — at Gabba he conceded 170 runs in 42 wicketless overs and was dropped for the next Test with instructions to sort out technical issues in his bowling. Then, Perth came along. The first innings seemed to a continuation of the old — he finished with 0-78 in the first innings. In the second innings, something clicked as he took 4-7 off 27 deliveries and helped Australia roar back into contention and win the series.
7-40 – 1st innings vs England at Adelaide Oval, Adelaide, in December 2013.
He was coming back into the team after a year on the outside — mainly due to injuries. His Test form had not been very impressive, but his pace and intent in the ODIs had been impressive enough for the selectors to take a 'risk.' In his comeback Test, on a helpful pitch he claimed nine wickets. However, his critics wondered aloud whether he could do the same in the batting paradise that is Adelaide. Turns out, he could. From 4-117 the visitors were skittled for 172. Johnson ran through the middle-order and tail… taking 6-16 from 26 deliveries. This was Johnson at his scariest best.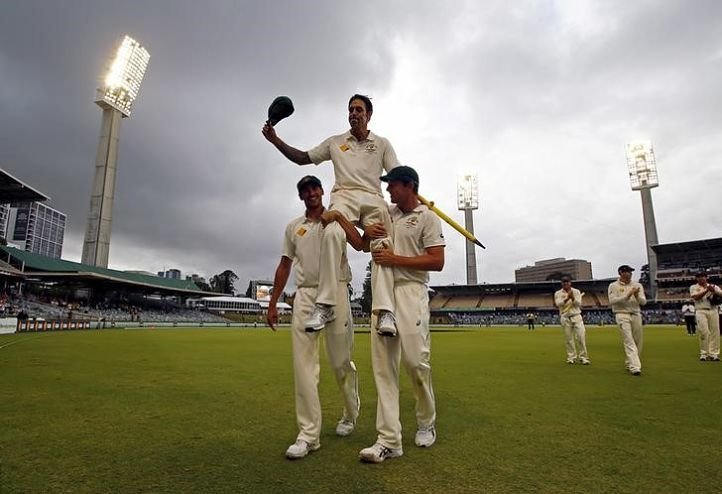 7-68 – 1st inns vs South Africa at Centurion Park, Centurion, in February 2014.
Winning in South Africa is always difficult. They have a solid batting line-up and some of the best fast bowlers in the world. But no one could match up to a charged up Johnson. The left-armer started out by bouncing out SA skipper Graeme Smith, in the first over. The other opener, Alviro Petersen, followed soon after. Johnson went after the others in the second innings: Hashim Amla was struck on the helmet from his first delivery, which reared sharply off a good length and Ryan McLaren was left bloodied and concussed. Mitchell finished with 12 wickets in the match.
As The Guardian reported : " Ray Robinson once spoke of the way Jeff Thomson could "turn a thigh pad into Vienna schnitzel," but right now Johnson is aiming higher, more likely to tenderise ribs and drive up sales for Albion C&D; ."