Tony Cozier, who became the voice of West Indies cricket over more than half a century writing and broadcasting on the game, died in his native Barbados on Tuesday, aged 75.
Known for his sharp wit, flowing voice with the Bajan accent, and immense knowledge of West Indian cricket, Cozier's death has left a big gaping hole in the world of cricket commentary and journalism.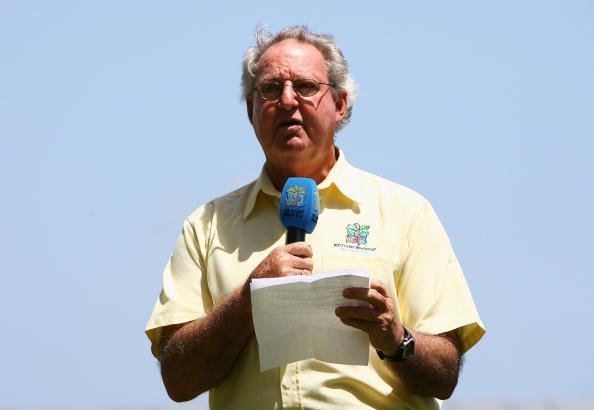 In a day and age where a half-decent international cricketer could become a commentator just because he has played the game at the highest level, it is men like Cozier who stood out. Having never played first-class cricket, Cozier's knowledge of the game and the articulation of it is unsurpassed. Much like India's Harsha Bhogle, Cozier was a demonstration of how an outsider looking in can enrich the viewing experience of a game we all so love.
As we bid farewell to Tony, it is worth wondering if we will ever have another like him in the commentary boxes. 
Like Virender Sehwag tweeted, Tony Cozier was champagne on air, and his voice will be missed. 
Here is a selection of tributes to the great man from across publications.
Mike Atherton, former England captain, writing for The Times:
The first time I met Tony I got a shock. I had listened to his honeyed descriptions — and they were descriptions rather than mere commentaries — during the glory years of West Indies cricket. Being naive and from the north of England, I had always assumed him to be black; I never imagined that a white man could speak how I knew black West Indians to speak. Such profound ignorance was thankfully shortlived.
He had that perfect combination of a cricketer's knowledge and an amateur's enthusiasm and love for the game, accompanied by a great voice. He was a good sportsman, who had played hockey for Barbados and good club cricket, but knew its place in the grand scheme of things. What do they know of cricket, who only cricket know? 
Michael Holding, talking to ESPNCricinfo, on how Tony Cozier will be remembered and what his legacy will be:
Someone who loved the game. Someone who worshipped West Indies cricket and someone who was not afraid to speak his mind whether he thought that people might not like it. 
As far as the Caribbean is concerned, he's right up there with Garry Sobers. I think people will call Garry Sobers the best cricketer ever, around the entire world.
I wouldn't say Tony Cozier is the greatest writer and commentator across the world because I've heard so much about people like John Arlott. But from what I know having played cricket and during my association with cricket, I've known no one here better in the Caribbean.
The West Indies Cricket Board said in a statement:
He represented West Indies wherever he went. He educated people around the world about our cricket, our people, our culture and who we are. His voice was strong and echoed around the cricket world. He enjoyed West Indies victories and shared the pain when we lost.
Tribute in The Guardian, by Mike Selvey, former English cricketer:
Since the 60s Tony Cozier had been the representation of Caribbean cricket almost as much as his great players through the ages, who he knew intimately, particularly those from his island. They played and he articulated their deeds across the airwaves as no other commentator would be able to do.
Dileep Premachandran, writing for Wisden India:
Cozier was the consummate allrounder. Like Garfield Sobers, his fellow Bajan, who could do it all on the cricket field, Cozier excelled across mediums. He was no poet, but in print, he could get to the bones of a debate with surgical precision. 
With microphone in hand, he – like Richie Benaud, who took his place in the Elysian fields' commentary box a year before him – provided perspective, placing players and performances in the context of what had gone before. Few wasted words, even fewer empty platitudes. 
It helped that he had, like Holding, who he mentored when he made the transition to media work, had the commentator's greatest gift. The voice, one that listeners never tired of hearing.
I am an unabashed fan. At a time when I needed someone to look up to, I found myself doing that with Tony. They called him the Voice of West Indian cricket and I thought that is the greatest tribute a broadcaster could get.
I dreamt that one day I might be as good. But nobody could. Tony Cozier was that good.