Jammu and Kashmir Chief Minister Mehbooba Mufti on Thursday claimed that the security forces were unaware of Hizbul Mujahideen commander Burhan Wani's presence at the scene of the July 8 encounter.
"How can one know everything about every encounter?" Mehbooba asked.
"As far as I know, what I heard from the police and the army, who said they only knew that there were three militants inside the house but did not know who they were," she said.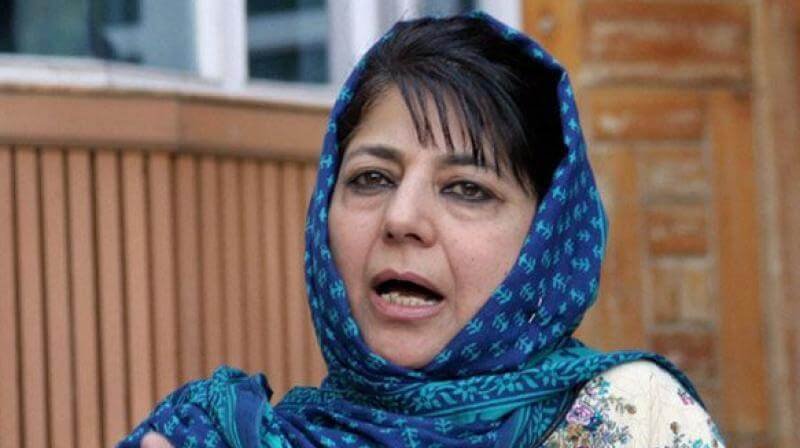 The chief minister told reporters that had the security forces known about Wani's presence inside the house in Kokernag area of South Kashmir's Anantnag district, it would have been possible to keep the situation from turning to what it is today.
"I feel if they knew, perhaps we would not have such a situation when the overall situation in the state was improving, so it could have been a chance," she said.
The police and intelligence agencies are saying that they did not know who was there, she said.
The chief minister said the government did not get enough time to make arrangements to contain the situation, unlike when Parliament attack convict Afzal Guru was hanged in 2013.
"When Afzal Guru was hanged, then chief minister Omar Abdullah knew, so he made all the arrangements before-hand. We knew nothing and we came to know suddenly. But, despite that, we tried to impose curfew so that children do not come out," she said.
Violence has rocked the Valley since July 8, when Wani was killed in an encounter, leaving 47 people dead. At least 5,500 people, including 3,000 security personnel, have also been injured.
Mehbooba said an atmosphere should be created in the state for peace dialogue and the government would do everything to provide relief to the people affected by the violence.
After Mufti's comment, this is what Twitter had to say:
Mehbooba Mufti says she didn't had nay Information abt Burhan Wani encounter, if thats True, then Congrats @HMOIndia

— Sanjay (@Sanjaypro) July 28, 2016
Now Mehbooba Mufti says Burhan Wani could have been spared! Why should BJP ally with this terrorist& separatist sympathiser? @rammadhavbjp

— Blofeld (@SIRBLOFELD) July 28, 2016
BJP-PDP chief minister Mehbooba Mufti says, "shouldn't have killed terrorist Burhan Wani"

Will Arnab Goswami dare to question Modi?— Raghuram Rajan (@ArunSFan) July 28, 2016
ISI agent Modi has made Mehbooba Mufti J&K CM, so she can "give a chance" to terrorists like Wani-to fight Pakistan's proxy war in Kashmir.

— PunjAAP (@Bak_lal) July 28, 2016