On Monday, a Twitter thread went viral and sparked a debate on whether private medical care facilities have increasingly become a source of extorting money from the gullible.
The case is of a 7-year-old baby, named Adya, who was admitted for 15 days in Fortis Gurugram, to receive treatment for Dengue. Despite spending 15 days in the ICU, the girl died, but the parents were handed a bill of nearly Rs 16 lakh.
How did the incident come to light?
A Twitter thread posted on November 17 by the child's father's friend made a lot of noise on social media. The Twitter user, going by the handle @DopeFloat claimed that the hospital had used 660 syringes, using an average of  40 syringes (approx.) a day.
One of my batchmate's 7 year old was in @fortis_hospital for ~15 days for Dengue. Billed 18 lakhs including for 2700 gloves. She passed away at the end of it. Corrupt assholes.

— D (@DopeFloat) November 17, 2017
What followed was more intrigue and outrage over the case. Therefore, in a series of tweets, the user described the sequence of events.
A student of Class 2, Adya, had developed high fever on August 27. Her family claimed to have rushed her to Rockland Hospital in Dwarka two days later. After her situation aggravated, she was shifted to Gurugram-based Fortis Hospital on August 31, The Times of India reported.
The treatment
The child was initially given intravenous fluids among other treatment to increase her platelet count. However, when Adya's condition did not improve, she was put on mechanical ventilation and was incubated.
The girl was on life support for 10 days and the family alleged that they were charged an exorbitant bill for the hospital stay. "They have charged for 1,600 gloves, 660 syringes, high-end antibiotics and sugar strips which I am not sure were even used," the family claimed.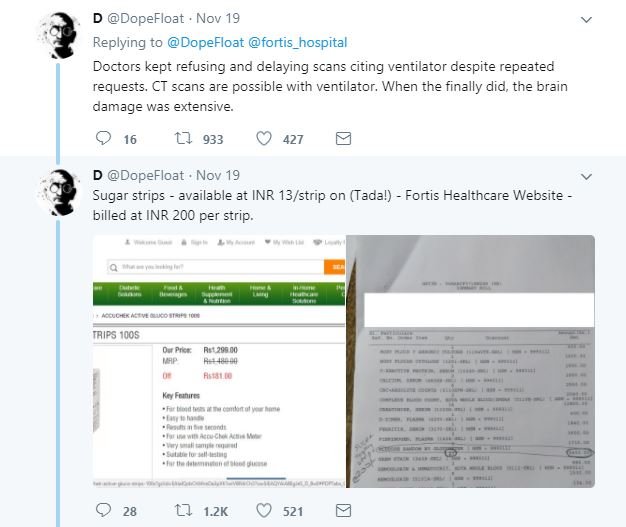 Fortis eventually decided to give up after tests revealed extensive damage in the brain. Soon after the girl's death, the hospital allegedly refused to even provide an ambulance to the family to transport the body.
Fortis refuses to admit wrongdoing
In a statement to the media, Fortis authorities said,
"We empathize with Baby Adya's family in this difficult hour of sorrow and grief. Seven year old Baby Adya was brought in to Fortis Memorial Research Institute (Gurgaon), from another private hospital on the morning of 31st August, 2017. She was admitted with Severe Dengue which progressed to Dengue shock syndrome and was managed on IV fluids and supportive treatment as there was a progressive fall in platelet count and hemoconcentration. As her condition deteriorated, she had to be put on ventilatory support within 48 hours."
The hospital claims to have kept the family updated of the situation and that they had decided to discharge the child against Fortis' medical advice. "The family was kept informed of the critical condition of the child and the poor prognosis in these situations. As a process, we counselled the family daily on the condition of the child. On 14th September, the family decided to take her away from the hospital against medical advice (LAMA – Leave Against Medical Advice) and she succumbed the same day," the statement said.
Clarification on the treatment followed
"All standard medical protocols were followed in treating the patient and all clinical guidelines were adhered to. An itemized bill spread over 20 pages was explained and handed over to the family at the time of their departure from the hospital. Patient was treated in the Paediatric ICU (PICU) for 15 days and was critical right from the time of admission requiring Intensive monitoring. Treatment during these 15 days included mechanical ventilation, high-frequency ventilation, continuous renal replacement therapy, intravenous antibiotics, inotropes, sedation and analgesia. Care of ventilated patients in ICU requires a high number of consumables as per globally accepted infection control protocols. All consumables are transparently reflected in records and charged as per actuals," the statement highlighted. 
However, the parents claim that hospital ensured that it was absolved of taking any responsibilities after Adya succumbed to her affliction. Adya's father has also created a Facebook page, calling for a boycott on both the hospitals – Rockland and Fortis.

Health Minister calls for action
After the post went viral, Union health minister Jagat Prakash Nadda tweeted on Monday, asking for details on the case. Nadda also claimed "necessary action" would be taken.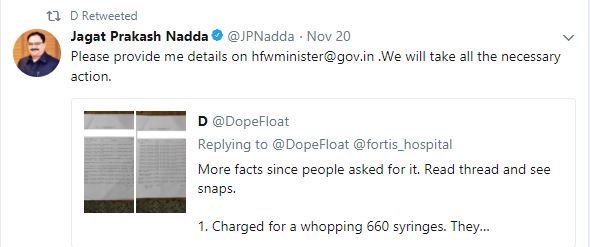 ..