French pole vault star Renaud Lavillenie's Olympic Games ended in tears on Tuesday after he was roundly booed once more by Brazilian fans as he received his silver medal.
Lavillenie — who hit out at the host nation's fans for their conduct during Monday's pole vault final — had tears streaming down his face on the podium after being jeered for a second night running.
Afterwards the distraught 2012 Olympic gold medallist was consoled by international athletics chief Sebastian Coe and International Olympic Committee president Thomas Bach, an AFP photographer saw.
@airlavillenie tes larmes sont le reflet de tes valeurs .Morales et sportives . Il y a un homme derrière l'immense champion. Tokyo t'attend.

— Cymes Michel (@michelcymes) August 17, 2016
It completed a miserable 24 hours for Lavillenie, who on Monday lost his Olympic crown to unknown Brazilian pole vaulter Thiago Braz in a dramatic final.
Lavillenie's final attempts in the competition however were marked by deafening booing and catcalls as he prepared to jump.
The world record-holder later angrily slammed the conduct of the home fans, comparing it to the treatment meted out to Jesse Owens in the Nazi-era 1936 Berlin Games.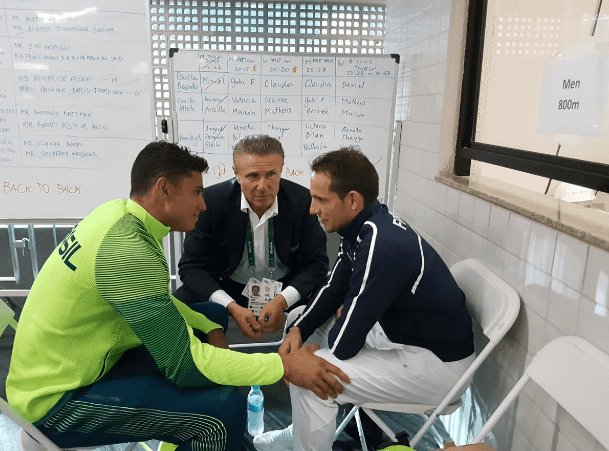 "In 1936 the crowd was against Jesse Owens. We've not seen this since. We have to deal with it," Lavillenie said, before apologising for the heat-of-the-moment comment.
"It really disturbed me, I felt the nastiness of the public and we do a sport where you never see that," Lavillenie fumed.
However, he later retracted the comparison. 
Rio 2016 organisers on Tuesday agreed that the Brazilian fans' treatment of Lavillenie had crossed a line.
"As citizens of Brazil and as sports fans we don't think booing is the right attitude, even when you are in a one-to-one competition and a young Brazilian has the chance to beat the world champion," Rio 2016 chief spokesman Mario Andrada said.
"We plan to intensify our dialogue with Brazilian fans through social networks to make sure that we behave as fans in a proper and elegant manner, without losing the passion for sport."
(Feature image source: Twitter)