Delhi has been struggling to breathe for quite some time, and now it has gone as far as opening up 'oxygen bars' to battle the toxic air. Yup, you read that right. Recently, Oxy Pure Oxygen Bar has 
opened up
 in the city that claims to sell fresh air. 
But, what exactly is an oxygen bar?
So, an oxygen bar is where customers are given nasal canula, using which they can intake fresh oxygen. The device is placed near the nostrils through which you can breathe aroma-infused oxygen. 
Although many studies claim that there are various health benefits of taking oxygen therapy like increased energy levels, improved concentration and reduced stress – all these only apply to people with chronic pulmonary obstructive disorder (COPD). 
A healthy person's 
normal blood oxygen
 is 96-99 per cent saturated with oxygen while breathing normal air. Researchers say that getting too much pure oxygen can be harmful or even fatal.
A 
2018 study
 found evidence that oxygen therapy may increase the risk of death when given liberally to people with acute illnesses.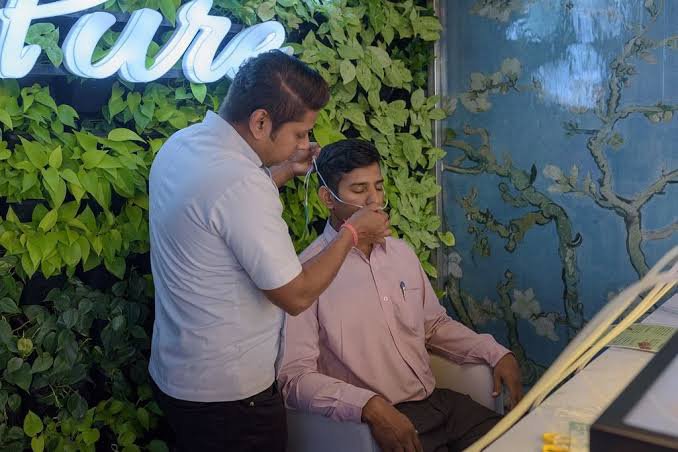 Reportedly, Oxy Pure provides fragrances like orange, cinnamon, peppermint, lavender, lemongrass and more for Rs 299 for a 15-minute session. But then again, 
studies
 show that people can experience headaches, dizziness, shortness of breath and nausea when exposed to aromatic oxygen for long. 
Dr Rajesh Chawla, a senior consultant in respiratory medicine, Indraprastha Apollo Hospital, Delhi, said: 
Even if you breathe in the so-called pure oxygen for two hours in a day, you will go back to breathing the polluted air for the rest of the 22 hours. The concept is purely a capitalistic move. 
While experts claim that these oxygen bars do no good, Manjul Mehta, a customer at Oxy Pure said, "I was passing by and saw that they were offering pure oxygen. I thought I'll give it a try and went for the lemongrass flavour. It was refreshing." Another customer named Aman Batra said that oxygen therapy makes his body feel light. 
So, what's your take on spending on something as basic as air? Let us know in the comments.