Delhi University's Ramjas College made national headlines on Wednesday after clashes between groups of students on and near the college campus. 
Piecing together accounts from students and teachers present at events over the past three days, here's what happened: 
The English department of Ramjas college along with the literary society of the college, Wordcraft, had organised a two-day seminar called 'Cultures of Protest' to be held on February 21-22.
Two Jawaharlal Nehru University students Umar Khalid and Shehla Rashid, who made headlines over their role in the 'anti-national' protests held in 2016, were invited to present papers at the event. However, even before Khalid entered the college or that particular panel could start, people shouting slogans like 'Bharat Mata Ki Jai' disrupted the conference on Tuesday. 
Within minutes, power supply to the conference hall was cut off, stones were hurled at windows, and students there say they ducked to protect themselves.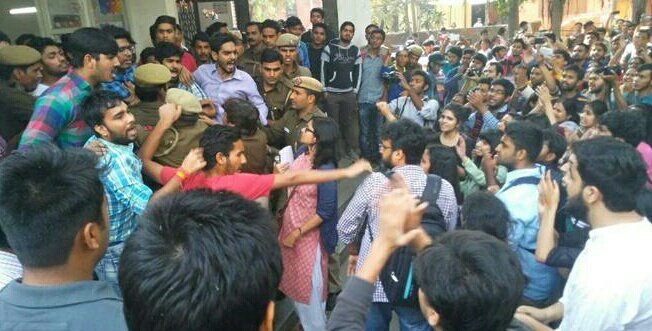 Khalid's invitation to the event, incidentally, had been cancelled on Tuesday morning itself. A group of Akhil Bhartiya Vidyarthi Parishad (ABVP) activists had reportedly approached the Principal of Ramjas college urging him to cancel Khalid's talk.
Here's a video of the protests after the seminar was disrupted: 
An organiser of the event claimed the police presence there didn't help. 
"A policeman said, 'We cannot guarantee your safety in a situation like this. Aapko Khalid ko bulaane se pehle sochna chahiye tha ye sab' (You should have thought about all this before inviting Khalid)," the organiser said on condition of anonymity. 
Police finally separated the protesters and the students of the college. Later on Tuesday, the English department called off the seminar completely. 
Why did clashes break out on Wednesday?
"Protesting against the vandalism and the interference of a few ABVP members, members of All India Students Association (AISA) along with other teacher unions had organised a silent protest march from Ramjas college to Maurice Nagar police station on Wednesday from 1 pm onwards,"  a professor from the English department told ScoopWhoop News on condition of anonymity. 
"We had come to attend the protest march. However, being an ex-student, I did not have a valid ID card and was not permitted in the college. But 5-7 ABVP guys without showing any card, made their way into the college and the police did not even stop them," Khyati, an eye-witness, claimed.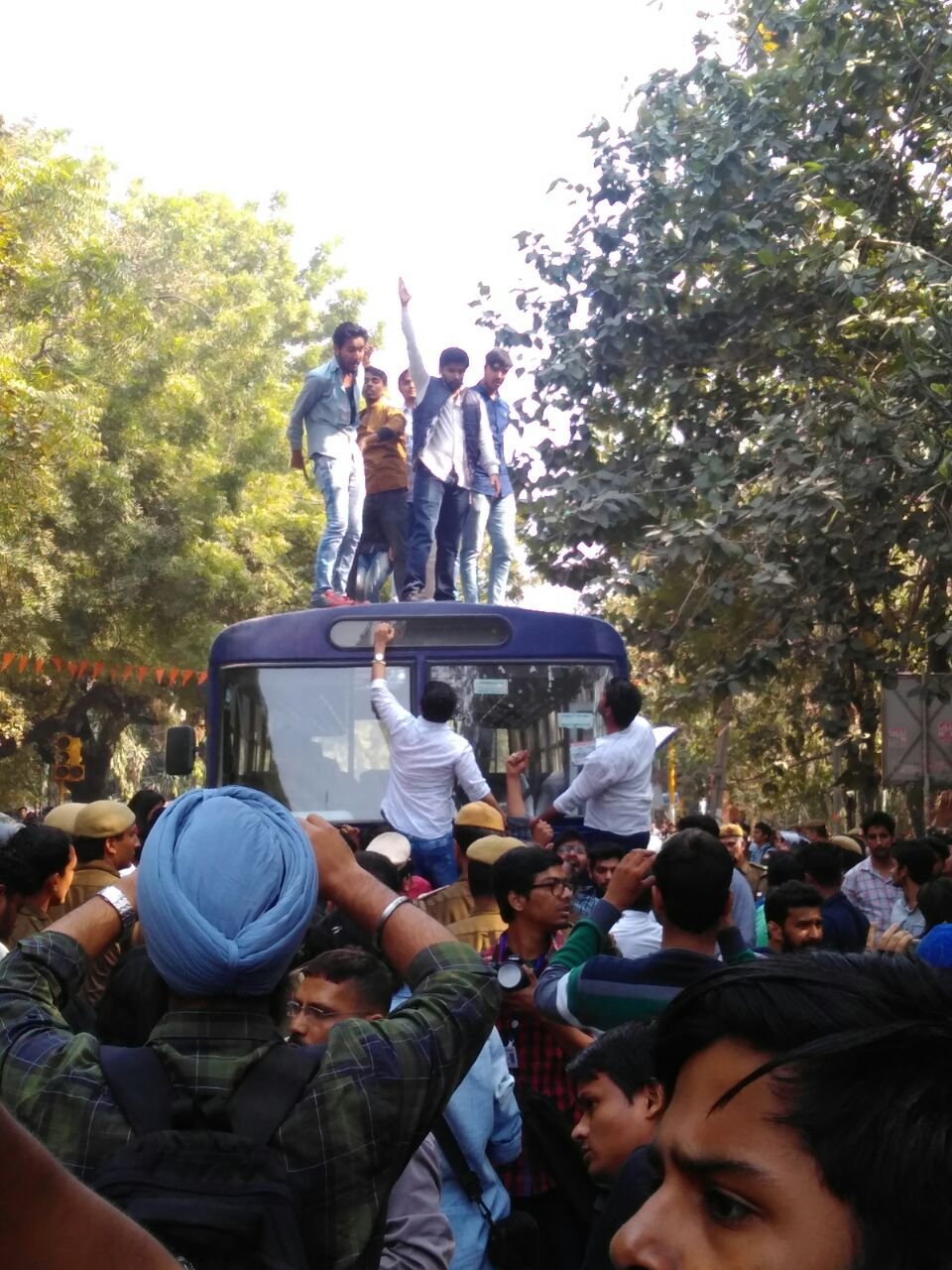 Once this group of hooligans entered Ramjas, everybody was witness to what happened there, she said. 
Then began the protests 
Students of the college said that students, including women, were assaulted and the college gates were locked from the outside to prevent anybody from leaving the campus. 
A chair was hurled at one of the professors while some protesters allegedly tried to strangle another professor with the muffler he was wearing.
A Delhi University  professor present there said, on condition of anonymity, that death threats were being made to students and teachers in the presence of the police.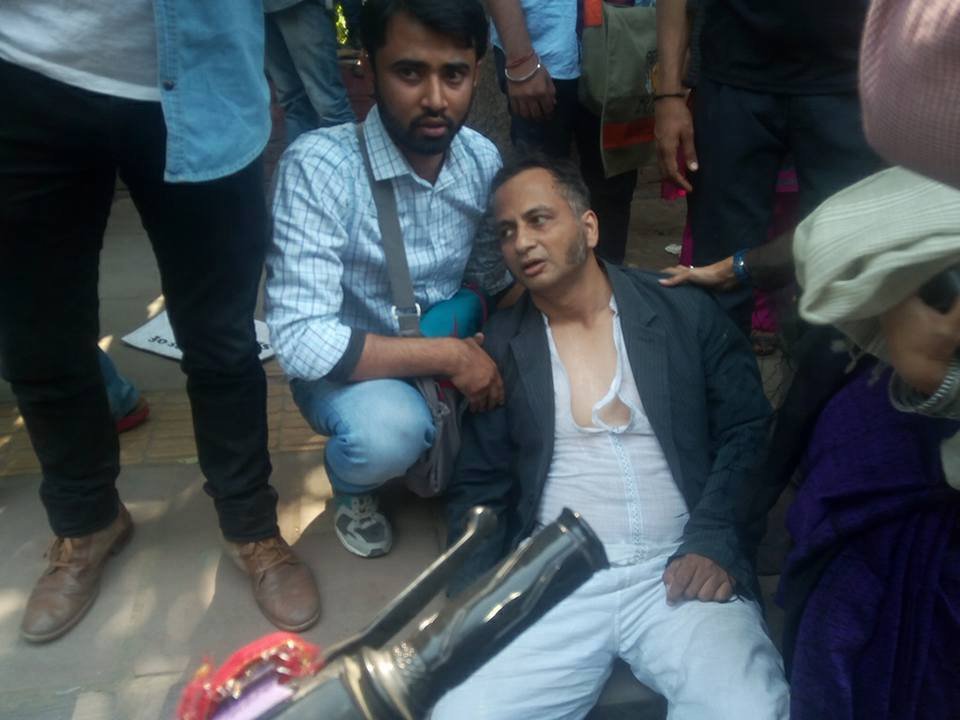 A professor, on condition of anonymity, said protesters were threatening them throughout. 
"A protester said 'Kal se college mat aa jaana. Shakal bigaad denge dikh gaye toh. (Do not come to college tomorrow onwards otherwise we'll beat you severely) Ab kahii aur naukri dhundh lo, yahan to nahi aane denge hum' (To the teachers, look for a job somewhere else, we aren't going to let you continue here)," the teacher said. 
Multiple students of Ramjas College claim that those present in the college premises were made to sit in one corner while ABVP activists encircled them and police "chatted with them".
Why the teachers are upset
"Not at any point was there an attempt to establish a peaceful conversation about the whole scenario. Their physical prowess and verbal obscenities scared our students who had organised an academic conference to talk on issues," a professor of the Ramjas college said on condition of anonymity.
"The police tried to prevent the violence but did not take action against those who were doing it. They believed that Ramjas English department was equally responsible for the violence, while the ABVP activists continued to thrash any student they could pick on," another professor from the college's English department said.
"Our students got scared. The generation that witnessed 'Make In India,' is now 'scared in India.' The entire episode is going to haunt Ramjas for a while now," said Debraj Mukherjee, English department professor. 
"Khalid and Shehla's talk was cancelled, the seminar was called off. Then what was the motive to stage such violent protests?" a professor of the English department said.
ABVP claims they're innocent 
While videos of the entire incident were going viral, a representative of the ABVP, Abhishek Verma, appeared on NDTV show Left, Right and Centre on Wednesday maintained that there was "no violence used" in Ramjas.
In another video, former ABVP DUSU President Satender Awana Gurjar explains why they protested against the 'anti-national' culture being promoted in Ramjas. 
Mahamedha Nagar, another ABVP member allegedly involved in violence, posted on Facebook saying that ABVP activists were also 'severely beaten and abused.'
What students say happened after the protests
On Wednesday evening, students claimed that when they demanded FIRs they were pushed and shoved in two police buses and were taken away from the campus. 
Many students claim they were dropped near the Hauz Khas metro station, but received calls from their friends telling them that many ABVP activists were going to the hostels and homes of those who lived alone on campus.
Students said that threats on WhatsApp and rumours resulted in many of them not returning to their accommodations. Many of them are still staying at friends' homes saying that they fear violence.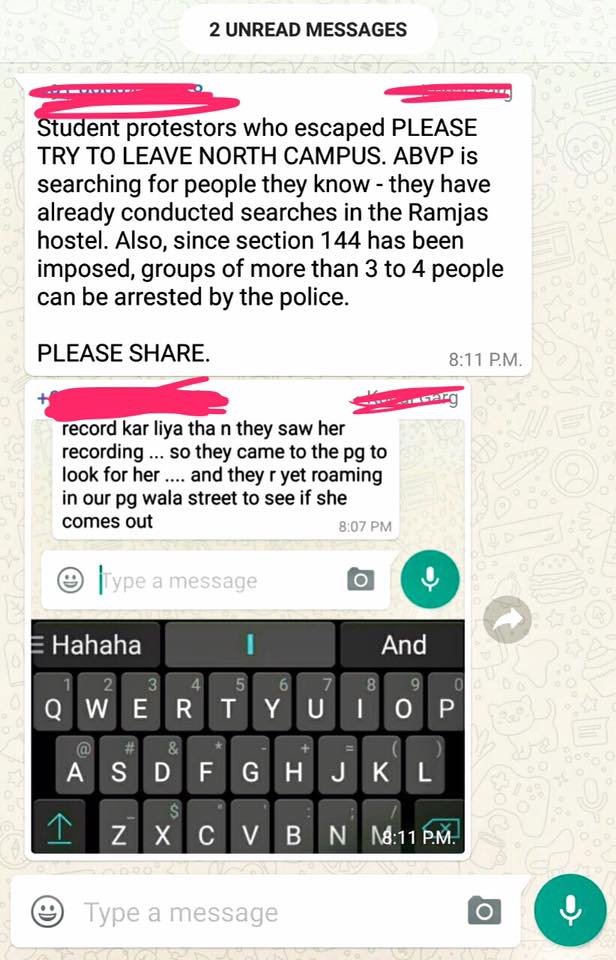 (Some names have been changed to protect the persons' identity)