On Tuesday, while addressing students at an event titled 'India at 70: Reflections on the Path Forward' at University of California, Berkeley, Congress vice-president Rahul Gandhi indicated that he is ready to take charge of the party as PM candidate for 2019 elections.
He also said that a "certain arrogance" had crept into the Congress in 2012 and there was dearth of communication within the party, reported NDTV.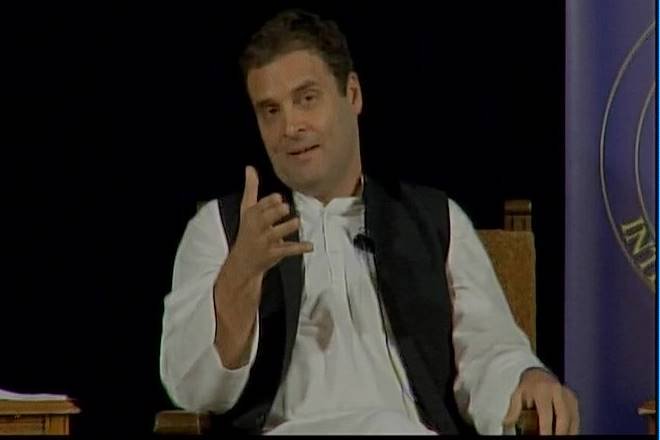 Surprisingly he admitted that Prime Minister Narendra Modi is a better communicator than him and praised his Make In India and Swachh Bharat initiatives.
On being asked about the allegations of Congress being a dynastic party and Rahul himself being a product of nepotism, he stated that it is a problem in all political parties in India.
"Most of the country runs like this. So, don't go after me. Akhilesh Yadav is a dynast, Mr. Stalin (DMK supremo M Karunanidhi's son) is a dynast, Mr (Prem Kumar) Dhumal's son (Anurag Thakur of the BJP) is a dynast. Even Mr Abhishek Bachchan is a dynast, also Mr Ambani," he said.
To this BJP's Smriti Irani today responded by saying that Rahul is a "failed dynast". She added that Indian democracy runs on merit, reported The Times Of India.
Attack on BJP
Rahul accused the BJP of promoting hatred, violence, and politics of polarisation and used the international stage to raise the issue of murder of journalist Gauri Lankesh in Bengaluru and about mob lynchings on beef suspicions. 
"It makes millions feel they have no future in their own country, isolates people and turns them to radicalization," he said. 
Rahul did not miss the chance to hit out at demonetization and implementation of GST. He claimed that most of the plans which BJP is implementing today are actually the ideas of Congress, reported FirstPost.
He alleged that PM Modi commands an online machine of more than thousand people whose main work is to destroy his credibility, calling him "stupid and inefficient".
He even pointed out that years ago when Rajiv Gandhi and Sam Pitroda spoke about bringing computers to India, a leader of the BJP who became prime minister of the nation said, 'What do we need computers for?"
"I don't understand violence"
When asked about the 1984 anti-Sikh riots, Rahul said, "I lost my father and my grandmother to violence. If I don't understand violence, who will?" 
.