The wait is over for India.
Showing extraordinary fighting spirit, wrestler Sakshi Malik won the bronze at Rio 2016 with a dramatic come-from-behind win in the bronze medal bout.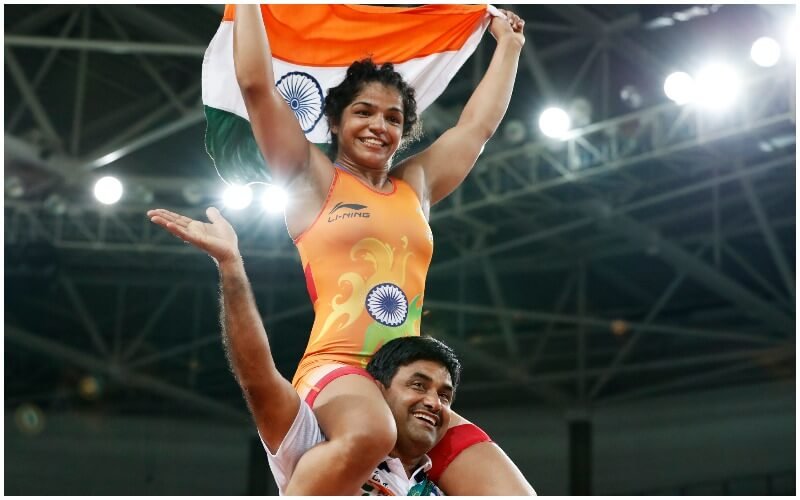 So who is Sakshi Malik?
Sakshi was born in Rohtak, Haryana on September 3, 1992. She stands at a height of 1.63 meters. She now competes in the 58-kg freestyle category. The 23-year-old from Mokhra village began training when she was 12 under the guidance of Ishwar Dahiya. Her parents Sudesh and Sukhbir played a big role in her career, encouraging her in her unusual career choice.
Growing up in Haryana…
Haryana is renowned for its male-dominated village councils which control life in the largely farming region, issuing diktats to prevent women defying conservative norms.
Marriage outside caste or religion brings punishment including "honour killings" — murder, usually of the woman, for dishonouring her family — while sex-selective abortions still occur in an area that values boys above girls. Haryana has the worst sex ratio in the country, with 877 women for every 1,000 men, against the national figure of 940, according to the last official census of 2011.
Locals used to berate Sakshi's parents when she was growing up, warning that their daughter would develop puffed-out cauliflower ears, common among wrestlers, and become undesirable to potential husbands.
"It hurt a little and I wondered why people said such mean things, especially when I was so young, and made me doubt myself," Sakshi had said.
Notable career achievements
Sakshi's first big win was a Bronze at the 2010 Junior World Championships in the 59-kg category. In 2014, she shot to international limelight after winning Gold at the Dave Schultz International Wrestling Tournament (60-kg). And the biggest win of her career, till her Rio triumph of course, was the silver medal in the 2014 Commonwealth Games in Glasgow.
Her road to Rio Olympics
Sakshi's qualification to the Olympics was every bit as dramatic as the bouts she was involved in at the games. Geeta Phogat, India's most popular female wrestler before Rio after her appearance at London 2012, was disqualified for 'indiscipline' during one of the qualifying events in Mongolia earlier this year. After Geeta failed to appear in a bout, citing injury, WFI barred her from going to the qualifying tournament in Istanbul — the last shot for wrestlers to secure their Olympic quota.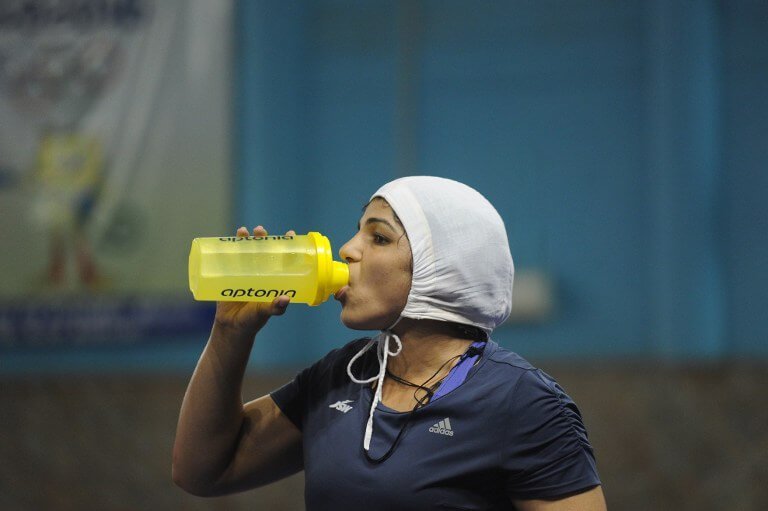 Sakshi, who is backed the JSW Sports Excellence Programme, was drafted in as her replacement and she booked her flight to Rio with a dominating performance in the qualifier event.
Geeta's dream ended, and Sakshi's began.
Coming out of Geeta Phogat's shadows
And thus began her quest to break out of Geeta's shadows. Sakshi was always regarded as a brilliant talent in the wrestling circuit, but being in the same wrestling weight category as Geeta, she ended up playing second fiddle for a long time.
But once she secured the quota ahead of Rio 2016, she began charting her own path to fame.
Sakshi's style of play
As the world saw during her five bouts on 17th-18th August, Sakshi has a never-say-die attitude on the mat. She is very tactical on when to go for the attack and when to hold back.
 "Sakshi aims for the legs from the beginning. That is the strong part of her game. She won't wait for the opponent to attack. If she stays focused and trains harder, she will win more medals for India," Sakshi's childhood coach Ishwar Dahiya had told The Indian Express before the Olympics.
Sakshi's day of glory
Sakshi fought five bruising battles on the same day in the 58kg category, each time facing tough situations, before completing a comeback. In the first two rounds, Sakshi came back from behind to register impressive wins. Making a strong comeback from a 0-4 down, Sakshi defeated Sweden's Malin Johanna Mattsson 5-4 in the qualification round with just 10 seconds remaining.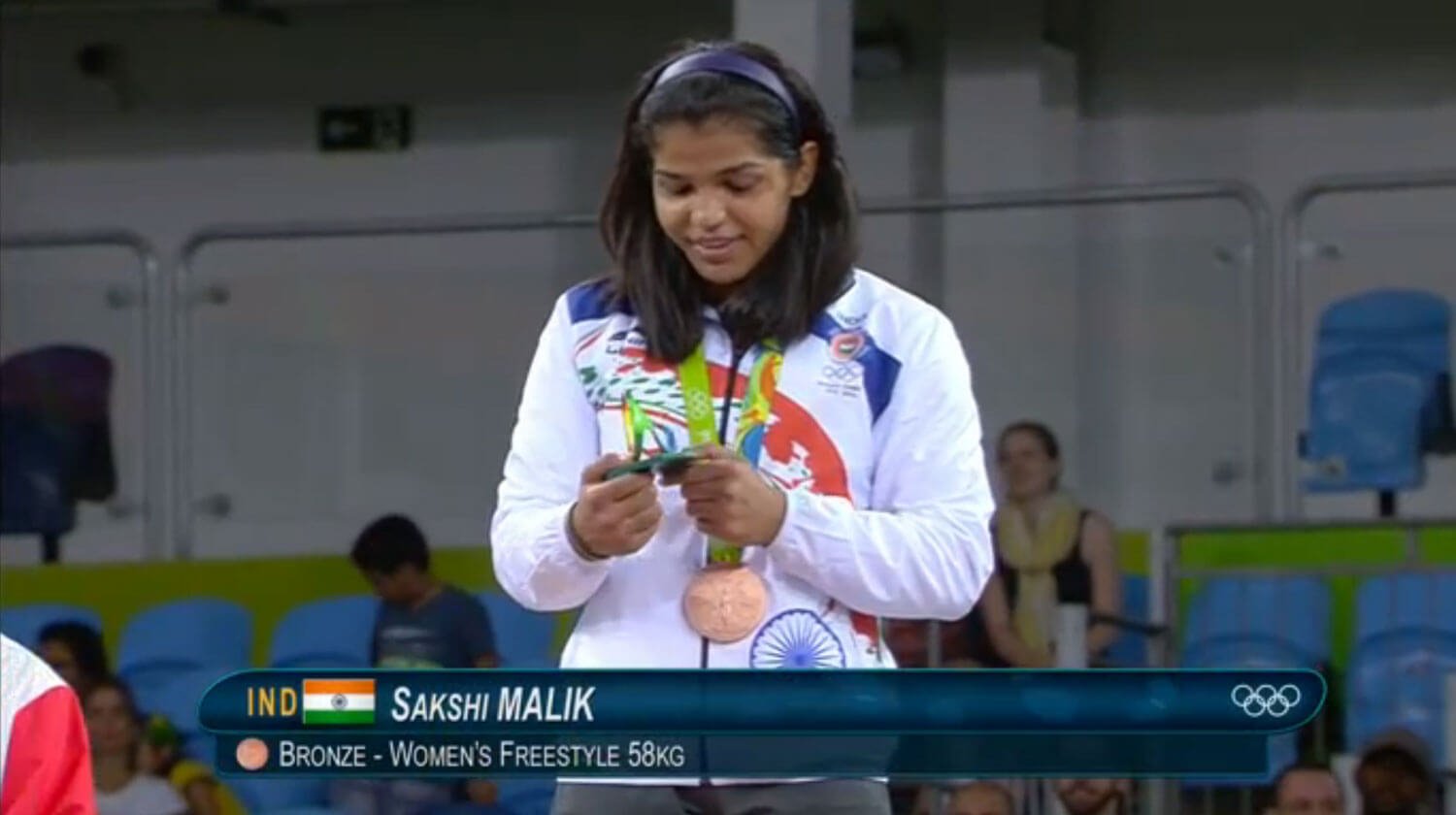 She had lost her quarterfinal bout but got a fresh lease of life when her Russian conqueror reached the final, allowing the Indian to compete in the repechage rounds. 
No Indian wrestler has ever failed to win a repechage medal match – Sushil Kumar in 2008 and Yogeshwar Dutt in 2012 both found glory. Sakshi kept the record intact when, with 90 seconds left, she turned her opponent twice onto her front to make it 4-5. And then with 15 seconds to spare, she went for Tynybekova's midriff, pushed her onto her back for it 5-5. She was not done though – with 5 seconds left, she got another move to add two points. Tynybekova questioned the decision and gave away another point for a failed challenge as the match ended 8-5 in India's favour.
What she said after the win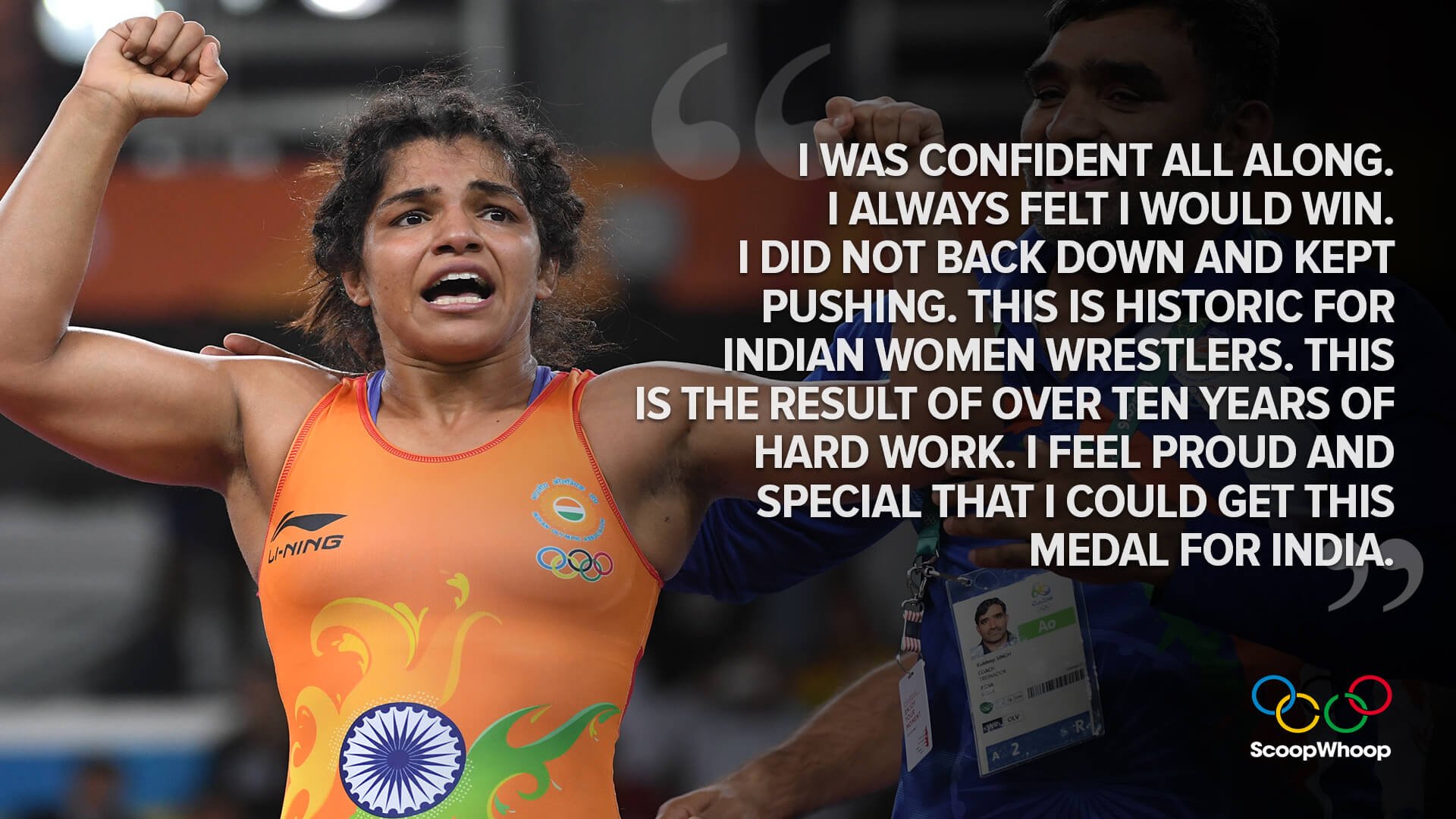 "Meri 12 saal ki tapasya rang layi (It's the fruit of my persistent hard work in the last 12 years). Geeta didi, my senior had qualified for the first time in London. I never thought I would become the first woman wrestler from India to bag an Olympic medal in wrestling," Sakshi said with tears of joy in her eyes.
From Haryana to Rio, this has been one incredible journey! We are proud of you, Sakshi Malik. May this be the beginning of a long and rewarding career!