After prolonged illness and suffering a cardiac arrest, Tamil Nadu Chief Minister J Jayalalithaa, fondly known as 'Amma' died late on Monday night in Chennai, marking the end of an era.
Chest-thumping and wailing, men and women could not come to terms that their beloved leader was no more as the ambulance carrying the late Chief Minister left the hospital for her Poes Garden residence.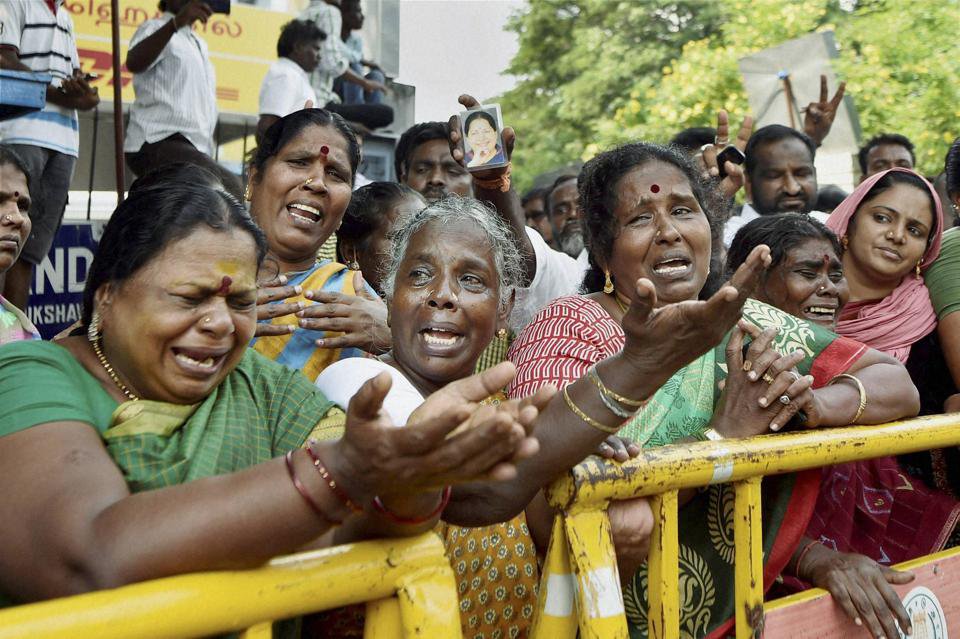 Ever since the CM was admitted into hospital on September 22, public prayer sessions for an ailing Amma were conducted throughout the state. Praying for her health, one of the ardent Amma worshippers hung himself from a crane with his skin pierced with thick hooks. 
What's worse was that even small kids were not spared and were made to pierce their cheeks and tongues.
But all this is not new. In the past too, her worshippers have gone to fanatical heights displaying extreme acts of devotion and affection. Here are some of the bizarre things people have done for her:
Her arrest in 2014 led to the largest number of suicides ever
Tamil Nadu was shocked, when in a disproportionate asset case, Jayalalithaa was sentenced to four years in jail on 27 September. More than 41 people committed suicide following the Special Bangalore Court verdict that would send Jayalalithaa to jail in 2014.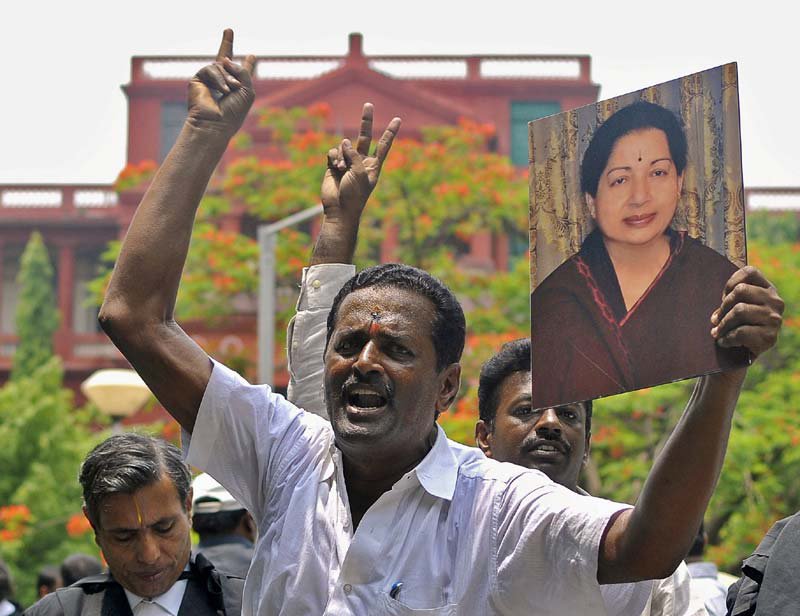 14 committed self-immolation, 15 hanged themselves and seven consumed poison as they were "distressed" on hearing their revered "Amma" (mother) in the disproportionate assets case. Besides, one died by falling in front of a bus, two jumped before a train and two drowned in a river.
 Fan crucified himself to bring good luck to Jayalalitha
Martial arts expert Shihan Hussaini, an ardent fan of Jayalalithaa, crucified himself for six minutes and seven seconds to celebrate her 67th birthday on February 24, 2015 and also demanding her return as chief minister.
"I love Madam and whenever we went to her, she had always helped us. I just did this for her long life and for her to come back as the chief minister," Hussaini said. 
The same fan created a statue of Jayalalithaa in his own blood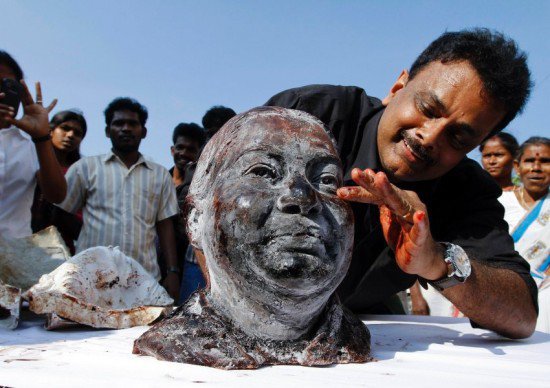 Taking sycophancy to a new level, Shihan Hussaini sculpted a statue from his own blood and the blood of his students for Jayalalithaa's birthday in 2013. The statue is made of 11 litres of blood, frozen at -27 degree Celsius. 
Wearing love for Amma on their sleeves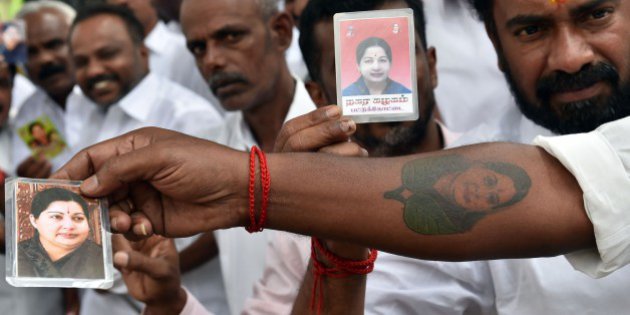 Over 1,000 people tattooed Tamil Nadu Chief Minister J Jayalalithaa's picture and name on their forearms to mark the 68th birth anniversary of the AIADMK supremo on February 24, 2016.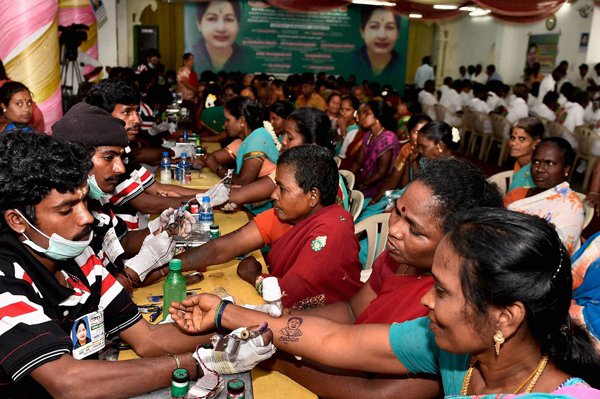 The volunteers were inked with a picture of Jayalalithaa and 'Amma' in Tamil tattooed on their forearms.
Followers tonsured their heads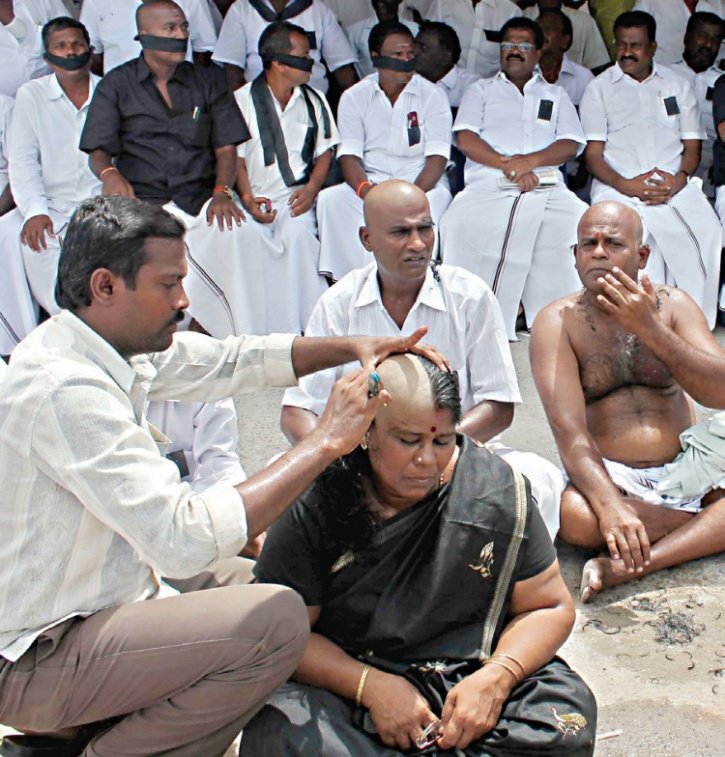 Several fans of Jayalalitha tonsured their heads when the leader was released in disproportionate assets case in 2015. Amma's fans pray in temples and take oath to offer something valuable (Head hair) in return if the god almighty fulfills their wishes. 
Women ate food from the floor
AIADMK cadres were seen eating food off the floor to seek blessings for Chief Minister J Jayalalithaa on her birthday in 2014.