A group of Tamil Nadu farmers stripped near the Prime Minister's Office (PMO) here on Monday morning, demanding that their agricultural loans be waived and the Centre take up their cause.
"This is our state. We are the ones who grow food. But this is our condition in the country," Ayyakanu, the President of the farmers collective from Tamil Nadu, told reporters present at Jantar Mantar today.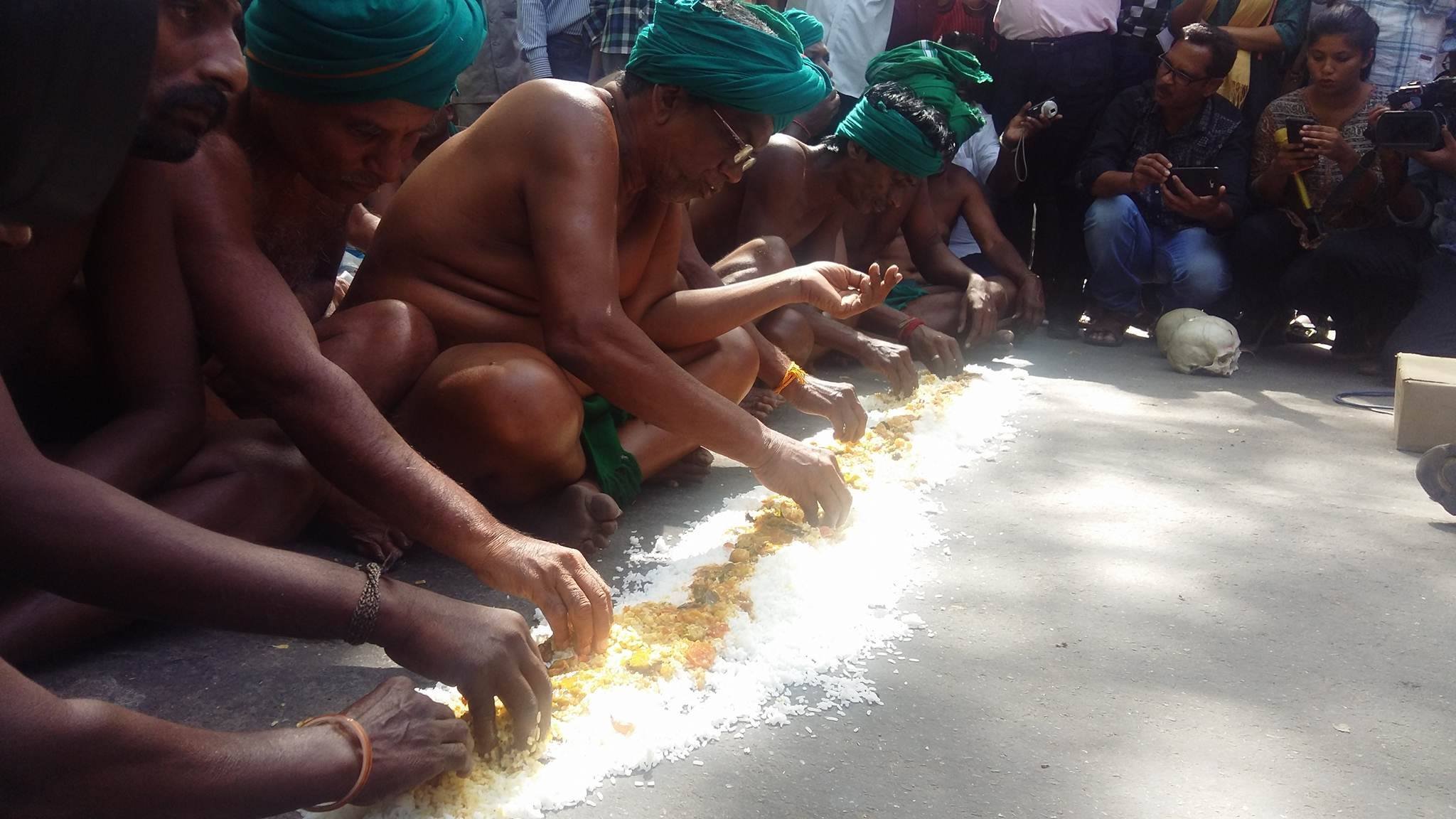 They have been demonstrating in Delhi since mid March and the latest form of protest in this string of bizarre demonstrations was eating food right off the dusty road at Jantar Mantar. 
"If the government does not listen to us, all of us will will fall into such poverty  that we will have to eat off of roads. That will be our only option,"  
Farmers collective at Jantar Mantar 
A group of Tamil farmers have been protesting daily at Delhi's Jantar Mantar since March 14. Initially, they had been demanding a waiver on the loans that the farmers owed nationalized banks in Tamil Nadu. The demand followed one of the most severe droughts to hit Tamil Nadu is 140 years.
The second major demand is for a Rs 40,000 crore drought relief package by the central govt to TN. 
Other demands include creation of a Cauvery Management Board, interlinking of perennial rivers in Tamil Nadu and declaration of Cauvery delta region as a 'Reserved' zone. While the Modi government recently agreed to writing off all the farm loans in Tamil Nadu, the farmers are still agitating for the drought package.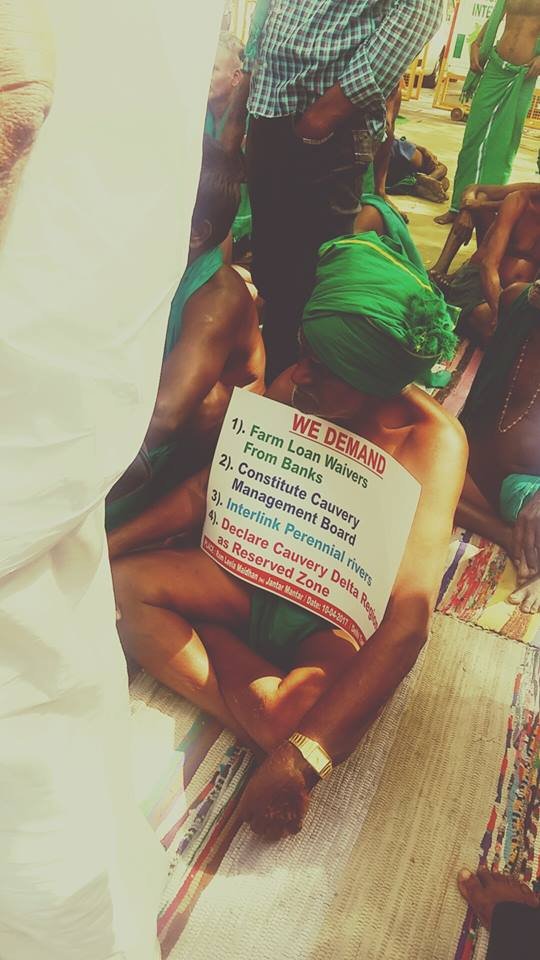 "We are not satisfied. If we do not get all our solutions right now, such problems will arise again. Just writing off loans is not enough to solve the farmers' problem in TN. We want to meet the PM. But it looks like he is busy." Ayyakannu told ScoopWhoop News at Jantar Mantar today." 
Extreme measures
But is the use of such extreme measures such as parading human remains, nudity and emulations of suicide the right way to go for these farmers to put across their point to the PM or the country?
Just yesterday, a delegation of seven farmers had been taken to the PMO to submit a letter to the PM. After leaving the office, one of the farmers jumped off the car they had traveled in and started stripping. Other farmers followed suit. The move was criticized by some as being too extreme a step.
According to Ayyakannu, however, such moves should prove the desperation of the farmers.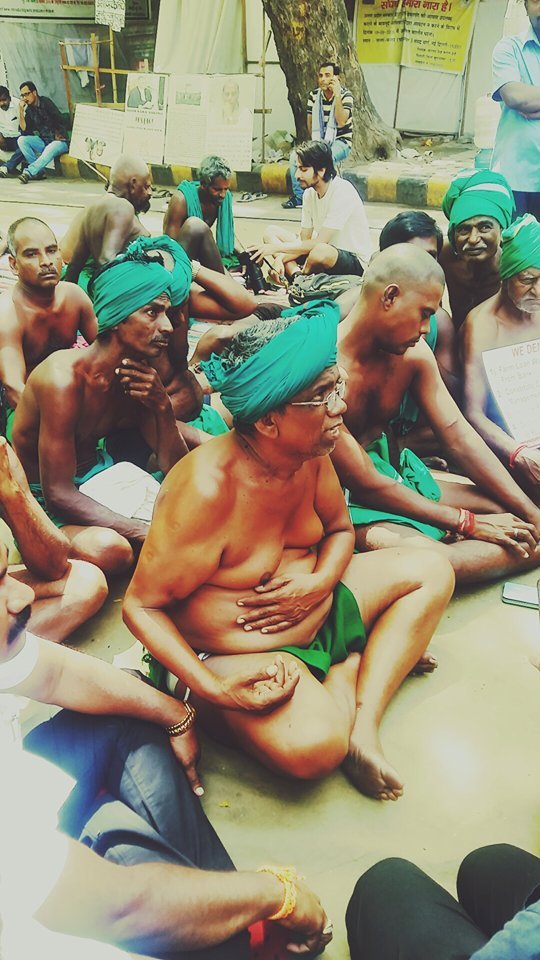 "We were told yesterday that we will get to see the PM. But we did not even get to see his clerk. We hadn't planned on stripping outside PMO but when we were told the PM is unavailable, we saw no other choice." Ayyakannu told ScoopWhoop News. 
"We also wanted to interact with the media outside PM's Office but they wouldn't let us." he added.
But is attention all that these farmers are after? 
"Already a lot of politicians have come out in support of us. Rahul Gandhi came. The Finance Minister met us. MLAs from Tamil Nadu, veteran actors and political leaders from all major parties came to extend their support to us. We have created an impact in public discussion with our antics. People know now that we are dying and desperate. We are sleeping and eating off of dirty roads and shamelessly protesting for our right." a teary eyed Ayyakannu told mediapersons at Jantar Mantar today.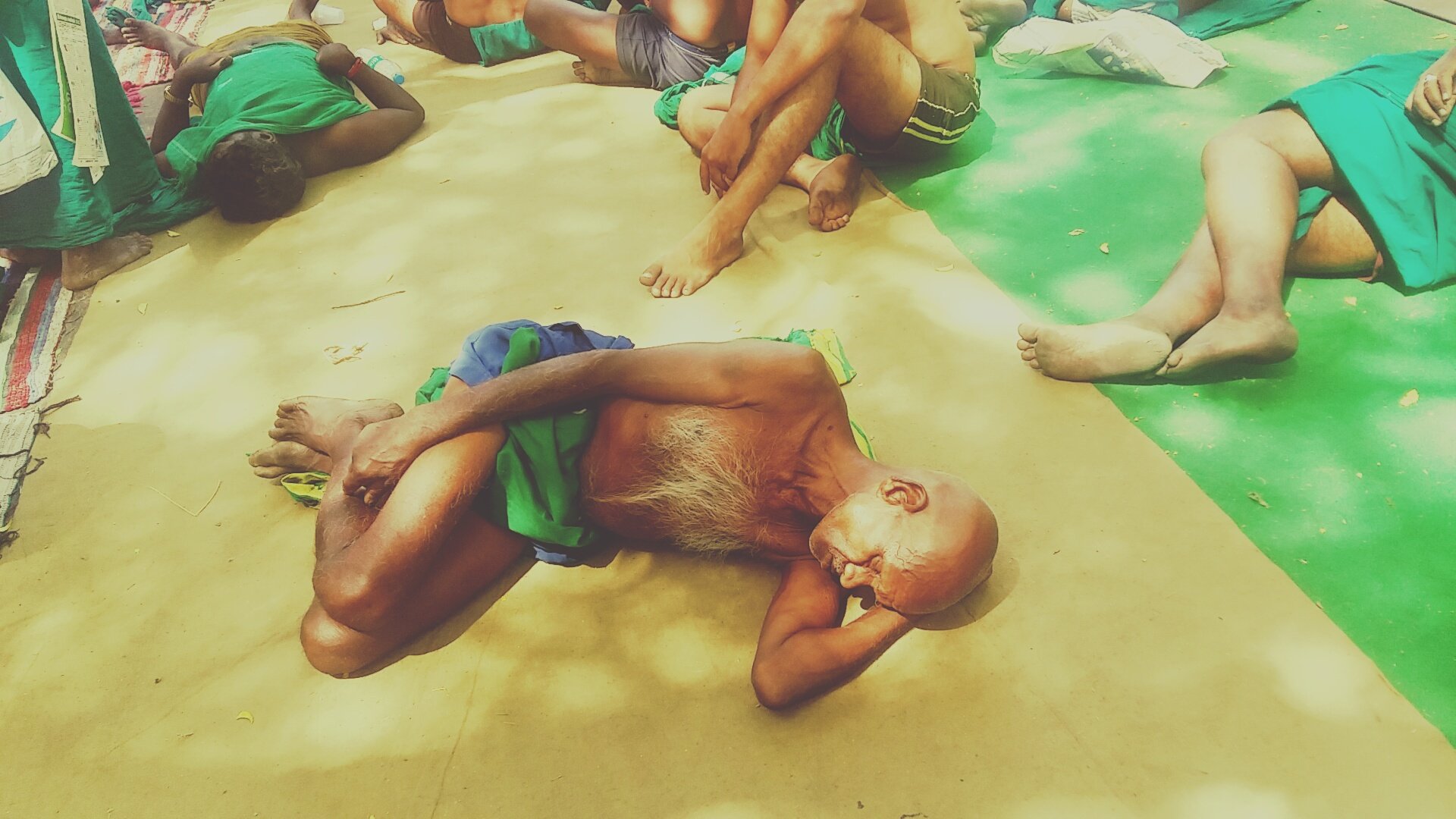 "Some may laugh. Some say look naked poor farmers are running around with skulls. But then they should ask why. We are only resorting to such extreme measures to relay how truly pitiable our condition really is,"  he added.
Feature Image Source: Rakhi Bose