Former India opener Gautam Gambhir may think that Virat Kohli is the best finisher in the world, but Kohli thinks otherwise.
The vice-captain of the Twenty20 and ODI sides instead picked Mahendra Singh Dhoni as the "best finisher in the world" after the India skipper made short work of Bangladesh with a flurry of sixes and boundaries in the final of the Asia Cup in Mirpur.
"I think Shikhar (Dhawan) played himself in really nicely. My only aim was to keep going at the other end so that the run-rate doesn't stop. I had to understand my role. Once Shikhar got towards the end of his innings, I hit two or three boundaries which released pressure for us.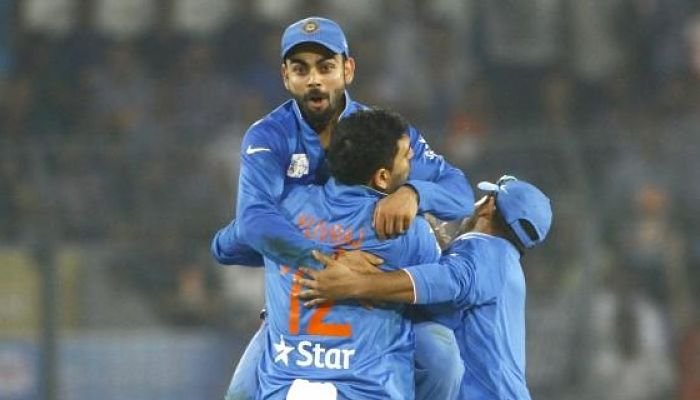 "Then MS Dhoni came in and did what he does best. He is the best finisher in the world. All in all, it was a wonderful game," Kohli told bcci.tv after India lifted the Asia Cup trophy last night beating Bangladesh by eight wickets.
When Gambhir was earlier asked about what he thought of Dhoni as being the main finisher for India, he had said: "It's a tag given by the media. Virat is a finisher for me. An opener can also be your finisher. It's not necessary that a finisher would be your number 6 or 7 batsman."
In the last two overs against Bangladesh in the Asia Cup final, India required 19 runs and skipper Dhoni (20 not out off six balls) hit a lethal six over deep mid-wicket off Al-Amin and another terrific blow over deep extra cover before finishing the match with another six.
Kohli feels that this win has put the team in a good stead ahead of the ICC World T20.
"It is important that everyone stays confident and everyone stays in form. Last few games we saw Yuvraj Singh playing crucial knocks. Suresh Raina is always a dangerous player in T20 cricket, Rohit Sharma has been magnificent and Dhoni knows his job more than anyone else. Hardik Pandya is a beautiful striker and now Shikhar is back in form. I am striking it decently as well.
"Everyone going into the T20 World cup is feeling good and confident and hopefully we can keep things simple and continue this winning momentum forward. The boys have played some really good cricket and it has been wonderful to be a part of such magnificent run of form for the whole team," said Kohli.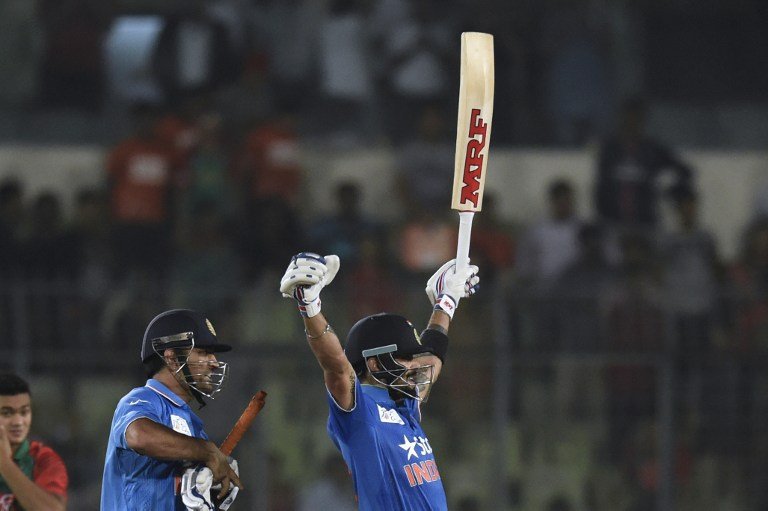 The 27-year-old batsman, who scored 41 not out to help India win Asia Cup for the record sixth time, said he was happy to have contributed to the team's success.
"I am happy I am contributing at the right times for the team. There were a lot of speculations about me when I took rest for the tour against Sri Lanka. There were all sorts of articles and things written about me questioning whether it was a right move to rest at that point of time. There was a lot of negativity around that decision that was made, but I knew that mentally I needed a break and needed to refresh myself and comeback and do the same thing over and over again.
"Good habits are really hard to create and once you get them, you need to be in full flow and continue them day in and day out. I think that break really helped me focus again and continue what I did in Australia. I am really glad I could contribute in all the games here," he explained.
Elaborating on the importance of Dhawan's match-winning innings of 60, Kohli said, "Shikhar is someone who always strikes the ball really well and it is just a matter of one innings for him and you can see what he can do once he gets into form. He is a big match player. We are banking on him in the World T20. He has played really well in the IPL, he knows all the grounds and the angles, conditions and the pitches and he has played against all the bowlers from all the teams."
Since Dhawan was hitting the ball well, Kohli said he decided to just stick around and provide him support.
"It was absolutely wonderful batting from him and I am glad to see that he took the team to a situation from where we could not lose. Hats off to him for the way he played. I just needed to stick in there. My job was to hang in there and let Shikhar do what he does best which is to attack the bowlers.
"I think that is where a little bit of experience counts where you understand the situation. You realise that once a guy is going really good at the other end, you just rotate the strike and hit the odd boundary in between so that he doesn't feel pressure," the dashing batsman said.
Feature image source: Facebook