Giriraj Singh is now a veteran when it comes to making controversial remarks. The union minister of state for micro, small and medium enterprises Giriraj Singh has stoked a controversy yet again. And this time he has come up with an amazing solution to check declining Hindu population in the country.  
The BJP MP was addressing a cultural yatra in Bagaha, West Champaran, attended by several Hindu saints and RSS workers, when he reportedly said that India must change its population policy and enforce a two-child norm for all religions. 
He warned that if it did not do so, "Daughters will not be safe and might have to be kept under the veil, like in Pakistan".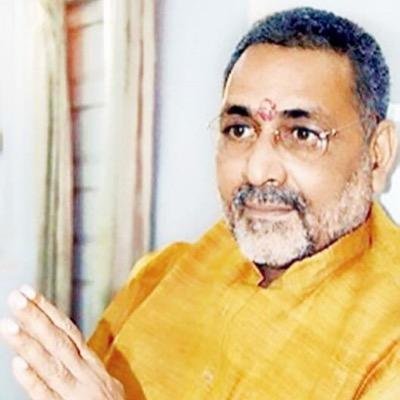 He added that if Hindus had two sons, then Muslims too should have two sons. He referred to seven districts in Bihar where the Hindu population has declined and said that unless population rules are changed 'our daughters' won't be safe.
"If you want our country to be developed nation, population control necessary," says Union Minister Giriraj Singh https://t.co/rVIjs0je8y

— TIMES NOW (@TimesNow) April 21, 2016
According to the report, he was referring to districts "such as Kishanganj and Araria, where Muslim population has been increasing at a faster pace than Hindu population".
As a solution to protect 'Hindu daughters' and check the declining Hindu population, he has proposed to revoke the voting rights of all those who have more than two children.
When contacted by ANI, Singh stood by his controversial remarks. This is what he had to say.
Population control law should be made,all must have 1-2 children,those who don't follow,their voting rights should be revoked-Giriraj Singh

— ANI (@ANI_news) April 21, 2016
Other controversial remarks made by Singh in the past
Earlier this month, Singh had said that the fatwa issued by leading Islamic seminary Darul Uloom Deoband asking Muslim community members not to chant 'Bharat Mata ki Jai' was a well planned conspiracy by international powers to destroy India and divide it into bits and pieces.
Last year, Singh got caught in another midst of a huge controversy when he said that had former prime minister Rajiv Gandhi married a Nigerian woman instead of the fair-skinned Sonia Gandhi, the Congress would not have made her its president.
Also, during the 2014 Lok Sabha elections, he had called for all those opposing PM Narendra Modi to be sent to Pakistan.