Google has always come up with something special for India's Republic Day and this year was no different. 
Here's what this year's doodle is for Indian netizens: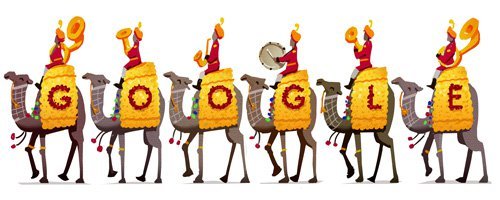 This year's doodle honours the camel contingent of the Border Security Force that participates in the Republic Day parade and also patrols the India-Pakistan border along the Thar desert in Rajasthan. 
In its blog, Google said that artist Robinson Wood was inspired by the contingent to create this year's doodle that is a tribute to the 34 musicians and 54 guards. 
The blog says: 
Each guard, a member of India's Border Security Force, rides high above the ground on a stately camel. And each year, without fail, a caravan of these mounted troops is "deployed" to Rajpath in New Delhi to march in the Republic Day parade, a festive celebration of the Indian constitution. The presence of these guards is now a long-standing tradition; this is the 66th year in which the BSF camel contingent will appear before all of India.
And these were the doodles that didn't make it: