In yet another unique feature, Google on Tuesday, launched health cards in which users will be able to get information about diseases through easy-to-read graphics.
So now all you need to do is type the name of a disease on Google and you will also get to see an infographic about it on the right side of your webpage. 
Here is the statement from Google India's official blog:
Around the world, health conditions are among the most important things that people ask Google about. In fact, one in 20 searches are for health-related information. From today, you'll be able to find health information more quickly and easily with the launch of health information in the Knowledge Graph in India. Next time you ask Google about common health conditions, we'll show you information cards with typical symptoms, as well as details on how common the condition is — whether it's critical, if it's contagious, what ages it affects, and more.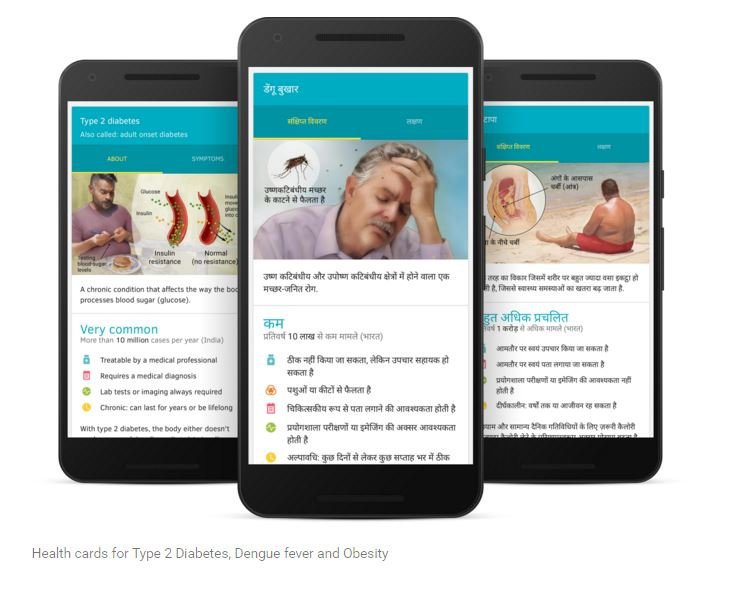 India is now the third country in the world after United States and Brazil where this feature has been introduced. These health cards include over 400 health conditions and have been designed after taking in consideration common tropical ailments like malaria and dengue fever.
A team of local and international doctors from Apollo Hospitals, Columbia Asia Hospitals, All India Institute of Medical Sciences (AIIMS) and Accredited Social Health Activists (ASHA) were consulted before making the cards.  
However, Google clearly maintains that these cards are not substitutes to taking medical advice from a doctor. As of now, the feature is available only in English and Hindi.
(All images sourced from Google)