As death-defying stunts go this one is not for the faint-hearted. The following vertigo-inducing video was filmed by YouTube adventure star James Kingston who climbed stop the 984-foot-tall Eiffel Tower without… *hold our breath* a harness.
Accompanied by photographer Esty Tomas, Kingston captured the dizzying views of Paris from the top on his GoPro. The pair started their climb at 1 am under the cover of darkness.
On his list for the longest time, initially, he had wanted to scale the tower the usual way by taking the elevator upstairs. Unfortunately, the long queues were a deterrent and he decided to try something different.
"We didn't really have a plan B so we decided to commit to climbing right up the side from the ground & see what happens. We started the climb at 1AM narrowly avoiding the patrolling security," Kingston wrote below his YouTube entry of the video.
Obviously, this wan't his first time doing illegal runs up dangerous structures. He's been doing his thing around the globe, sometimes with permission, sometimes without.
This one is when he decided to click a selfie atop a crane in Bangalore . #NoBigDeal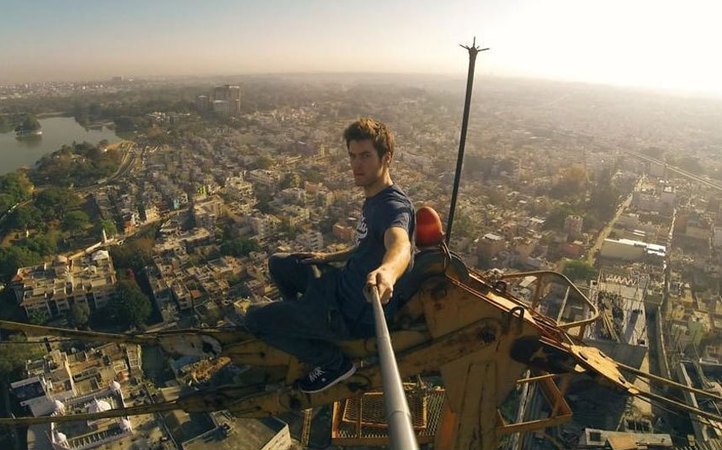 In the video he sneaks past some sleeping security guards, practices a few jumps in the construction site, then, of course, scales the crane for a jaw-dropping view of the city as the sun comes up. His daring, one-handed dangle over the city, with Bangalore's early morning traffic bustling below, is as crazy as it comes.
(All images sourced from James Kingston 's website)