A Gorkhland Territorial Administration (GTA) office was set on fire and several vehicles were damaged in Darjeeling on Thursday as the indefinite shutdown in the hills entered the 29th day.
Indian Express reported that the Gorkha Janmukti Morcha (GJM) took out a rally at Chowkbazar on Wednesday along with Ashok Tamang's body, who was killed in alleged police firing.
The Gorkhaland Territorial Administration (GTA) office for travel and tourism in Chowrastha of Mall Road in Darjeeling was set ablaze by pro-Gorkhaland supporters early morning. Several government vehicles were also damaged near the Darjeeling station by unidentified men last night.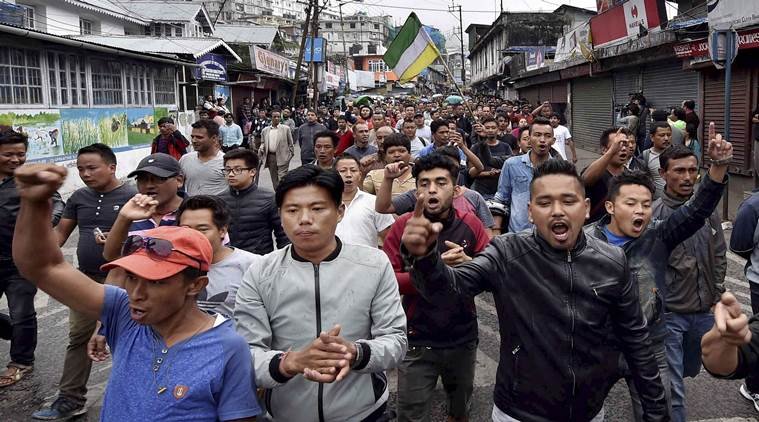 A railway station in Gayabari area of Kurseong was set on fire by pro-Gorkhaland supporters this morning. A forest bungalow near Teesta river was also set on fire on Thursday.
Meanwhile, responding to the call of the Gorkhaland Movement Coordination Committee (GMCC), a writer and a singer returned the awards given to them by the state government.
GMCC is a body comprising 30 members who are representatives of all hill-based parties like GJM, GNLF, JAP and Bharatiya Gorkha Parisangh. The GMCC is headed by a member of GJM.
Writer Krishna Singh Moktan, who is also the former Darjeeling inspector-general of police, has returned his Bhanu Bhakta Award in the morning. He received the award in 2004. Singer Karma Yonjan, too, has returned his Sangeet Samman award.
Both Moktan and Yojnan gave their awards to Nepali Sahitya Sammelan committee, who in turn will send those awards to the district administration.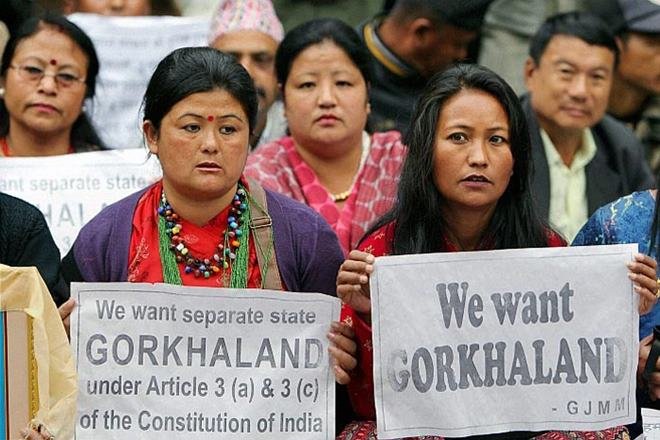 The GJM and pro-Gorkhaland supporters on Thursday celebrated the birth anniversary of noted Nepali poet Bhanubhakta Acharaya.
Hundreds of Pro-Gorkhaland supporters today took out colourful rallies reciting poems written by Bhanubhakta Acharya and carrying placards in favour of the separate state of Gorkhaland.
Internet services remained suspended for the 26th day. Except for medicine shops, all the stores, restaurants, schools, colleges, hotels and private offices remained closed.
While an Army column, comprising around 50 personnel, has been deployed in Kalimpong since Monday night, two columns have been positioned at Darjeeling and Sonada from Saturday after large-scale violence and arson took place in those areas.
The police and the security forces maintained a tight vigil at all entry and exit points.
Come July 15, it will be one month for the indefinite strike in Darjeeling amid continuous protests for a separate state. Leaders from all parties, including BJP and Congress are supposed to go on an indefinite hunger strike at Chowrasta.
With inputs from PTI
Feature image source: Reuters