New Delhi: On July 10, when Iraqi Prime Minister Haider al-Abadi declared victory over Islamic State in northern Iraqi city of Mosul, a glimmer of hope lit up the eyes of 31-year-old resident of Amritsar, Gurprinder Kaur. 
Her younger brother, Manjinder Singh, is one among the 39 Indians kidnapped by Islamic State extremists after the fall of Mosul in June 2014. Singh and his colleagues were working at a construction site of a university in Mosul when they were allegedly picked up by the ISIS gunmen. 
Since then, there has been no information on them except from the assurances by the Ministry of External Affairs.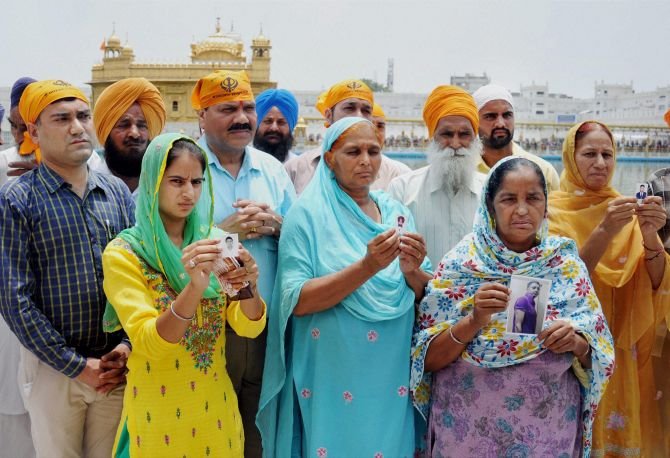 "The government kept telling us that they are in Mosul. A lot of civilians were trapped there. We had to believe the government. What option did we have?" Kaur, who works as a school teacher and often leads the meetings with government officials and Union Ministers over the fate of 39 Indians in Iraq, told ScoopWhoop News.
When will the smokescreen clear ? 
That belief is hollowing out day by day. Days after the victory of Iraqi forces, Minister of State for External Affairs Gen V K Singh made a visit to Iraq to get information on the trapped civilians. After his return, the families were told that the victims are in Mosul's Badush prison. Before that, government's line was that the men were last seen at a Church in Mosul. 
"But as far as I have read on news, the prison was long ago blown up by the ISIS terrorists. The government has lied to us but it's our only hope. Why don't they tell us the truth?", Kaur asked. 
According to United Nations High Commissioner for Refugees (UNHCR), more than 1,00,000 civilians remained trapped in Mosul while Islamic State militants were engaged in battle to hold their control on the city. 
However, the problem is not only ISIS terrorists. A report published by Amnesty International earlier this month claimed that all sides in the conflict used "disproportionate" attacks during the confrontation amounting to war crimes. It also included using civilians as "human shields." 
But the complexities of the battle doesn't suffice as an answer for the families of the victims. 
Of hope and suffering 
"He had gone for work. This was third time he had left India for a job. Had I known this would become of him, I wouldn't have let him go," says Jasveer Kaur, sister of another victim.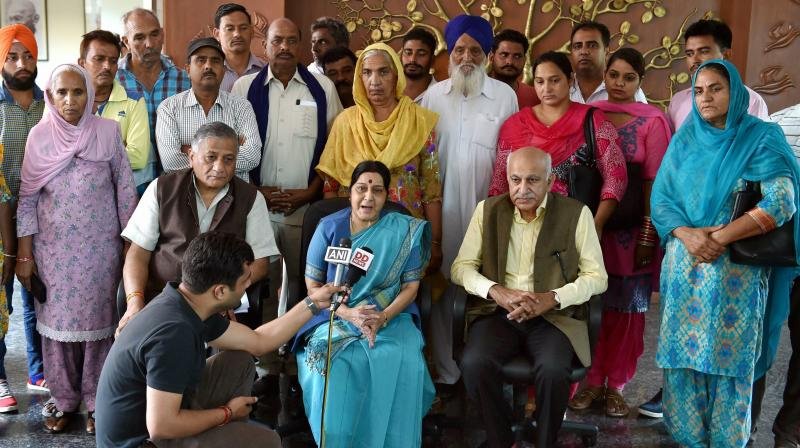 Eleven years ago, Jasveer Kaur lost her father. After getting married, her younger brother Ranjit Singh started working as a carpenter in teenage to support his family that comprised his mother and a little sister. 
"Now, there's no one to look for my mother. I got my younger sister married while Ranjit remained in the custody of ISIS. We couldn't afford to wait for Ranjit's return, the marriage was already fixed," Jasveer Kaur told ScoopWhoop News.
Even though it has been more than three years since the families last heard from the victims in Iraq, none of them are ready to accept the worst. 
"We won't believe anything until we are shown proof…My heart doesn't agree that Manjinder is not alive. Even if he's not, we want to know what happened to them. We want to know the entire story," Gurprinder Kaur said. 
The families have pinned their hopes on the meeting between Iraqi Foreign Minister Ibrahim al-Jaafari and External Affairs Minister Sushma Swaraj on Tuesday. 
"Just tell us the truth and end our suffering," Jasveer added. 
Feature image source: PTI/File Photo