New Delhi: Muslim religious body Jamaat-e-Islami Hind has asked government that its assurances of not tolerating repeated mob attacks on minorities, Dalits and other groups, is showing no impact on ground. 
Asking government to feel the "seriousness and grave nature" of the issue, the religious body also demanded "firm political, legal and administrative steps" on the part of authorities. 
"The people of the country feel that these assaulters (sic) are related both ideologically and organizationally with the ruling class and this relationship has further emboldened them. In such a situation, the responsibility of the government increases even further," Syed Jalaluddin Umri, Ameer, Jamaat-e-Islami Hind said during a press conference in New Delhi on Wednesday.
Lauding the efforts of civil society members and other groups who came out to protest against the spate of recent killings at the hands of mobs, the JIH has also supported the proposal of activists group 'National Campaign Against Mob Lynching' of creating a law against mob-lynchings. 
"We support these justice-loving people. We must spread this voice of truth and justice and the entire country should stand behind the victims and become united against oppression…The government must give a loud and clear message that oppression and violence will not be tolerated and people who take law in their own hands will face strict punishment," Umri told a gathering of reporters. 
JIH, one of the largest Muslim organizations in India, also appealed Muslim youth to "avoid any emotional reactions" in the current atmosphere of the country. 
"They[Muslim youth] should not get depressed and lose heart. They should avoid being instigated and avoid giving any emotional reactions. The communal elements want Muslims to either get disheartened or lose hope or should become isolated from the mainstream in this country." 
The Iftikhar Alam case 
The JIH press meet was also attended by 22-year-old Iftikhar Alam, a mechanic who was recently thrashed by a mob in south Delhi's Sarai Kale Khan on the suspicion of being a cattle-thief.
"I along with a driver of the company where we work were passing through the area on the night of July 7 and it was raining very heavily. When we reached the Madanpur Khadar, a concrete mixer truck blocked our way. After honking several times, the truck didn't move and the driver asked me to get down to ask the driver to let us pass. As soon as I reached the spot, a group of locals from the neighbourhood slum area began raining blows on me. They were carrying sticks and iron rods. They also broke the window pane of our vehicle but the driver managed to flee," Alam, who used the support of two men to walk properly, said, while narrating the incident. 
According to Alam, the group of men, who were 20-25 in number, dragged him inside the settlement area and accused him of being a cattle thief.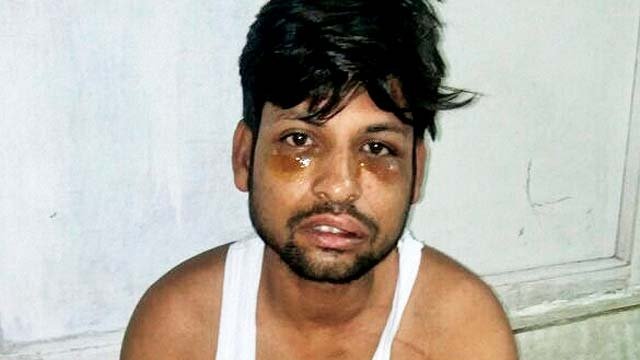 "They also asked my name. When they came to know that I was a Muslim, they began to beat me even more. They called me a Pakistani. I was tied up and beaten with sticks on my soles. I still can't put full weight of my body on feet. Unhon ne kaha petrol daal ke jala do isko (They also said to pour petrol on him and burn him)…When they thought I was dead, they called up police and told them that they have caught a cattle thief," Alam, who was hospitalized for three days in Jeewan Hospital, alleged. 
Alam, who works with J. Kumar construction company, also alleged that one of his co-workers Sandeep slapped him in the police station and asked him to not mention the cattle angle. 
"He asked me to tell police that we had stolen petrol and were running away. None of the officials of my company came forward to help…It was only on July 9 when my brother arrived from Aligarh that an FIR was registered," he added. 
Ehsan Alam, Iftikhar's elder brother, alleged that police booked the accused under "lenient" sections of 323, 341 of the Indian Penal Code.
"Instead of filing a case, police were accusing my brother of different charges. Only after I took up some friends and media personnel along, the police swung into action. Even then, they made me wait for hours to give me the copy of FIR….I also filed a written complaint at Delhi Police Headquarters to include other charges in the FIR," Ahsan alleged.   
Delhi Police has made no arrests in the case so far. 
Feature image source: ScoopWhoop/Safwat Zargar