Life in the City of Joy has always been a little different than any other metropolitan city. Slightly laid back attitude of the Kolkatans and the so called 'super slow traffic' on move. Kolkata has always been criticized for the unwanted strikes, old haggard buildings and the over the top 'Bangali' pride of its citizens.
Here comes Dhananjay Chakrabarty, taking this pride up to another level. He is the charioteer of 'Sabuj Rath' – a yellow ambassador taxi, which has a roof top green garden, trunk full of saplings and green patches everywhere else with a message left for the passengers.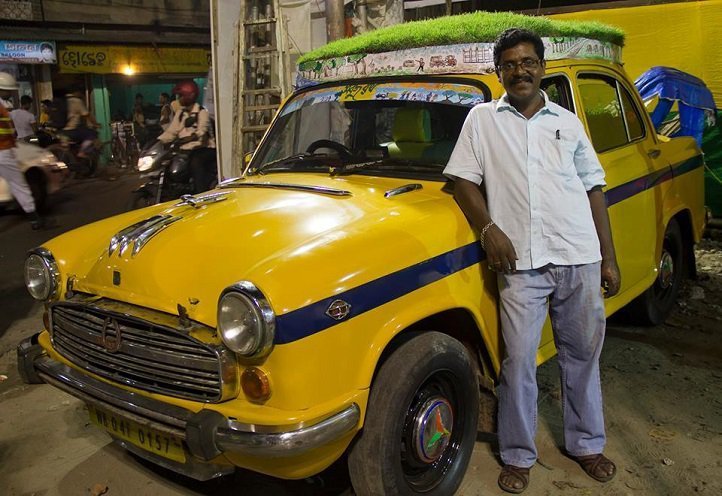 The iconic taxi which comes with a number plate of WB 04F 0157, has a grass bed on its roof which makes the vehicle heavier. Dhananjay has invested Rs 22,000 for the whole make over.
A non-ac taxi that is incredibly cool inside
"The tray weighs around 65kg. But I have distributed the weight equally across the green bed to ensure that the car roof isn't damaged. One of the benefits is that the grass cools the interior and I take pride in the fact that my taxi is a lot cooler than any other non-AC car," he told The Telegraph .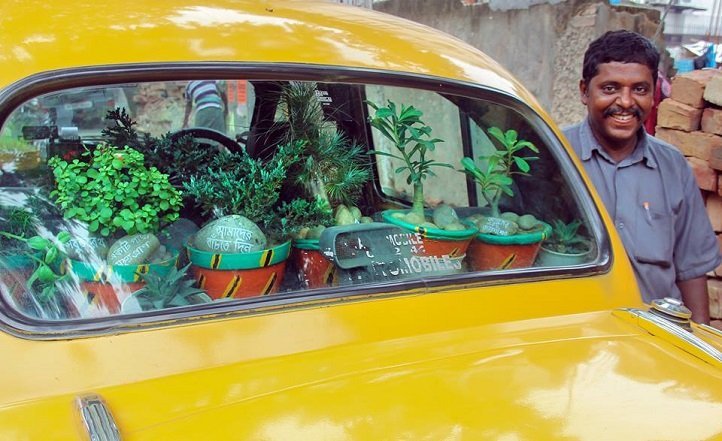 Source: Baapi Green Taxi
The saplings planted in small pots have a written message which reads, 'Aamake banchte din' (let me live). One tree is equal to one life and that's what keeps giving inspiration to the green crusader.
His love for trees and plants has earned him a nickname of 'gechho bapi'. Gechho means a person who lives on a tree. Indeed, suits him!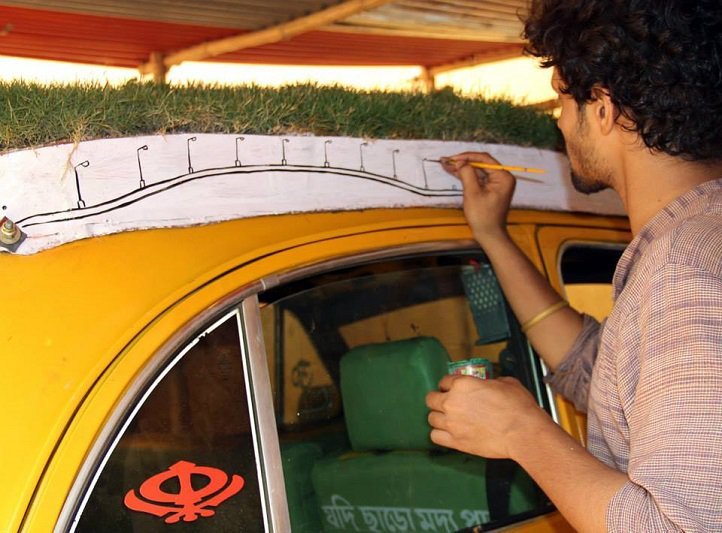 Source: Baapi Green Taxi
Gechho Baapi
"Three years ago, I found an empty liquor bottle with a lovely shape in the back seat of my taxi at night. I put a money plant in the bottle and fixed it on the tray behind the rear seat. The plant survived and, within a few weeks, it was touching the edges of the rear window. Many passengers liked it. That's when I decided to plant more trees and ask others to do the same," recounts Dhananjay.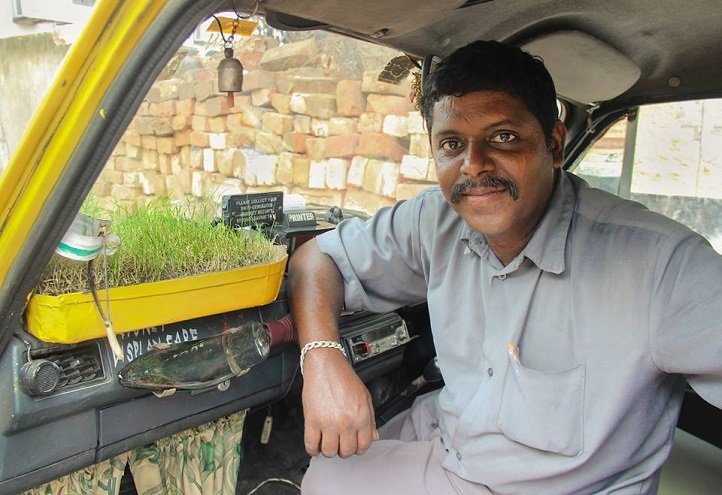 Source: Baapi Green Taxi
Dhananjay aka Baapi has a Facebook account called Baapi Green Taxi which shares how people take interest while riding his taxi, and how he has taken a step forward to contribute towards bringing down the pollution from the city.
He does not charge extra money, only spreads green awareness.