The government is likely to table the four legislations for implementation of the goods and services tax in the Lok Sabha on Monday.
The Union Cabinet already cleared the four supplementary GST legislations — CGST, IGST, UTGST and Compensation Law — for introduction and passage in the ongoing session of Parliament.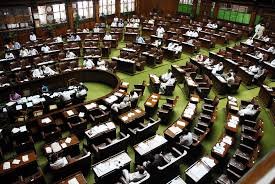 Besides, the Cabinet has approved amendments in the Customs and Excise Act relating to abolition of cesses and surcharges on various goods and services to facilitate the rollout. These will also be taken up in Parliament in due course.
"The four supplementary legislations will be introduced in Parliament as early as on Monday," a senior finance ministry official said.
The government proposes to launch GST from July 1.
on Thursday, Finance Minister Arun Jaitley emphasised the urgency to pass the GST laws during the current session of Parliament, saying the Centre and the states will otherwise lose their right to collect indirect taxes after September 15.
The government is keen to bring in GST from July 1, and other aspects like bringing petroleum and land under its ambit will be considered after the first year of implementation of the new indirect tax, he had said in the Rajya Sabha.
He had said the GST Constitutional Amendment Bill did not provide for extension of the deadline beyond September 15 this year.