Do you know in which state marriages last the longest? Here's a clue: It's pretty infamous for its skewed sex ratio, and only last week its CM announced that for the first time in 10 years, its sex ratio has crossed the 900 mark for girls. 
Well, it's Haryana. It has the highest number of couples who have been together for 40 years or more.
A new report by The Times of India on duration of marriages in India based on Census 2011 data reveals that among the top three states where marriages last the longest – that is more than 40 years – two are from North India. Uttar Pradesh is the second state .
States that have the shortest marriages belong to the North-East India.
Here is a look at the states with the longest and the shortest marriages: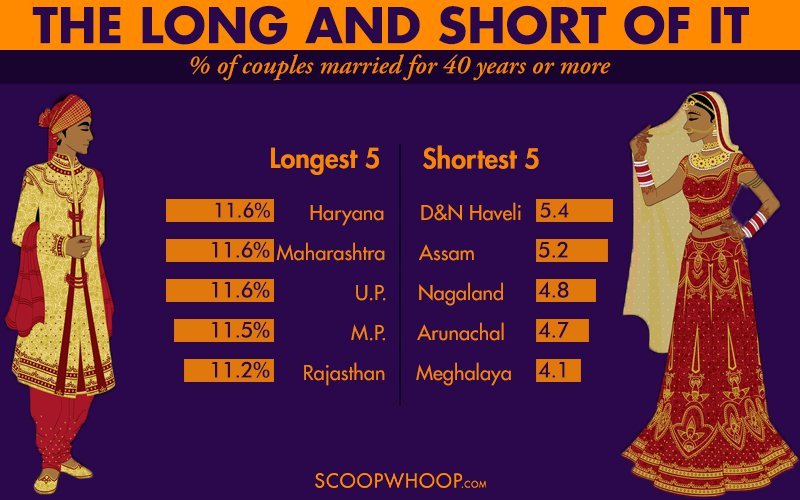 Across India, only 10% of all couples in the country have been married for 40-plus years.
Guess the reason
Well, long marriages in Haryana and Uttar Pradesh need not be necessarily about love and commitment. In fact, factors such as early marriages and long life spans compared to the North-Eastern states, along with customs, may be contributing to this, say sociologists quoted in the report. 
In fact, data from the Census seem to confirm this: In Haryana, 21% of married men were married before reaching 21 years (the legal minimum for marriage) compared to just 11% in Meghalaya.
Similarly, 31% of women in Haryana tied the knot before reaching 18 years (the legal minimum age), compared to 15% in Meghalaya.
Feature image for representation / Reuters