As a result of the mob violence that erupted in Gujarat on Tuesday, August 25, after the detention of 21-year-old Hardik Patel, nine people have lost their lives. On August 26, Chief Minister Anandiben Patel was forced to call in the army to help maintain law and order.
Four people died in Ahmedabad, one in Mehsana and three in Banaskantha, as well as one police constable in Surat. Police estimates suggest at least 100 people have been injured during the violent clashes.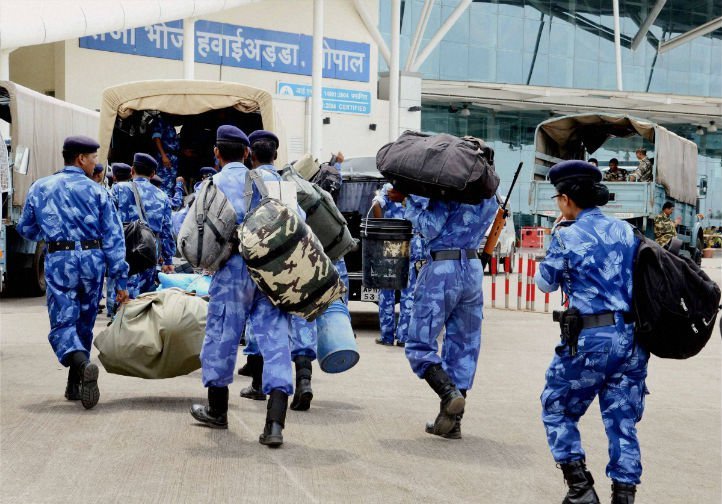 Rapid Action Force (RAF) personnel arrive to board a special Indian army plane to leave for Gujarat in the wake of violence in several cities due to Patel community's agitation | Source: PTI
Curfew was imposed in parts of the state including Ahmedabad, Mehsana, Palanpur, Unjha, Visnagar and Surat. Unfortunately the curfew did not deter protestors who took on policemen, ransacked government property, damaged buses and blocked highways. At least 140 state transport buses were set on fire and another 152 damaged.
As the situation worsened, PM Modi broke his silence on the matter, speaking in Gujarati he said, " We cannot indulge in such activities in the land of Gandhi and Patel. No one gains from violence or hatred. Any protest must be democratic and I appeal to my brothers and sisters to stay calm, maintain peace," as quoted by TOI.
Patel community supporters set ablaze buses in Surat on Wednesday. Patel community is agitating for OBC status | Source: PTI
Hardik Patel, the man at the head of the protests, criticised the police for disrupting their peaceful demonstrations and called for the suspension of police officers involved in the clashes on August 25. However, he also urged his supporters to maintain calm and peace, he claimed he would resign from his post if his supporters don't heed his call.
As many as 3,500 paramilitary forces personnel and 93 companies of the state reserve police have been deployed across the violence-hit state.
Police personnel in action as Patel community supporters go on rampage in Surat on Wednesday | Source: PTI
While the Ahmedabad Municipal Corporation is putting the cost of damages of government property to Rs 12 crore, the total economic cost being estimated is Rs 20,000 crore due to manufacturing and trading activities coming to a standstill.
" The losses on Tuesday and Wednesday could be in the range of Rs 15,000 crore," said Jayendra Tanna, president, Gujarat State Traders Federation, a body with 600 trade associations as its members.
Feature image source: PTI