A gunman killed at least 20 people and wounded more than 100 others Sunday when he opened fire on fans at a US country music concert on the Las Vegas Strip, police said.
The gunman, who police said was a local resident, was killed after being "engaged" by officers who responded to report of multiple gunfires coming from the 32nd floor of the Mandalay Bay, a hotel-casino next to the concert venue.
Revelers screamed and fled in panic as a steady stream of automatic gunfire rang out at the venue shortly after 10:00 pm local time, footage captured on smartphones showed.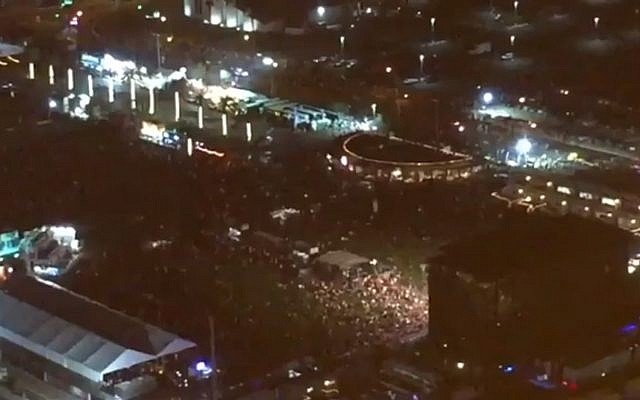 "We have in excess of 100-plus injured and excess of 20-plus that have died at this point," Las Vegas Metro Police Sheriff Joseph Lombardo told an early morning press conference.
"This is an ongoing investigation, but we are comfortable that the primary aggressor in this event is — has expired or passed away, and is no longer a threat."
Thousands of fans were attending the concert next to the Mandalay Bay which was part of a three-day country music festival known as Route 91.
Witnesses told how the gunman opened fire with an initial burst and then appeared to reload as he continued his spree.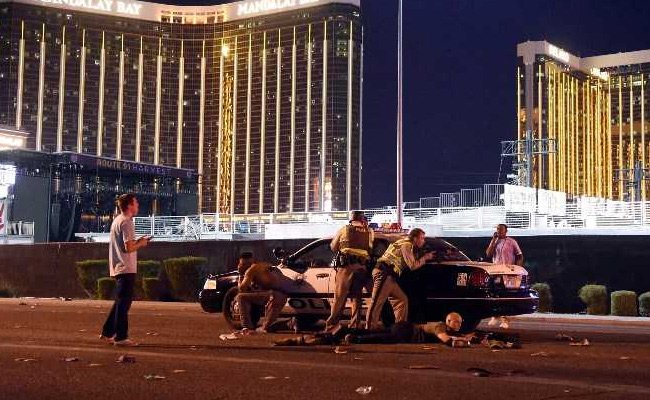 Pictures taken at the scene showed revelers cowering in the street or running in terror, as well as what appeared to be several bodies lying prone on the ground. A local hospital was taking in "several" people with gunshot wounds, University Medical Center spokeswoman Danita Cohen told the local Sun newspaper.
Video footage circulating on social media showed a large crowd enjoying a concert as part of the Route 91 country music festival just outside the casino before what sounded like volleys of automatic gunfire halted the performance.
'It sounded like firecrackers'
An eyewitness at the scene, Monique Dekerf, told CNN, "We heard (what) sounded like a glass breaking, so you looked around to see what's going on and then heard a pop, pop, pop. You'd think for a moment okay we're fine, there's no more gunfire, then it starts again."
Her sister Rachel said it sounded like "the shots were coming from the right side … it sounded like they were right beside us too … it was right there."
Fans said that singer Jason Aldean was on stage at the time of the shooting which came towards the end of the concert. "We were watching the concert having a great time, then we heard what sounded like firecrackers. I guess it was an automatic weapon going off but it literally sounded like firecrackers," eyewitness Joe Pitz was quoted as saying by the local Las Vegas Sun news outlet.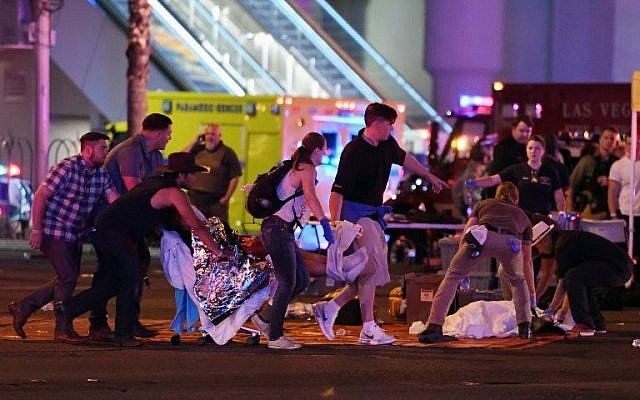 "Then soon enough there was commotion on the Mandalay Bay side of the stage. They were motioning for medics to come and safety people to come and Jason Aldean ran off the stage. Everybody in the vicinity went down. I don't know if they were ducking or if they were but it was chaos," Piz added.
Another witness told local TV news station KLAS that he saw someone several stories high firing hundreds of shots into a crowd of people.
Police deny rumors of multiple shooters
Police, however, denied reports of multiple shooters. "At this time we do not believe there are any more shooters," the department wrote on Twitter.
At this time we do not believe there are any more shooters. More information to come shortly from @Sheriff_LVMPD.

— LVMPD (@LVMPD) October 2, 2017
A shocked Aldean told his fans via Instagram that he and his band was safe. "Tonight has been beyond horrific. I still dont know what to say … My Thoughts and prayers go out to everyone involved tonight. It hurts my heart that this would happen to anyone who was just coming out to enjoy what should have been a fun night," the singer wrote.
Feature image source: AFP