Protesters demanding reservation for Jats intensified their agitation on Thursday, disrupting traffic in parts of Old Gurgaon for over two hours.  Thousands of agitators from the community gathered in different parts of the city to stage a sit-in protest.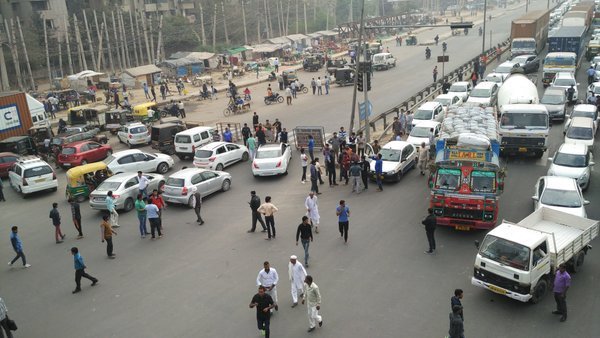 The protesters assembled around 9 am and then headed to the Daulatabad flyover where they blocked traffic till 10 am. They then proceeded towards Railway Road where they stayed till 11.15 am, reported The Times Of India.
Massive chaos is still being experienced by the commuters at Subhash Chowk, Rajiv Chowk, Bakhtawar Chowk and other areas.
Twitter was full of updates about the situation at various places in Gurgaon: 
Both sides of the Sector 4/5 crossing (one leading to the railway station and the other to Bhim Nagar fire station) were blocked by protesters. 
The Daultabad flyover. an important junction that connects Bahadurgarh, Badli, Pataudi, Jhajjar and caters to a large number of workers travelling to factories in Manesar was also blocked.
Many school buses were diverted and schools had asked parents to pick up their wards from the school due to safety concerns.
Gurgaon crippled by Jat agitation. Parents can't even reach their kids in school. IMO Jats well succeeded in proving their "backward" status

— Anupam Jain (@ajnsit) February 19, 2016
The All India Jat Aarakshan Sangarsh Samiti, which is organising the protest, threatened to intensify the stir.
"We will intensify the stir if the government does not give any firm assurance. We will block NH-8 and disrupt rail traffic between Gurgaon and New Delhi," a member of the Samiti was quoted as saying to The Hindustan Times.