Gurgaon Traffic Police these days is getting pretty serious about tackling its never ending traffic woes. So here is an advisory by the department on Facebook asking people to minimise the use of private vehicles and use public transport on Wednesday, September 17 because 50,000 people are expected to turn up for Gurmeet Ram Rahim 's second cinematic extravaganza, MSG-2 The Messenger .
Traffic Advisory for the premier of the film MSG-2Gurgaon has large volume of traffic with Approximately 12 lakh…

Posted by Gurgaon Traffic Police on Tuesday, 15 September 2015
And here is what people commented on the same post: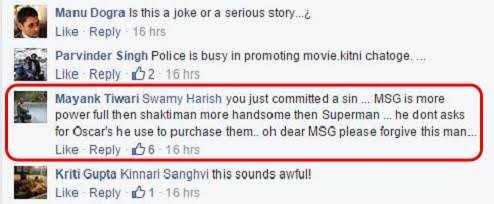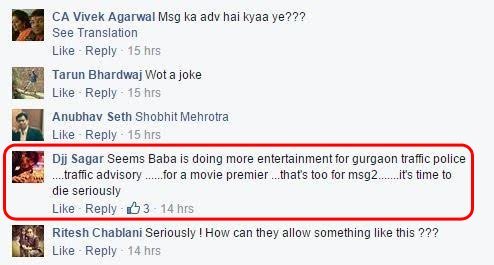 While Gurgaon Traffic Police's precautionary advisories are all fine, but expecting 50,000 people to turn up for a movie and that for too MSG-2 The Messenger is something which has left everyone bewildered and amused. From acting as Gurmeet Ram Rahim's publicity machinery to being ridiculous, the police department is getting all the brickbats.
Source: Saint MSG
Nevertheless, just so you know, MSG-2 The Messenger , is a sequel to the film MSG which was released in February amid protests from Sikh organisations across Punjab and Haryana. MSG (part one) was a one-man show starring Gurmeet Ram Rahim Singh Insan who wrote, directed and produced the movie.
P.S. We hope you will find it in your hearts to forgive us for sharing the legendary trailer.
Feature image source: ScoopWhoop