Just when you were filled with pride watching the country's military might and cultural diversity, something happened on Twitter.
It left us stumped and wondering if all the years spent in universities were worth it.
Yes, you read it right.
So, Gurmeet Ram Rahim Singh Insan is now Dr (Hon) Gurmeet Ram Rahim Singh Insan. But that his name is now probably the longest in the country is not what arises our curiosity. The question is, what is this university and why exactly he got it? 
We bring both the answers to you.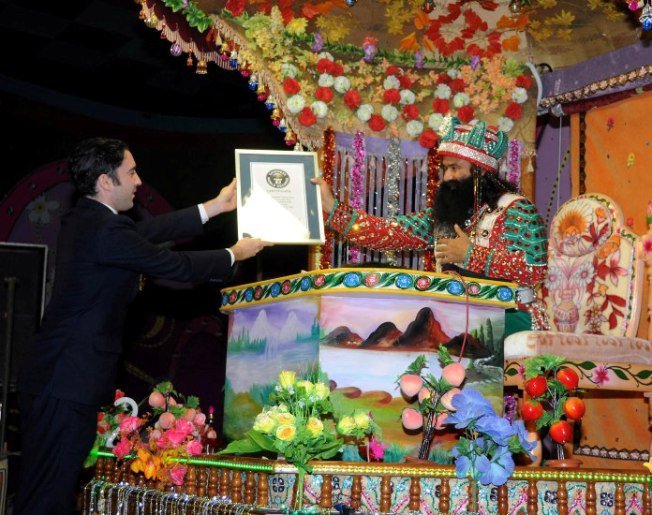 According to its website, the UK-based World Records University is an autonomous university formed by the conglomeration of Record Books throughout the World, and is the only university to offer an honorary Doctorate to Record Holder's / breaker's Community. It is offered only to a select group of highly accomplished individuals specially who have made a world or a national record.
It's India office is in Faridabad, Haryana – the state where Babaji's Dera Sacha Sauda is based. No surprise there.
Now, this is what Rachna Sharma, head of the university's India office, told us:
"Ram Rahim has 53 world records in various categories, out of which 17 are Guinness records, 27 are Asia Book records, 7 India Book records and 2 are Limca records. Basically, Babaji's personality is an all-round one, which we considered. In the five years of India operations, the university has awarded around 100 Indians so far."
The records include: Most people in a selfie, largest number of people dancing on a film launch, receiving most handmade greeting cards, largest poster for film promotion, most people wearing Rakhi together, most people saluting together, most people waving wearing wrist bands, besides humanitarian activities such as the largest blood donation camps and eye camp.
Well, we are still recovering from it.