In a shocking incident, a group of women residents of Gurugram's Essel Tower was accused of 'supporting prostitution' when they protested against a discriminatory rule. The society restricts single tenants from entertaining visitors of the opposite sex, even if it is a family member, reports The Times of India.
The incident took place on Friday when a group of single tenants got into a heated argument with other residents. After this, one of the single tenants, Divya Srinivasan, wrote a post on Facebook and also shared a video, which clearly shows a resident saying, "You are supporting prostitution in the society." 
The post was widely shared and sparked a debate on social media on the freedom of single tenants across the country.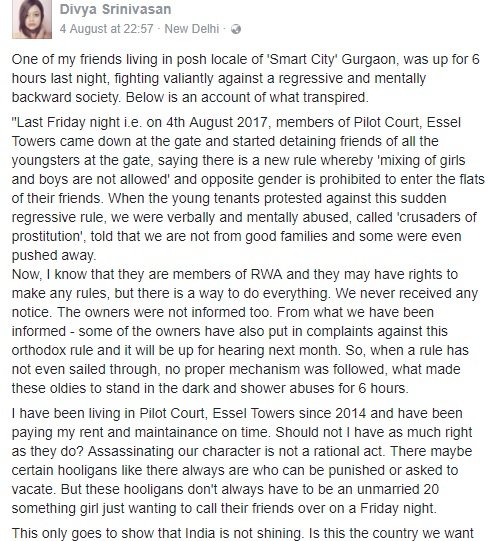 However, the Resident Welfare Association (RWA) later denied making any such comments during the heated exchange between home owners and tenants of the society on Friday night.
One of the tenants said she and some fellow residents protested after seeing women reduced to tears at the society gates when they were told by the guards they could not meet their (male) friends. "We saw some women who had been harassed and were crying since they were stopped and not allowed to meet their friends. We offered to help them. That is when we were accused of supporting prostitution," Singh told TOI, who lives as a tenant at Pilot Court. The society made this rule earlier this year and kicked up a controversy for moral policing.
The tenants said they tried to resolve the matter by offering to show identification for their guests. "However, the RWA members became aggressive. Some of them started shoving us and one of the men accused us of encouraging prostitution… They threatened to complain to our landlords," she added. A group of residents said they would file a police complaint about the derogatory remarks made on Friday night. 
On Saturday, the RWA issued a notice: "Visitors other than immediate family members… are not allowed after 22.00 hours and before 08.00 hours (and not allowed to stay overnight)." It added that flats should be occupied by members of the same sex. The tenants responded: "We shall not provide proof of our relationship with our guests. Most of the tenants are fully grown adults with an independent will," reports The Indian Express.
Reports said that the tenants are also asking for a public apology from RWA members, who accused the girls of promoting prostitution.
Capt SP Sinha, who is a member of RWA Pilot Court even went as far as calling Pilot Court a red light area. He claimed that the association has been trying to restrict the mixing of men and women to avoid any untoward incident. He also alleged that rooms are being rented out on an hourly basis.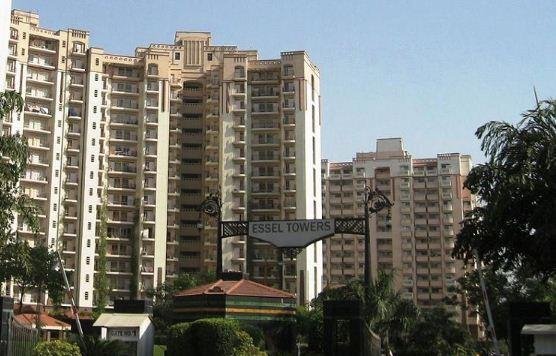 Following the brawl, the tenants at Gurugram's Pilot Court, Essel Towers, have drafted a letter to the society RWA, listing their objections to some of the rules. They have said that they are 'not okay' with the rule of not allowing visitors of the opposite sex.
According to the TOI report, responding to the tenant's letter, the Pilot Court RWA, "We want order in the society at any cost, and won't allow guests of the opposite gender to visit [tenants in] the society. It's a residential area and we'll not let it become a hotel. We're asking tenants to get ID cards made, but they are resisting the move. We have the freedom to live in our house the way we want. Media is unnecessarily putting a moral policing tag on this issue."
As per a Delhi High Court order, gates to residential colonies cannot be closed during the day. If they have to be shut at night (between 11 pm to 5 am), RWAs are required to post guards there so that no inconvenience is caused to people who want to visit somebody in the area, reported Hindustan Times. 
(Feature Image Source: Twitter)