A case has been registered against hair stylist Jawed Habib at Hyderabad's Saidabad police station for allegedly insulting Hindu Gods in a newspaper advertisement published in Kolkata two days ago.
Based on a complaint by advocate K K Sagar, police registered a complaint under Indian Penal Code (IPC) Section 295A (deliberate and malicious acts intended to outrage religious feelings of any class by insulting its religion or religious beliefs), reports The Indian Express.
Also read: Why Making Hairstylist Jawed Habib Apologise For His Durga Puja Ad Goes Against Bengali Culture
The newspaper advertisement showed Lakshmi, Saraswati, Ganesha and Kartikeya getting their hair fixed, applying makeup, and counting money with Durga looking over them in a Jawed Habib salon along with the tag, "Gods too visit JH salon."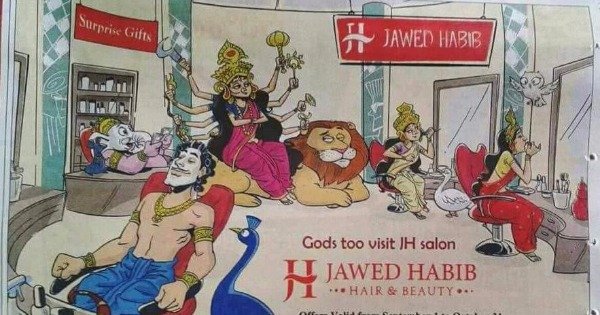 Citing the advertisement, Sagar approached the Saidabad police alleging that the hair stylist had hurt his religious sentiments. "After seeking legal opinion on the complaint, we registered a case under Section 295-A of Indian Penal Code against the hair stylist," Saidabad Inspector K. Sattaiah told The Hindu. A notice under Section 41 of Criminal Procedure Code would be sent to Mr. Habib.
He demanded the hair stylist to be immediately arrested and prosecuted as the ad hurt the religious sentiments of the Hindus.
Habib posted a video on Twitter on September 5 apologising for the advertisement. "One of our partners released the advertisement in Kolkata. I have been working for 25 years. My only religion is scissors. Sentiments have been hurt. I apologise for this," he said in the video.
Habib's company's spokesperson also clarified the advertisement, which appeared in West Bengal. The spokesperson said the ads would be withdrawn immediately, reports Hindustan Times.
(Feature Image Source: Twitter)