In what was arguably a case of a ministerial high handedness, Haryana Health Minister Anil Vij was trending on Twitter on Saturday after an ugly spat with a police official at a public meeting on Friday.
The minister was caught on tape, first arguing with the official and then asking her to get out. When she didn't budge, he got up and left in a huff.
The confrontation took place during a meeting of the District Grievances and Public Relations Committee at Fatehabad which was also attended by Deputy Commissioner NK Solanki.
Despite the minister's walk out, the Deputy Commissioner continued with the meeting.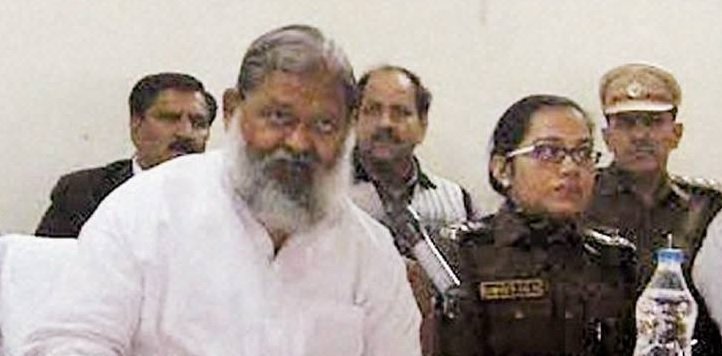 At one point during the meeting, the minister questioned Superintendent of Police Sangeeta Kalia regarding a complaint about the unauthorised sale of liquor in villages.
On being asked by the minister as to what steps the police had taken regarding the multiple shops of liquor that had been opened in the villages, Kalia said that as many as 2,500 cases had been registered under the Excise Act in the last 10 months, which was a "record".
Vij, however, wasn't impressed with the SP's reply. The two argued on the matter and during the course of it the minister became agitated and allegedly asked the SP to "leave" the meeting.
The lady officer, however, refused to as she felt she was not in the wrong.
The officer's response angered Vij, who immediately left the meeting with BJP workers and committee members in tow.
Here's a video of the incident
Later Vij told reporters that he would bring the matter to the notice of the Chief Minister and the state DGP. He also said he wouldn't attend any meeting in the future if the officer would be present.
On Saturday, however, Vij who is active on Twitter said that he would continue to battle against officials who failed to act on the complaints of people:
काम न करने वाले अधिकारियों कर्मचारियों के खिलाफ मेरी जंग जारी रहे गी |

— ANIL VIJ Minister (@anilvijmantri) November 28, 2015
काम न करने वाले अधिकारियों कर्मचारियों के खिलाफ मेरी जंग जारी रहे गी |

— ANIL VIJ Minister (@anilvijmantri) November 28, 2015
with inputs from PTI