With protesting Jats observing "Balidan Divas" (day of sacrifice) today and threatening to intensify their agitation for reservation, Haryana is on high alert with maximum deployment of forces to prevent any untoward incident. 
The agitation seeking reservation in education and government jobs for the Jat community, among other demands, entered its 22nd day today.
The protesters have said they will bring thousands of supporters to all 20 dharna sites in the 19 districts. As a precautionary measure, Haryana Roadways suspended its bus service for today on some routes falling in the sensitive districts, including Hisar, Rohtak, Kaithal and Sonipat, a state roadways official said.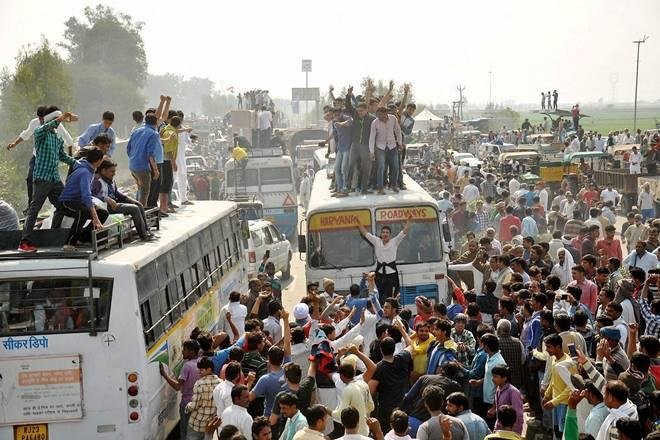 Yashpal Malik, president of The All-India Jat Aarakshan Sangarsh Samiti (AIJASS), the body spearheading the fresh stir, had said, "February 19 would be observed as 'Balidan Divas' at different places in the state and some parts of the country in memory of those who lost their lives during last year's agitation in Haryana."
Anticipating huge gathering later in the day at the sit-in site in Jassia village of Rohtak district, the district administration has diverted Rohtak-bound traffic coming from outside to routes via Kharkhodda, Lakhan Majra and Gohana.
Except vehicles participating in Jat stir sit-in, no other traffic would ply on Rohtak-Panipat highway from Rohtak Gol Chowk till Gohana.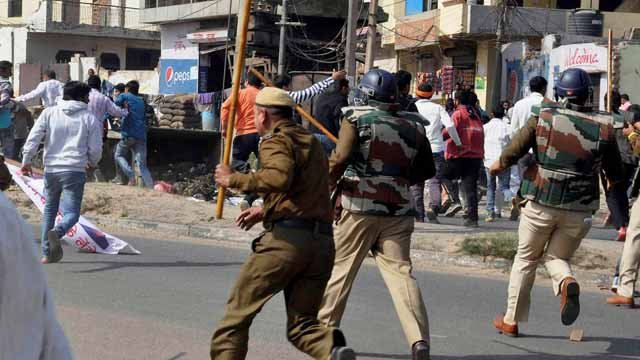 In Hisar district's Ramayan village, the protesters were camping close to the railway tracks and the national highway. The Jats have also organised "havans" at many dharna sites. 
Drone cameras would be used to monitor the agitation. Chief Minister Manohar Lal Khattar today said here that so far there was no report of any untoward incident. He said the protesting Jats had been invited for second round of talks tomorrow.
Haryana's ADGP, Mohd Akil said that 37 companies of paramilitary forces have been deployed. With more people expected to come out at some places, traffic would be diverted wherever necessary to avoid any inconvenience to commuters, he added.
The government is also keeping an eye on social media and strict action will be taken against anyone found involved in spreading rumours or misinformation, officials said.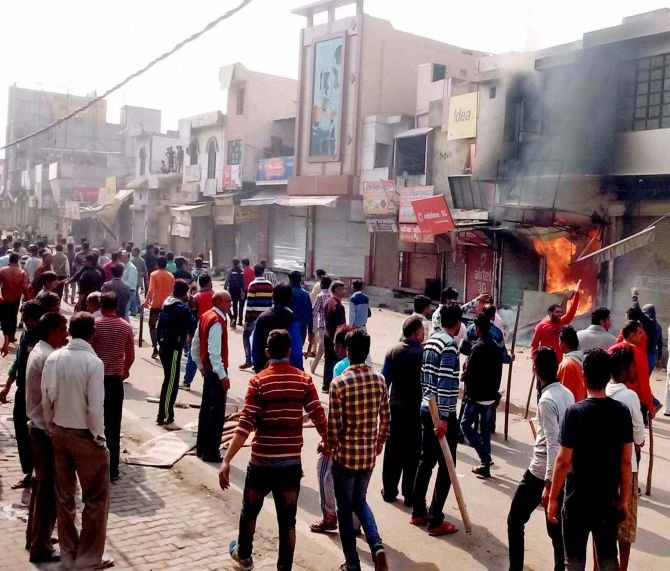 Besides seeking quota in education and government jobs under the Other Backward Classes (OBCs) category, the demands of the Jats include release of those jailed during last year's agitation, withdrawal of cases slapped during the protest and government jobs for the kin of those killed and injured while taking part in the stir.
There is also a demand of action against BJP MP from Kurukshetra Raj Kumar Saini for his alleged anti-Jat rants. The main opposition INLD has openly come out in support of the agitating Jats and asked the state government to meet their demands. Congress too has asked the Khattar government to fulfil the promises made to the Jats after last year's stir.
As many as 30 people were killed and property worth crores of rupees was damaged at many places in the state during last year's Jat stir which had turned violent.
Rohtak and some of its neighbouring districts, including Sonipat and Jhajjar, were the worst hit by the violence.
(Feature image source: PTI)