Ahead of elections in Gujarat, a rather 'derogatory' tweet by Indian Youth Congress's online magazine Yuva Desh, calling PM Modi a 'Chai-Wala' (tea-seller) has angered many. 
This meme, that has created an uproar online, comes in the wake of Election Commission's decision to bar BJP from using a similar degrading term 'Pappu' for Rahul Gandhi in their election ads in Gujarat. 
In no time, several took to twitter to condemn this tasteless and 'elitist' tweet. What is to be noted, however, is that many pointed out that this tasteless joke may do more harm to Congress than PM Modi. Remember how the BJP milked Mani Shankar Aiyar's 'chaiwallah' jibe at Modi during the run-up to Lok Sabha polls by starting a campaign called 'chai pe charcha'? 
A tweet can be deleted but not the mentality which brands masses as 'Cattle class' & 'Mango people'. They can't fathom a 'Chaiwala' leading the nation. Gujarat Shall Answer!! pic.twitter.com/nEaalL50r4

— Jagat Prakash Nadda (@JPNadda) November 21, 2017
Self goal by the youth Congress? Bjp reminding people of Manishankar Aiyyar's "Chaiwala" comment made just before the Lok Sabha polls!! pic.twitter.com/gjB0zYj6QS

— Akhilesh Sharma (@akhileshsharma1) November 21, 2017
Madam Sonia Gandhi & Mr Rahul Gandhi do u still believe that only u have a divine right to rule India? Country expects ur response on the tweet of the youth Congress, which is shameful & insulting to poor. U can delete the Tweet but ur thinking towards the poor stands exposed. pic.twitter.com/TKQho0lAiB

— Ravi Shankar Prasad (@rsprasad) November 21, 2017
Whichever wise guy in the Youth Cong who tweeted a 'chaiwala' reference deserves to get a self goal of the election award. Hum nahin sudhrenge seems to be the credo for some!

— Rajdeep Sardesai (@sardesairajdeep) November 21, 2017
Just recently @OfficeOfRG had told his social media team in Gujarat to not use derogatory words against PM and now comes this youth congress cartoon

— pallavi ghosh (@_pallavighosh) November 21, 2017
The Tweet, however, was soon deleted and an apology was extended by members of Indian Youth Congress and Congress alike as they blamed it on a thoughtless volunteer. 
We condemn this and are apologetic. We are trying to find out who did that tweet as mainly volunteers run that page: Suraj Hegde, In Charge Youth Congress on Yuva Desh tweet against PM Modi pic.twitter.com/Ujk71vWs5J

— ANI (@ANI) November 21, 2017
The handle is not run by Indian Youth Congress but by volunteers, I still take this opportunity and apologize and strongly condemn that tweet: Amrinder Singh Raja Brar,Youth Congress Chief pic.twitter.com/5pIfT73LT3

— ANI (@ANI) November 21, 2017
INC strongly disapproves & rejects such humour through memes. Differences on policy and opinion aside, Congress culture imbibes respect for PM and all political opponents. https://t.co/RqLOugCHwh

— Randeep S Surjewala (@rssurjewala) November 21, 2017
However, a similar tweet by BJP MP Paresh Rawal mocking the meme backfired after it was flaked for being in poor taste too. He soon deleted the tweet too. 
Deleted the tweet as it's in bad taste n I apologise for hurting feelings .

— Paresh Rawal (@SirPareshRawal) November 21, 2017
Previously in 2014, Congress leader Mani Shankar Aiyar stirred up a controversy when he took a jibe at then BJP PM candidate Narendra Modi's past profession. 
"I promise you in 21st Century Narendra Modi will never become the Prime Minister of the country. …But if he wants to distribute tea here, we will find a place for him," he was quoted as saying by First Post. 
BJP all set to milk the error of Yuva Desh
Aiyar's tasteless remark is said to have proved to be a body blow to the Congress's chances in Lok Sabha as the BJP picked up the remark and blew it up into a full-fledged campaign to promote PM Modi. Will the BJP do it again during the run up to Gujarat Assembly polls?
Seems likely. Here's how various BJP leaders have reacted to the joke.
Sudhanshu Trivedi told ANI, "Yuva Desh deleting the tweet means nothing now. The damage is done, be it intentional or unintentional. This also clearly shows the feudal mindset of the Congress."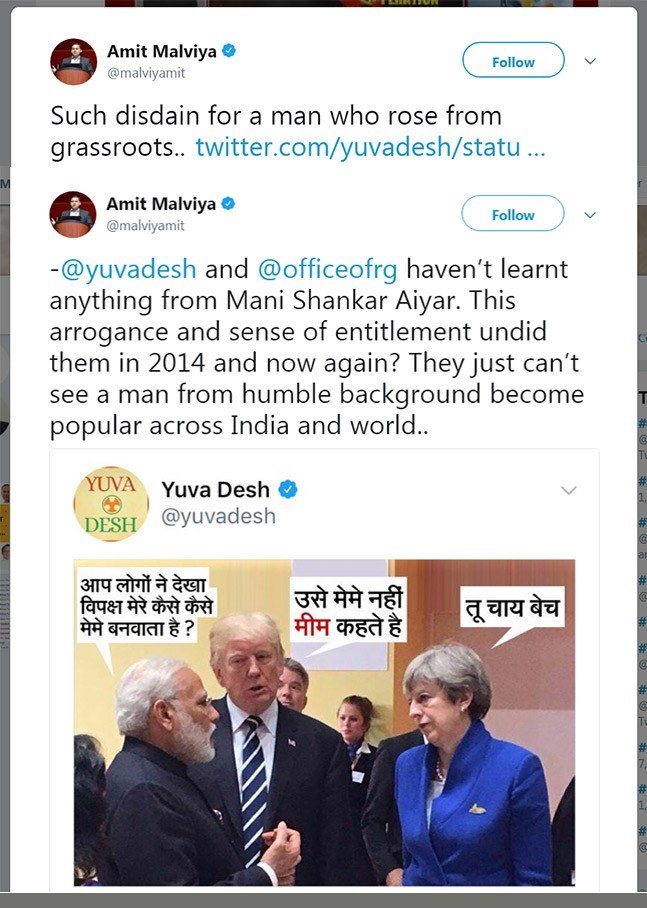 .