In yet another instance of hate speech, a video has surfaced where a supporter of BJP leader Yogi Adityanath delivers a speech saying they should dig out dead bodies of Muslim women and rape them. In a high-pitched vitriol the unnamed supporter also holds forth statements like Muslims' voting rights must be taken away and how this is important for the creation of Hindu rashtra .
While on one hand Yogi Adityanath shared the stage and listened in, on March 2 he said, "Hindus are liberal in nature and therefore the country is also liberal, and Muslims are safer in India than anywhere else in the world," at Virat Hindu Samavesh in Hubballi, Karnataka.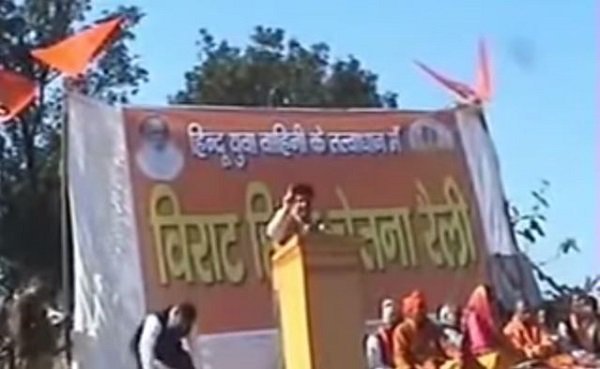 Speeches such as these are known to have incited mob riots and have created communal discord over the years in India. As per India's hate speech laws, a 'person can be punished with imprisonment which may extend to three years, or with fine, or with both' under Section 153 (A) of the Indian Penal Code.The video seems to be going viral on the internet, and therefore has managed to fan emotions by now. We have chosen to feature the video at the end of this article for the same reason. Please watch responsibly.
India's favourite hobby
Getting offended on behalf of religion, god(s); presuming responsibility as a spokesperson of a religion, making derogatory statements and outraging for the wrong reasons appear to be taking India by storm. This national hobby is a dangerous one to adopt and it doesn't need a scholar to understand that.
There have been numerous hate speech instances from political leaders and workers. To quote – Tapas Pal, TMC MP, in 2014 had said, "If you insult the mothers and daughters of Trinamool workers. Then I won't spare you. I will let loose my boys in your homes and they will commit rape. I will teach each of you a lesson." Then there was Varun Gandhi who in a speech allegedly threatened to cut off the hands of those who harm Hindus.
The present government run by the Hindu Nationalist Bharatiya Janata Party has been criticised for not curbing hate speech.
India is a culturally diverse and secular nation, at least according to the Constitution. Hate speech is one of the major thorns in the side of our democracy, which if not checked, will result in spiralling hatred. That may be the agenda of some, but we can choose to not play into the hands of the haters.