In a shocking incident, a patient was served food on the floor of a Jharkhand hospital after the hospital's kitchen staff claimed they had 'no plates," for her, NDTV reports. 
The pictures of the episode came to fore after a Hindi newspaper Dainik Bhaskar carried the photo of patient Palmati Dev eating food served on the ward floor of Jharkhand's biggest government hospital – Ranchi Institute of Medical Sciences (RIMS). 
On Wednesday, Palmati, who had come to hospital for the treatment of her fractured hand, was told that the hospital doesn't have a plate to serve her meal, the report said.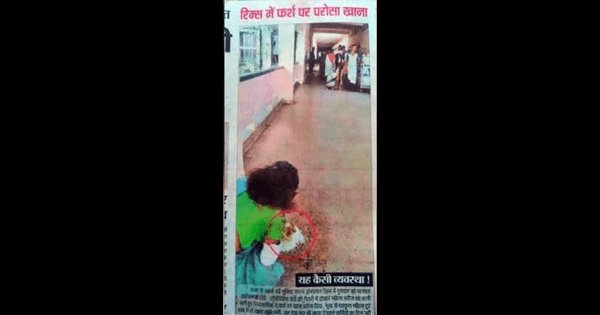 After failing to get a plate, Palmati was asked to clean a patch of the floor area by the hospital staff. She was then served a meal of rice, dal and vegetables on the floor. 
The hospital has ordered an investigation into the incident. 
RIMS Director BL Sherwal told India Today, "Patients are given food on plates. We have ordered an inquiry and will take strict action against those who served her food on the floor."
Feature image source: Dainik Bhaskar