Vijay Singh is waiting for me at the Kishangarh CNG petrol pump in south Delhi. In the glare of afternoon light, Singh looks smaller than I remember. His checked shirt hangs loosely on his gaunt frame. A tentative smile hovers around his lips. As I approach him, I can see that he is shifting his weight from one foot to another. Singh is clearly not very confident about this meeting. "Chale?" (Shall we go?), he asks. 
Like all interesting Delhi stories, Vijay Singh came to me in an autorickshaw. Rather, I walked into his autorickshaw exactly two weeks ago. It was an unusually humid evening for Delhi summer and I had had a long day at work. From the moment I stepped into his auto, I could sense that Singh was itching to engage us in a conversation.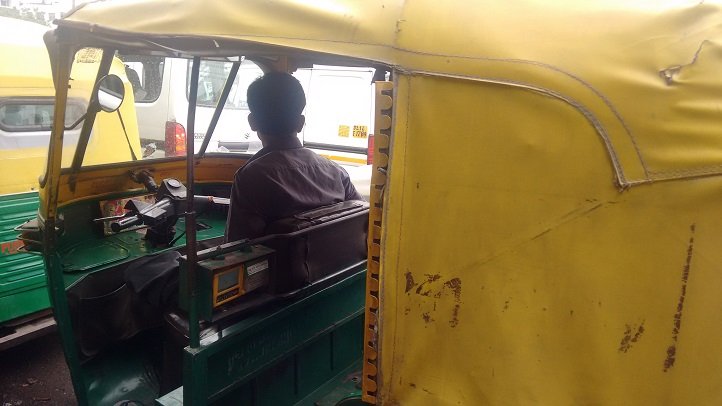 "Not one of those," I sighed. Delhi has a way of making you wary of human interactions. Singh went on about the Delhi heat and the precautions he takes against it. I nodded politely and looked outside. Until something he said jolted me out of my reverie- "I send my son to one of the most expensive schools of South Delhi, so I have to work doubly hard."
Even before I asked Singh the question, I knew that he probably got his son admitted to the school through  the 25 per cent quota. Under this scheme, 25 per cent seats are reserved in all private schools for children from  Economically Weaker Sections (EWS)-families with an annual income less than Rs 1 lakh. 
"I am always scared of taking my son to school because I feel the teachers will speak to me in English." Singh said. 
Like Irrfan Khan in Hindi Medium, I thought. The film, which releases this Friday, focuses on the perils of people not proficient in English, trying to send their children to English medium school. 
I jotted down his number and asked him if I could meet his son. Singh was grinning ear-to-ear. 
Great, I got myself a story, I told myself. 
The next morning, when I called Singh, I could detect apprehension in his voice. That's the worst thing a journalist can hear on a Monday morning. "Will I get into trouble? Will they throw my son out of the school?" he asked. 
I reassured him that I will not disclose his identity. 
"But what if they mention the school's name?" I could hear Singh's wife at the other end of the phone. 
I won't mention the school's name either, I assured them. 
"My school has a swimming pool!"
Two weeks and three cancellations later, I am sitting in the one-room Singh residence in Ghitorni.  It's a ten feet by ten feet room, with the kitchen counter occupying a major chunk. A steel almirah dominates the other end. It's plastered with doodles of the two Singh brothers, Ravi (7) and Anuj (4).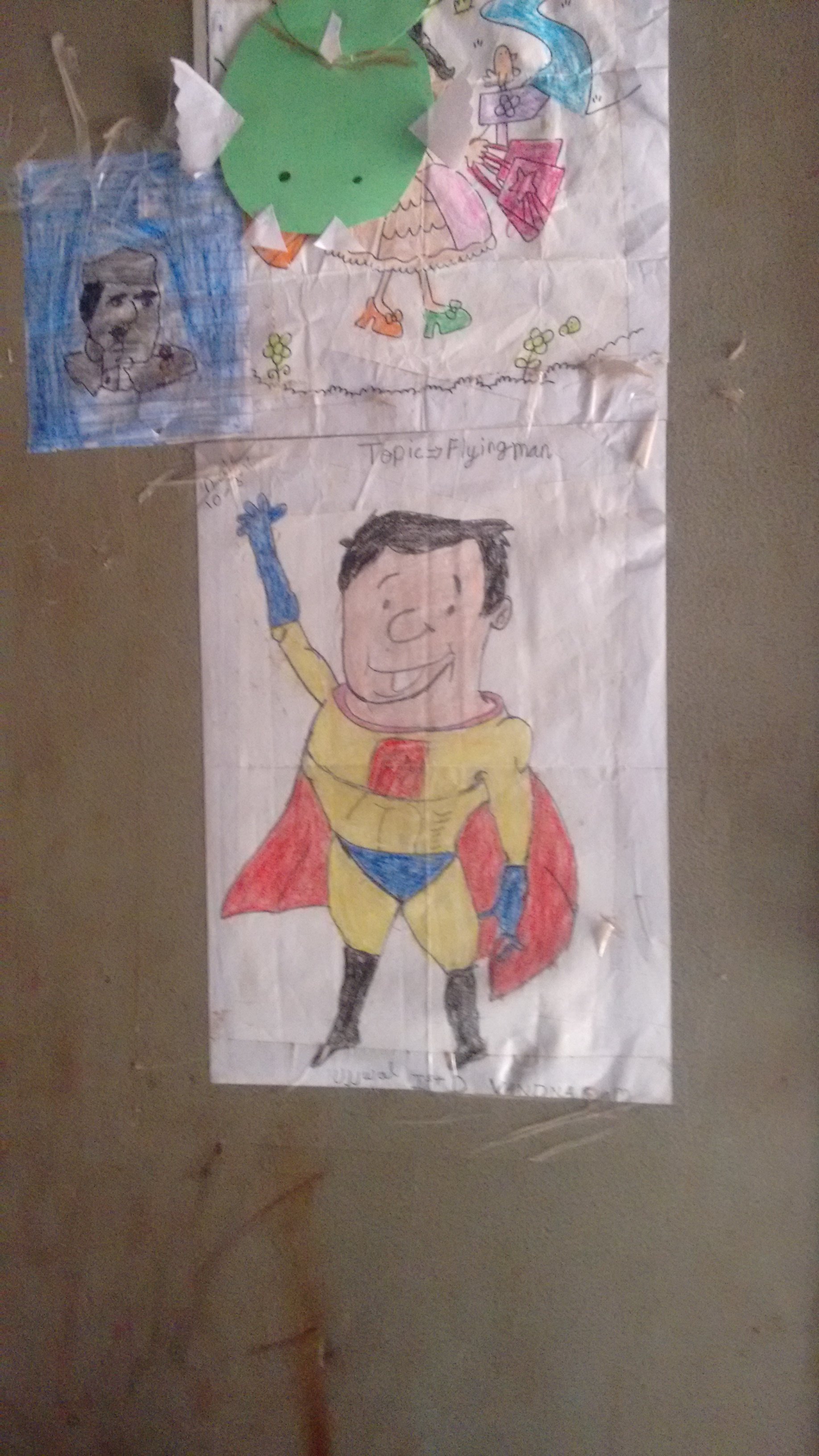 Anuj, the boy I have been waiting to meet for two weeks, is busy sucking into an iced lolly. He is shy but not shy enough to resist the charms of a packet of iced lollies in a hot summer afternoon. 
Anuj, who leaves his one-room home for his air-conditioned school every morning. Anuj, who had never seen a swimming pool before being admitted to his South Delhi school. Anuj, whose parents don't speak a word of English. 
"We have lift in our school," he says. 
Does he like his school? 
He nods after looking at his mother. 
"He is too young to understand what it means. He is just 4. Even we are grappling with all this," says Urvasi, 23. 
Indeed, a few months ago, the Singh family had no clue about the workings of an English-medium school. Their elder son, Ravi, goes to a nearby Sarvodaya (government) school. The medium of instruction is Hindi. "He has an English tuition teacher, who teaches him for free. I need to spend less than Rs 500 a month on his education," says Singh.
Vijay's story
Vijay Singh, who is 30 now, came to Delhi from his hometown, Kannauj (UP), when he came to Delhi, was only 15. He spent the first 13 years of his life as a labourrer with a packers and movers firm. "I barely made Rs 7000 there. I make a little more than that as an autorickshaw driver. Singh married Urvasi when he was 21 and she was 16. they had two sons in quick successions. 
"I come from a family of farmers. My father has never seen the insides of a school. Neither have I. But I have big dreams for my sons," he says.  Ever since it was announced that 25 per cent seats will be reserved in the private schools of India for children from Economically Weaker Sections in 2014, under the RTE Act, Singh has been regularly filling forms for both his sons. "I tried it for my older sons too. I desperately want him to study in English medium school. But it didn't happen," says Singh. 
A message that changed their life
Like every year, the Singhs applied under the scheme this year too. "I filled up the form under the EWS scheme but I wasn't expecting much," says Vijay. Yet, a few months ago, he received a message saying his son has been selected to be admitted in one of Delhi's most expensive private schools. "I first thought it was a prank. I showed it to teachers at my elder son's school, they congratulated me," says Singh.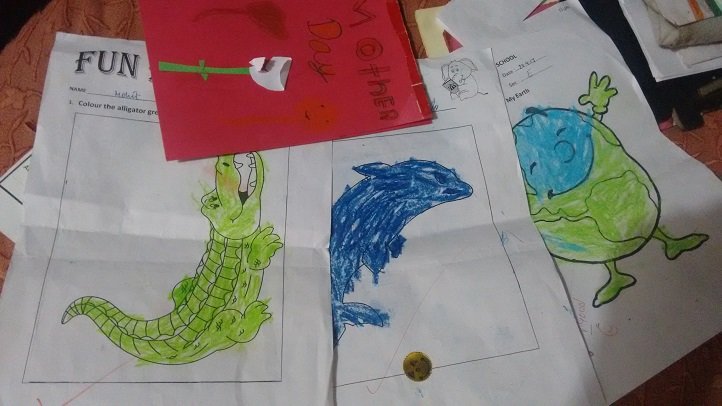 But he was afraid Very afraid. "I have heard that the annual fees of this school goes up to lakhs. I know that I will never see that kind of money in my life, leave alone earn it. But the scariest part of it all was going to the school. I didn't know how I will address the teachers, the staff," says Singh. 
Though Singh didn't have to pay a single penny for tuition fees, he did have to shell out a few thousands for his son's books. "They have five different uniforms for five days of the week. We had to shell thousands for that too," says Vijay, who took a loan from a friend to fund all this. 
When two worlds collide
Though his son has gone to school for just a month, Vijay and Urvasi are nervous about the dreaded  parent-teacher's meetings. "I am scared that I will be found out by other parents. As of now, whenever I have met the teachers, I have done it personally. But in parents teacher's meetings, you have other parents too na?" asks Urvasi, who dropped out of school when she was in the fifth standard. 
"When I go to pick up my son, I see other parent's stepping out of Audis and other big cars. I know my son will ask me questions that I won't be able to answer soon," says Vijay. 
Does his son ask him uncomfortable questions? 
"He doesn't understand why can't he board air-conditioned buses like his other classmates. I tell him those are bad buses. We have our own autorickshaw," says Vijay.  
All pictures and videos sourced from Premankur Biswas
All names and some locations of this story has been changed to protect the identity of the child