A woman named Om Shanti Sharma who has been staging an 'indefinite dharna' at Delhi's protest site Jantar Mantar is all over the news these days. This is because of her bizarre demand: she wants to marry Prime Minister Narendra Modi.
A resident of Jaipur, she has been sitting on the 'dharna' for over a month now, since September 8 to be precise. Thanks to her unusual demand and willingness to talk about it to the media, many channels and newspaper reporters have been flocking to her, asking her the obvious questions- why she wants to marry the PM or what if he doesn't oblige.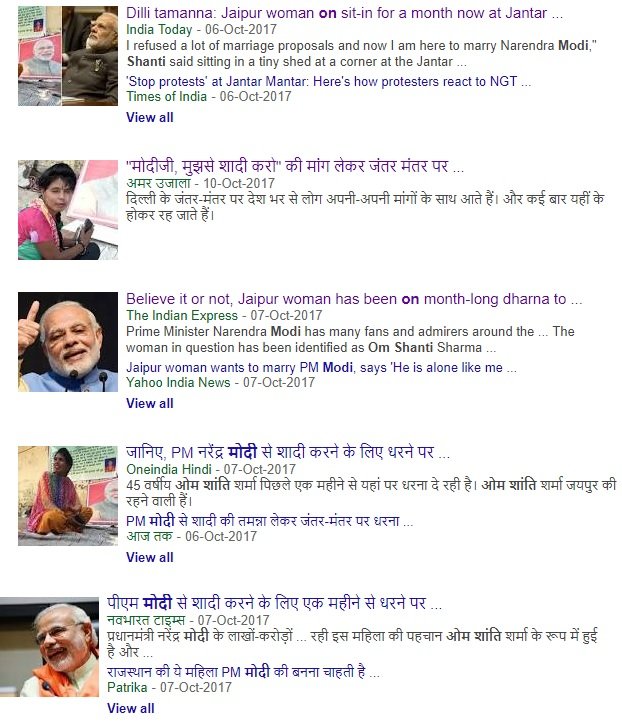 In response, Om Shanti has been telling the media that some four months ago, Modi appeared in her dream and promised to marry her, which prompted her to leave Jaipur and camp in Delhi. She says she wants to "serve PM Modi" as he single-handedly has a lot of work to do – an explanation met with much chuckles and mockery on social media.
In a quote to India Today that has since been picked up by many news outlets, Shanti said, "When people hear about this, they often laugh at me. I want to tell them that I just don't want to marry Modi ji because I have a thing for him, it is also because I respect him. In our culture, it has been taught since childhood to respect elders and help them in their work. I want to do my bit and help."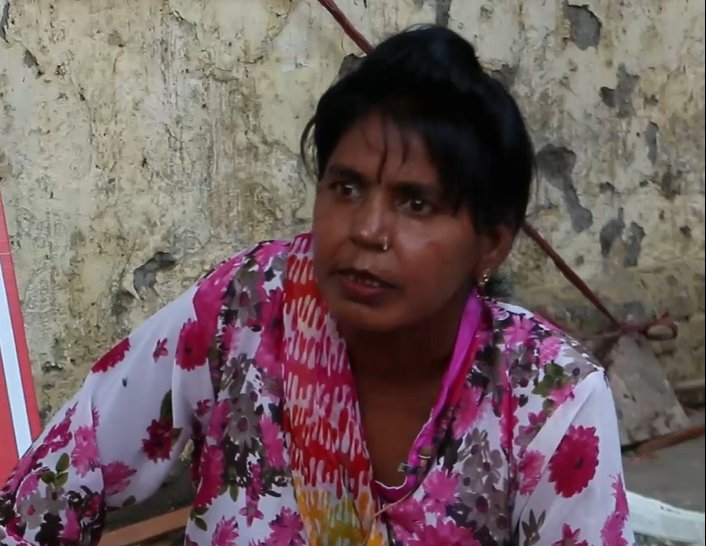 Amusing as the story is, one wonders whether Om Shanti is doing it because she really believed her dream or is just seeking attention and some publicity out of it. But if one hears her story, one feels sad and wonders if she needs help instead of TRP-hungry media.
ScoopWhoop News found her seated on the ground in the open sit-in space at Jantar Mantar in front of a large portrait of PM Modi and a poster explaining the reason for her sit-in, on Wednesday. She was all alone, accompanied only by a heap of papers that included newspapers and some pamphlets from other protests at the site. She sleeps on the ground like may others, uses the make-shift toilet at the premises meant for the protesters and eats at Gurudwaras.
Shanti told her story: She was married in 1996 in Jaipur to a man named Kanhaiya Sharma who "ditched her" just a year after marriage. She was six months' pregnant then. "He called me sick. Mentally sick," she says.
Shanti says she was eventually kicked out of her maiden house also, by her four brothers and their wives who, again, called her a "mad woman".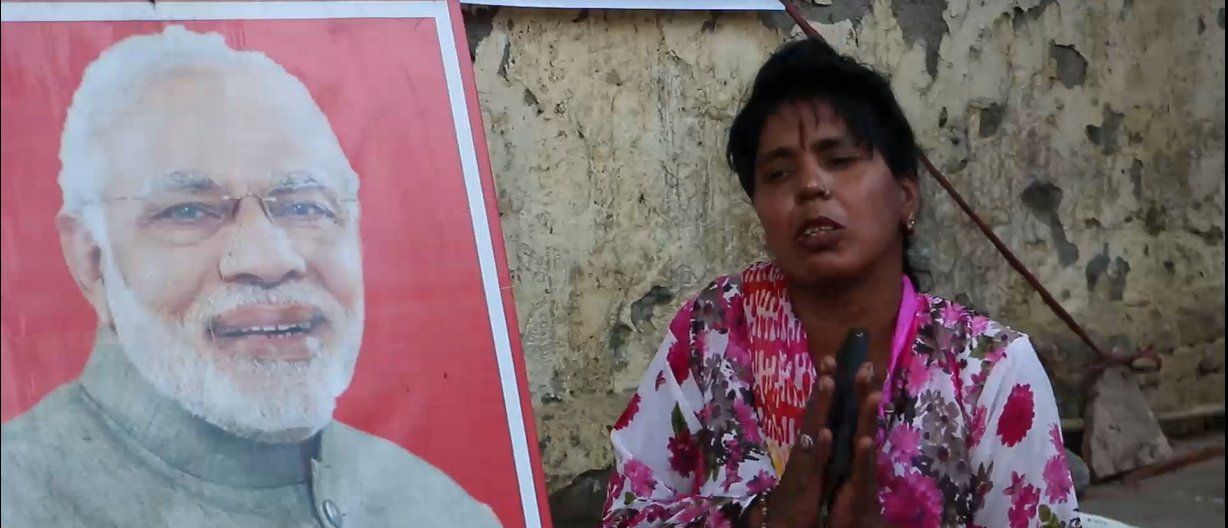 "My brother's wife Sushila Sharma who is a doctor at a government hospital in Jaipur, has taken the custody of my 20-year-old daughter. She never lets me meet her," Shanti told ScoopWhoop News. "Six months ago went to Jaipur to meet my daughter, she didn't allow me to see her even once. You can't imagine my plight. I am a mother and it's so painful when you can't even see your child."
Shanti claims to have a lot of ancestral property and land back in Jaipur. "But my four brothers have not let me take even a penny from it, although as per law that belongs to me as well."
There's more. Shanti says her husband, and later brothers, would beat her often. 
In fact, she admits that the prime reason of her bizarre sit-in is that she has nowhere to go. "Now I have no place to live. My husband is not ready to accept me, my brothers have thrown me out, so where should I go?"
"They also call me mad but I am not," she says.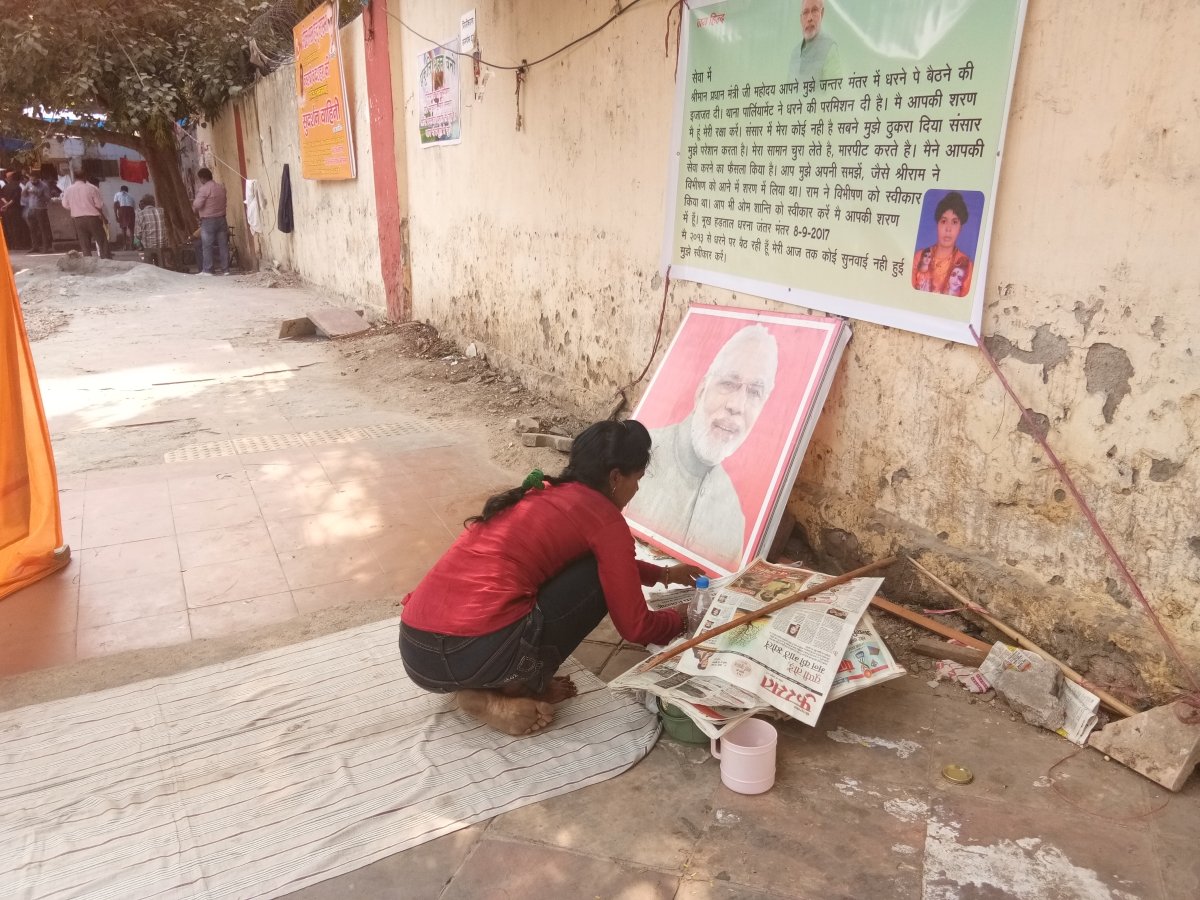 Shanti has promised herself unbelievable outcomes from this 'dharna', one of them being that marriage with Modi will help her get the property in her name back.
"Prime Minister Modi is supreme. If he wants to, my life will come back on tracks within seconds," she says. Eventually, she sounds like any other uninformed voter in India who hopes that Modi will fix everything.
We do not know if what Shanti shared as her life story is true or not. We have no way of finding it as she refused to give us any contacts of her family. But It's quite clear that behind her hilarious demand that has little possibility of being met, is a sad tale. Om Shanti perhaps needs help.