Former FBI director James Comey rocked Washington on Thursday in testimony before Congress on alleged efforts by President Donald Trump to influence the investigation into Russia's meddling in the 2016 election.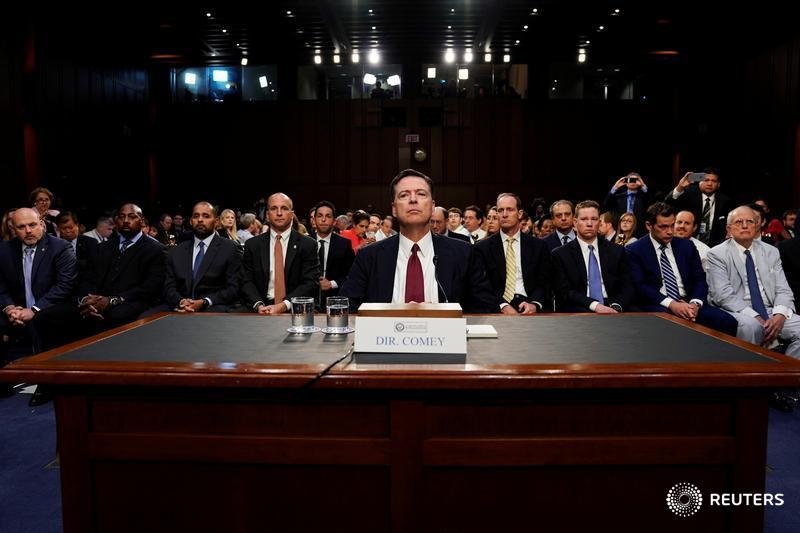 The key issue before the Senate Intelligence Committee was whether Trump sought to obstruct the investigation in nine conversations with Comey this year, leading up to his dismissal of the FBI chief on May 9.
Here are the key points of what Comey had to say in his first public appearance since his ouster:
'Direction,' but no order to end probe 
Asked if Trump ever demanded the Russia investigation be shut down, Comey flatly replied "No".
But he said that Trump's request at a February 14 Oval Office meeting for him to ease the probe of former national security advisor Michael Flynn sounded like an order.
#BREAKING Comey says Trump never asked him to stop Russia investigation

— AFP news agency (@AFP) June 8, 2017
Trump said, Comey recalled, "I hope you can see your way clear to letting this go, to letting Flynn go. He is a good guy."
"I took it as a direction. He's the president of the United States, with me alone, saying 'I hope this.'… I took it as this is what he wants me to do."
"I was so stunned by the conversation that I just took it in."
Obstruction of justice? 
Comey said it was not up to him but instead the independent special counsel in the Russian probe, Robert Mueller, to decide whether Trump broke a law.
"I don't think it's for me to say whether the conversation I had with the president was an effort to obstruct. I took it as a very disturbing thing, very concerning."
James Comey describes as very "disturbing" requests that he drop an investigation into a former national security advisor's ties to Russia pic.twitter.com/SXAau851My

— AFP news agency (@AFP) June 8, 2017
At the same time, he strongly suggested obstruction.
"It's my judgment that I was fired because of the Russia investigation," he told senators. "I was fired in some way to change, or the endeavor was to change, the way the Russia investigation was being conducted. That is a very big deal."
White House 'lied' over Comey firing 
Comey recalled that Trump and the White House gave shifting explanations for why he was dismissed, first saying it was over his handling of the Hillary Clinton email probe last year, then saying it was the Russia investigation, and finally declaring Comey was a poor leader disliked by the FBI staff.
"The administration then chose to defame me and more importantly the FBI by saying that the organization was in disarray, that it was poorly led, that the work force had lost confidence in its leader. Those were lies, plain and simple."
Memos on Trump meetings 
Comey said his distrust of Trump prompted him to take meticulous notes immediately after each of their nine discussions this year.
"I was honestly concerned that he might lie about the nature of our meeting, and so I thought it really important to document," he said of one such occasion.
He was later surprised when Trump suggested he had taped the conversations.
"I've seen the tweet about tapes. Lordy, I hope there are tapes."
Comey's leaks 
Under attack by Trump, Comey wanted to get his side of the story out. So he leaked his memorandums on the Trump discussions to the New York Times.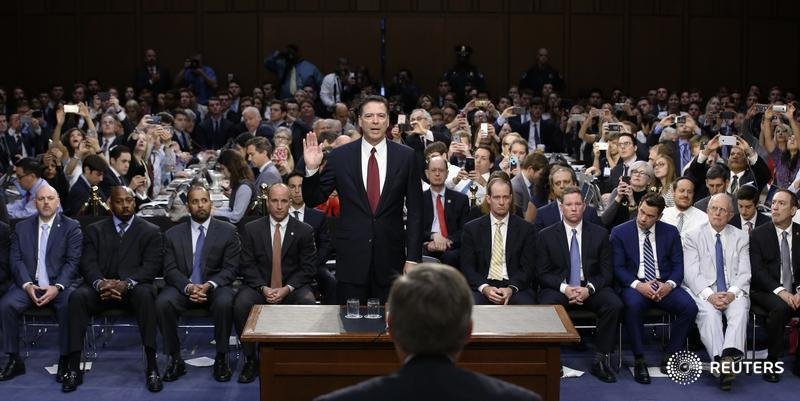 "I didn't do it myself for a variety of reasons," he said, instead asking a friendly law professor to share his written recollection of those conversations with a reporter.
"I asked him to, because I thought that might prompt the appointment of a special counsel."
Trump disinterested in Russia probe 
Comey said there was no doubt, in his mind, about the Russian government's covert attempt to interfere in last year's presidential election. But Trump showed no interest.
"I don't remember any conversations with the president about the Russian election interference," he said.
"We're talking about a foreign government that using technical intrusion, lots of other methods, tried to shape the way we think, we vote, we act. That is a big deal."
A missed date 
Comey said Trump himself called him to a dinner on January 27, during which he asked him for a pledge of loyalty.
"He said, how about 6:30? I said whatever works for you, sir," Comey recalled.
"Then I hung up and called my wife and broke a date with her. I was supposed to take her out to dinner."
"That's one of the all-time great excuses for breaking it," quipped one of the senators at the hearing.
Watch the Hearing here: 
(Feature image source: Reuters)