Union minister Sushma Swaraj rescuing people in distress has become the new norm since she was given charge of the foreign affairs ministry. Thanks to her timely responses to people who reach out to her on Twitter or otherwise, Swaraj has helped all – be it Indians stranded abroad or foreign nationals who faced difficulties in India.
Just two days ago, she helped an Indian woman return from Pakistan where she was forced to marry at gunpoint. 
The woman Uzma Ahmed had been staying at the Indian mission in Islamabad after she accused one Tahir Ali of marrying her at gun point. The woman who has now safely returned to India credited Swaraj and her ministry for their efforts.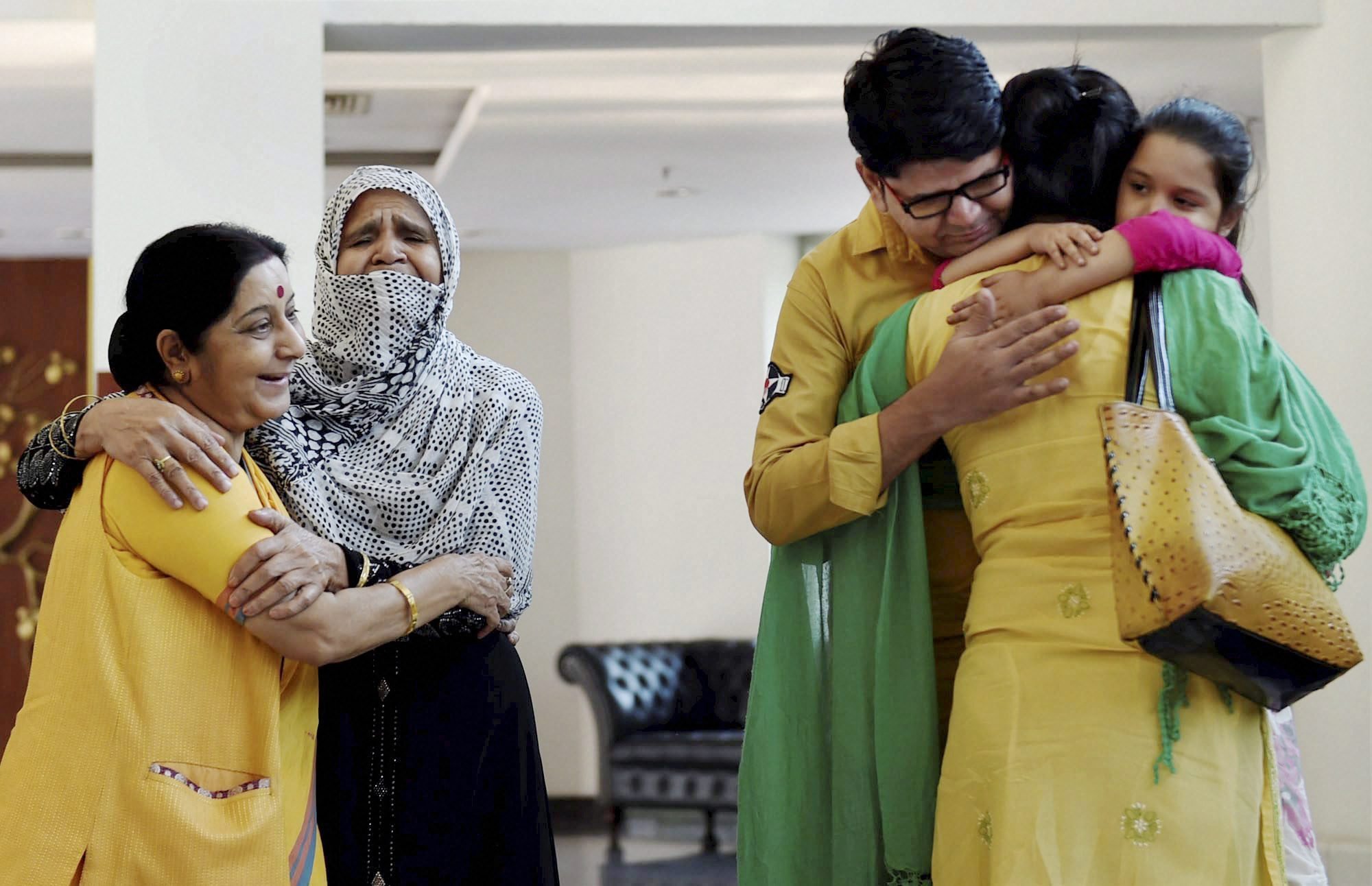 The case adds to the list of such efforts which the minister has put in to help out people in distress while performing her duty.
Here is the long list of such wonderful instances:
In April 2017,  She rescued a Hyderabad woman in Saudi Arabia who was facing mental and physical harassment at the hands of her sponsor. Swaraj's direction to the Indian embassy officials in Riyadh came via a series of tweets after media reports announced that the woman was deceived by her agents and wasn't allowed to come back to India.
In March 2017, she rescued a Telangana woman who was living in Pakistan. The woman was living in Sialkot was facing abuse from husband as well as in-laws and wanted to come back, reports The Hindu.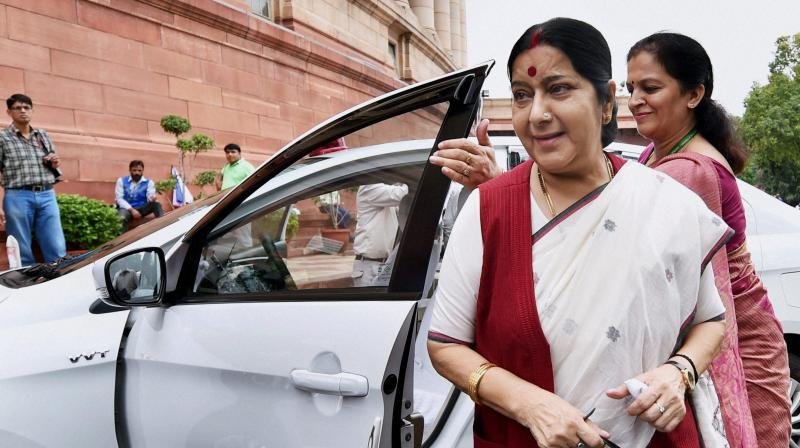 In the same month, 29 Indian workers who were held in captivity by a company in Saudi Arabia were rescued. They were kept without any food or basic amenities and the company had demanded USD 50,000 from each of the employees before allowing them to leave. All of them were safely flown back to India, reports PTI.
In February 2017,  she rescued a Navy officer and his wife who were stranded in Yemen. The man was chief officer of an Indian crude oil tanker named 'Jag Prabha' was stuck in Yemen's Aden when he tweeted an SOS to the minister, reports Indian Express.
In October 2016, she rescued 20-member group of women from Pakistan who were running a cross-border peace initiative Aghaz-e-Dosti. However, due to India's surgical strikes, tensions grew between the two countries and they couldn't go back. But thanks to Swaraj's intervention, the girls whom she referred to as 'daughters' were sent back to Pakistan.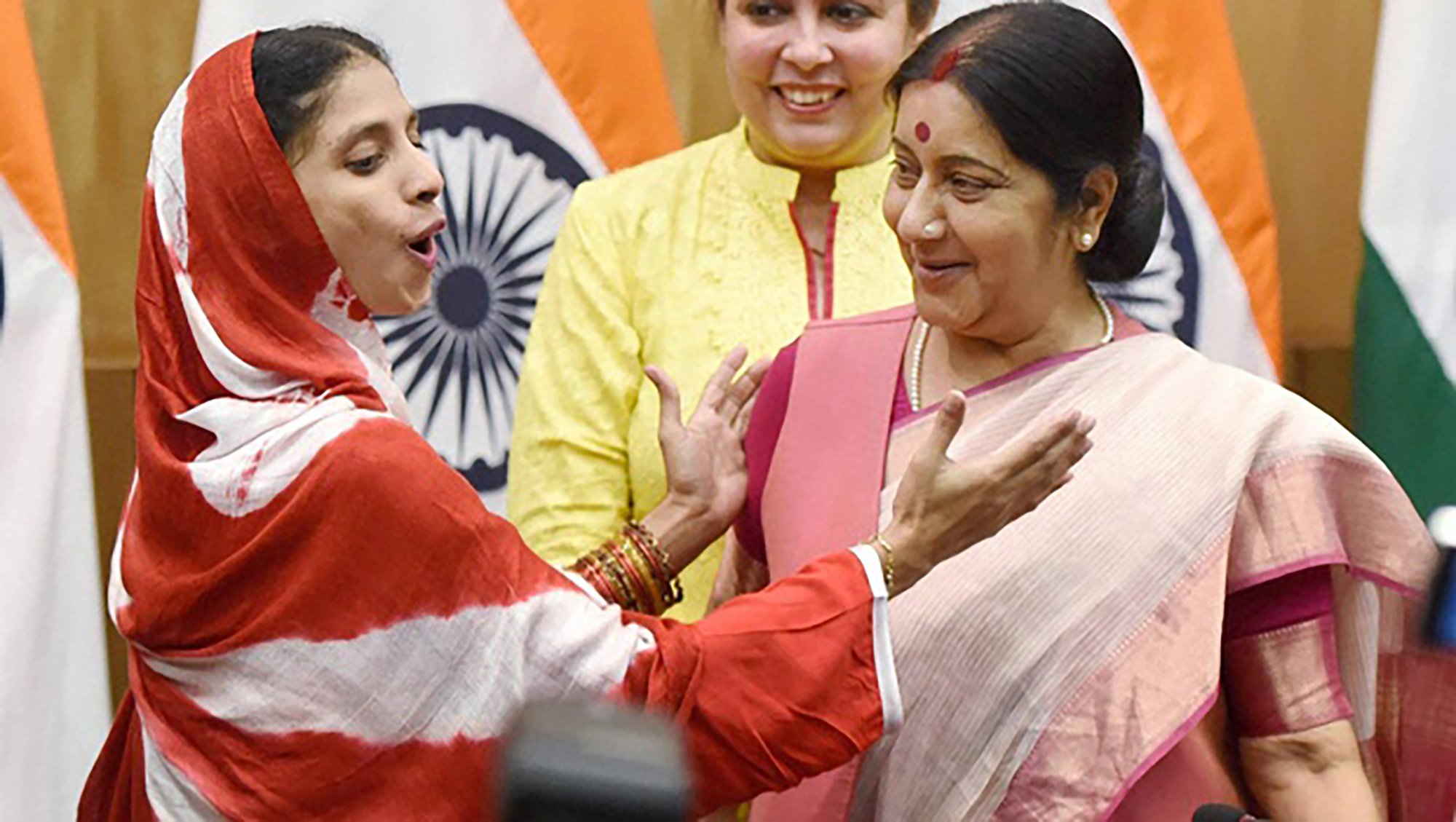 In August 2016, she helped a newly married couple spend their honeymoon abroad. The wife had lost her passport before their honeymoon and the husband had to travel alone. But after he tweeted about it, Swaraj responded and issued his wife's passport. 
In November 2015, she helped a 15-year-old boy reunite with his mother in Pakistan. The boy had sneaked into India from Bangladesh where he was being tortured by his father who had separated him from his mother, reports Hindustan Times.
In October 2015, she arranged for the safe return of Geeta, a deaf-mute Indian girl who had mistakenly ventured into Pakistan when she was 7-8 years old. The girl stayed in Pakistan for more than a decade and was looked after by Edhi Foundation, Pakistan's biggest social welfare organisation.
(Feature image source: Reuters)