104 days after intense protests over the decade-old demand of separate state for Gorkhas, Gorkha Janmukti Morcha (GJM) has decided to call off the indefinite strike in Darjeeling hills following an appeal by Home minister Rajnath Singh. 
The hill region of West Bengal had witnessed weeks of violent protests between native Gorkhas and security forces over the demand of a separate state within the Indian constitution. Schools, businesses, training institutes, shops and the region's main tourist business had received a massive setback due to the prolonged agitation. 
Here's a timeline of the recent Gorkhaland agitation
May 16, 2017: West Bengal govt announces Bengali as a compulsory subject from Class 1 to 10 across the state.
5 June, 2017: GJM president Bimal Gurung leads protest rallies against the decision in Nepali-speaking Darjeeling hills for three days.
8 June, 2017: WB Chief Minister Mamata Banerjee clarifies Bengali will be an optional subject in the Gorkha-dominated Darjeeling hills.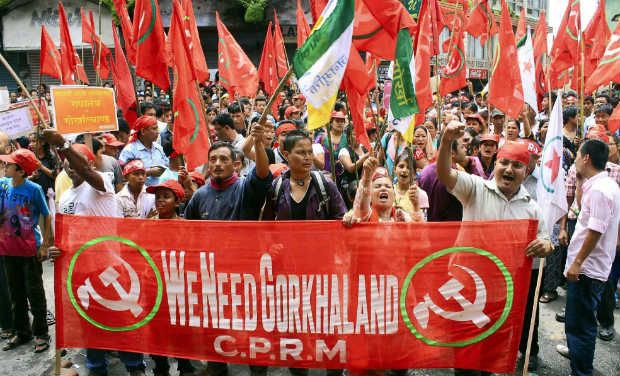 9 June, 2017: Protests continue. Government calls in Army to prevent escalation of protests.
16 June, 2017: GJM supporters set fire to several government establishments in the regions
13 June, 2017: 5 political outfits including BJP adopt a resolution to push for separate state of Gorkhaland.
15 June, 2017: GJM calls for indefinite shutdown in the region.
16 June, 2017: Calcutta High Court calls GJM's shutdown "illegal and unconstitutional."
17 June, 2017: 3 killed, many injured during alleged police firing on the Gorkha protesters.
18 June, 2017: Internet services across Darjeeling Hills suspended.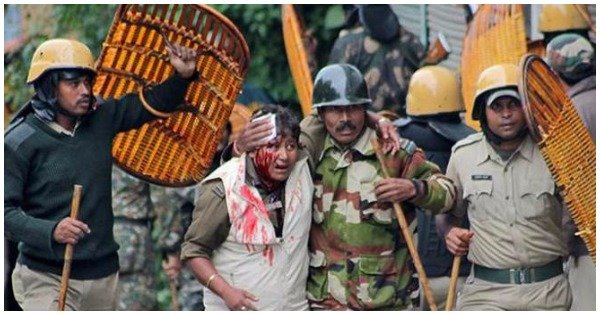 July 7-8, 2017: Fresh violence erupts in Darjeeling and Sonada, leaving three people dead. Protesters also torch iconic Darjeeling Himalayan Railway – a UNESCO heritage site. Mamata Banerjee offers talks if violence stops.
July 9, 2017: Gorkhaland protests reach New Delhi. Supporters of Gorkhaland march from Raj Ghat to Jantar Mantar. GJM rejects Mamata Banerjee's offer of talks.
11 July, 2017: Gorkhaland Movement Coordination Committee announces a fast unto death sit-in from July 15.
13 July, 2017: GJM supporters allegedly set on fire a tourist information office and damage few government vehicles.
13 August, 2017: In a U-turn, Centre tells GJM to enter in talks with Bengal CM over Gorkhaland demand.
22 August, 2017: Cracks appear in the Gorkhaland agitation leadership after the Gorkha National Liberation Front (GNLF) unilaterally seeks talks with WB government.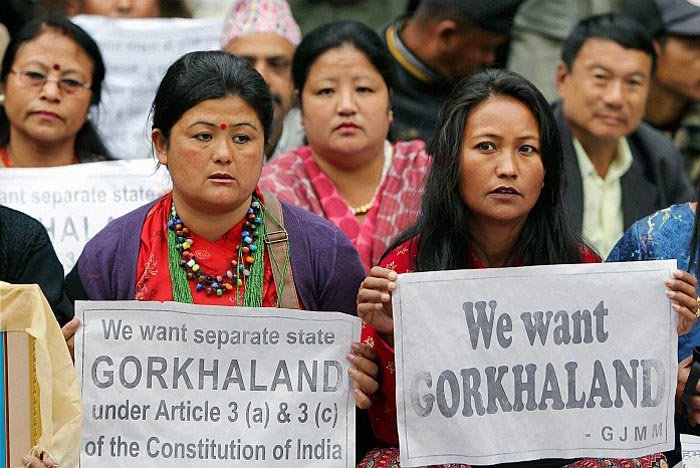 29 August, 2017: Mamata Banerjee calls for a meeting with parties in Darjeeling Hills. Talks fail.
1 September, 2017: GJM suspends indefinite shutdown till next next round of talks with the state government.
12 September, 2017: Even though WB govt. agress to some of GJM's demands, consensus eludes to end the shutdown.
19 September, 2017: Gorkhaland supporters meet Home Minister Rajnath Singh in New Delhi.
26 September, 2017: Internet service in the region restored ahead of normalcy in the region.
27 September, 2017: GJM calls off the indefinite strike more than 100 days after it started in June. 
(Timeline sourced from PTI, The Indian Express, Hindustan Times, The Hindu and FirstPost)
Watch a detailed explainer on Gorkhaland agitation 
Feature image source: PTI/File Photo