Formerly known as the world's heaviest woman, Eman Ahmed was given an emotional farewell on Thursday when she left Mumbai's Saifee Hospital for Abi Dhabi.
Eman's arrival to Mumbai and her subsequent treatment made headlines and so did the controversy sparked by her sister Shaimaa Salem, who alleged that Eman had not received proper care and that the doctors have been making "false allegations" regarding her weight loss.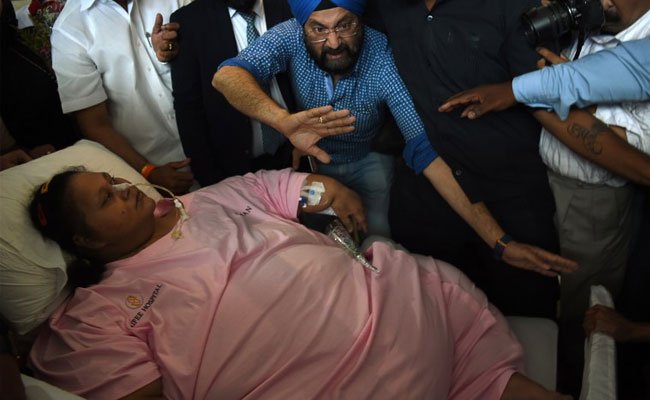 However, Eman's farewell was also marred by a similar spat. 
According to Hindu, just before she could leave, there was a standoff between Saifee Hospital and VPS healthcare, which run the Burjeel Hospital in Abu Dhabi, where Eman is now being shifted to.
(Also read: Singers Roopkumar & Sunali Rathod Entertain Eman Ahmed Before She Leaves India)
The report says that VPS Healthcare demanded that there be a bed-to-bed transfer of the patient, which is a standard international practice when a patient is shifted from one hospital to another and that the responsibility of this is undertaken by the hospital of origin. In this case, Saifee Hospital was expected to make this facility available.
However, Saifee Hospital denied the facility saying that they would only transfer Eman from a wheelchair to a stretcher in the ambulance.
Moreover, Shaimaa refused to sign certain documents that led to a further delay of her discharge. According to Hindustan Times, state health minister Dr Deepak Sawant along with BJP spokesperson Shaina NC had to intervene in order to expedite the process.
On Shaimaa's refusal to sign the legal documents, an argument ensued between Saifee Hospital and her. Times of India reports that during the argument CEO of Burjeel Hospital, Sajir Gaffar said that they were "ready to discharge Eman against the medical advice" of Saifee staff. It was then that the state health minister was called in.
Saifee Hospital has spent over 3 crore on Eman's treatment, which included over Rs 82 lakh being spent on her transportation from Egypt to India. Significantly, Burjeel Hospital will be providing free healthcare to Eman for a year.
Amidst the chaos, the nursing staff who took care of Eman for the last 82 days, bid her a tearful farewell. Showering her with flowers and goodbyes, the staff escorted her in a baby-pink uniform till the hospital exit.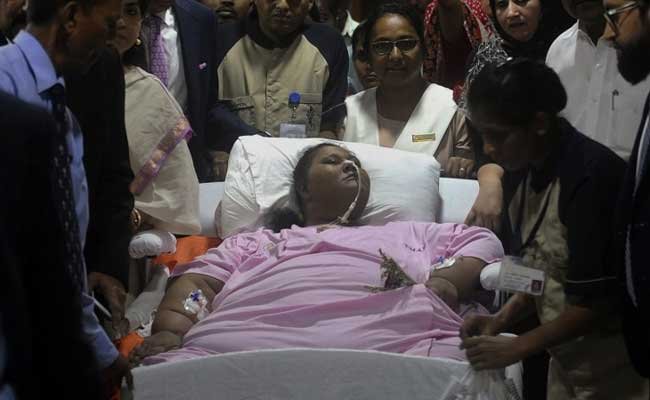 A green corridor was created for transporting Eman from Saifee Hospital to Gate No. 5 of Terminal 2 at the Chhatrapati Shivaji Maharaj International airport. The journey which usually takes an hour would be reduced to 18 minutes because of this corridor.
(Also read: Surgeon Who Quit Team Treating Eman Ahmed Alleges Sister May Be Trying To Abandon Her)
Eman underwent bariatric surgery in March in which doctors reduced the size of her stomach by two-thirds, so as to reduce her food intake. Her genetic tests had shown that she has a rare gene mutation that cannot be cured through surgery. Weighing 498 kg on her arrival, her weight was reduced to 170kg when she left Mumbai.
Shaimaa told TOI said that she was thankful to India for treating her sister but would not like to comment on Saifee Hospital. Dr Lakdawal, on the other hand, said that they all wished good luck to Eman and wished for her speedy recovery.
(Feature image source: AFP)