Indian Navy is going to launch its second ship of the Project 15B, a guided missile destroyer known as 'Mormugao' on September 17 in Mumbai. The Mazgaon Shipyard, which is building the ship will also outsource work for 10 blocks to involve private ship building yard in the programme.
The navy aims to take the level of indigenisation to 68% in this project. It said it has set a target of 2018 for the first indigenous aircraft carrier (IAC) while the government is seriously considering IAC 2 and it is in planning stage.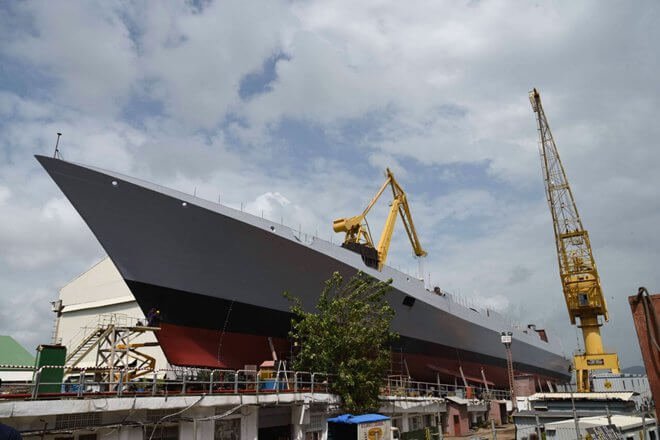 Here are some significant features of 'Mormugao'
1) It is 163 metres long and has a displacement of 7,300 tonnes. It is equipped with 4 Ukrainian gas turbine engines to achieve speeds in excess of 30 knots, that comes to around 56 km per hour.
2) The Project 15B destroyers are designed to operate 4000 nautical miles at sea. There will be 50 officers and 250 sailors on board.
3) In 2011, the government had sanctioned four 15B ships at the cost of Rs 29,700 crores.
4) Mormugao will be equipped with Israeli-designed Multi-Function Surveillance Threat Alert Radar (MF-STAR). It will help in tracking targets in the air from hundred of kilometres away.
5) The best feature of Mormugao is that it is equipped with BrahMos supersonic cruise missile. Targets as far as 300 kms away at sea and at land can be hit.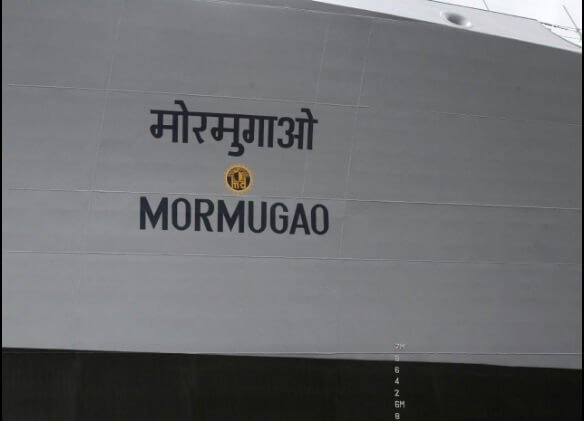 6) The ship will less likely to be detected by radar, because of the absorbent paint used during  during its construction.
7) The propellers are designed in such a way that it will make less noise not allowing the enemy submarines and warships to detect them.
Vice admiral GS Pabby, controller warship production and acquisition said that in last one year the Indian navy has inducted five ships, which includes three warships. Pabby said this is the first time the naval forces have built so many ships of a class, — 10 ships of 15, A and B class – and this process has helped in indigenisation.
The first ship of the project, guided-missile destroyer 'Visakhapatnam', was launched on April 20 last year. During launching ceremony the hull of the ship which is constructed on dry area is floated on water for the first time. It is a milestone event for any vessel.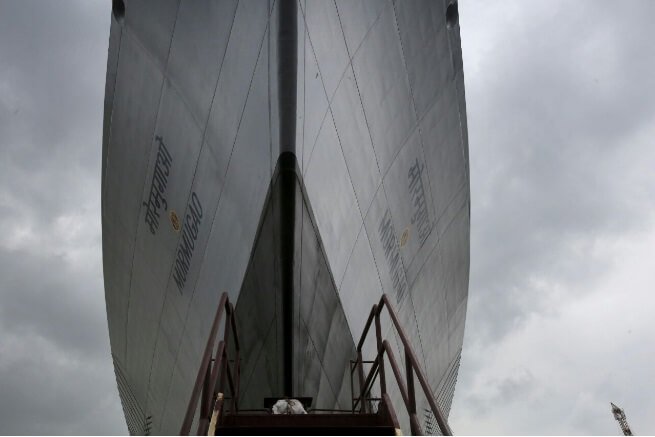 "The last six years can be called the golden years of Mazgaon Dock Shipbuilders. Since 2010, the yard has delivered one major warship platform to Indian Navy almost every year."
"Commencing with the high-end stealth frigate INS Shivalik, delivered in 2010, the yard dedicated to the nation INS Satpura and INS Sahyadri in the same class."
"This was followed by the highly acclaimed stealth destroyer INS Kolkata sporting a unique silhouette afforded by MF STAR antenna and INS Kochi in subsequent years. The third and last destroyer in this series, Chennai was delivered to the Navy in August 2016 and will be commissioned shortly," it said.
MDL is also constructing six Scorpene class submarines for the Indian Navy under a transfer of technology from DCNS of France. The first boat in this class, Kalvari, will be commissioned into the fleet soon. The launch of the second boat is slated later this year.
The yard is now ready with the augmented facility created recently for a second line of submarines.
For the first time in its history, Mazagon Dock in 2015-16 achieved a value of production (VOP) above Rs 4,000 crore with an operating profit of Rs 218 crore.
(With inputs from PTI)