Mukesh Ambani is here with another 'tempting' offer for his consumers after introducing the affordable Jio network–a 4G VoLTE feature phone, named Jio Phone, and a cable TV device was launched on Friday. 
The facility offers life-long free voice calls with dirt cheap data, attempting to woo 50 crore low-income users to his 10-month old Jio.
Addressing the annual meeting of shareholders of RIL, the parent of Jio, Chairman Ambani said the handset will have "an effective price of Rs 0", as buyers will be able to get the device for a one-time refundable security deposit of Rs 1,500.
When will it be available in markets?
JioPhone will be available for user testing in beta form from August 15 and for pre-booking from August 24. "JioPhone will be physically available to those who have pre-booked, on a first come first serve basis, September onwards," Ambani said.
The company will make available 5 million phones every week and manufacture all JioPhones in India from "last quarter of this year", he said indicating that the phones are made by a vendor outside the country.
What are the features of the phone?
Listing the various specifications of the phone, The Economic Times reported that the handset will have an alpha numeric keypad with a 2.4 inch QVGA display and four-way navigation system, among other basic features. 
Digital payment support through NFC will also be a part of the phone.
Affordable plans for users
Voice calling will be free for life along with SMS while unlimited data packs will cost Rs 153 a month on the device. NDTV reported that users can also pay Rs 309 per month for all of these features, plus another interesting feature like mirroring the phone screen on the TV, including CRT TVs.
Ambani also used the 40th AGM to introduce his twin children — Akash and Isha — who were called on to the stage to present features of the phone. The 25-year-old twins also did a live demo of the phones.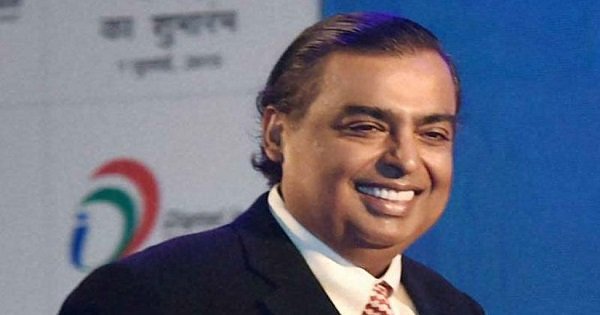 "Reliance@50 will aspire to become — and will certainly become — one among the top 50 companies in the world," he said in the one-and-half hour speech that was punctuated with applause and whistling by those present.
Launching the handset at the 40th AGM meet, The Times of India quoted Ambani as saying, "On the Jio Phone voice will always be free, second, the 50 crore feature phone users don't even have access to basic internet. I believe today every young Indian should have access to information at his fingertips and that is what the Jio Phone enables. To enable a digital life all need access to data at affordable rates. So starting August 15 this year I am declaring digital freedom for all feature phone users. Jio will give them access to unlimited data on the Jio phone," he added.
(With inputs from PTI)
Feature image source: Youtube grab