On Wednesday, it was HRD Minister Smriti Irani who took the Lok Sabha by storm with her emotional speech, dismissing allegations levelled against her and the Centre over Rohith Vemula's suicide.
On Thursday, it was Finance Minsiter Arun Jaitley, who tore into the opposition in the Rajya Sabha justifying the JNU crackdown. Though not as melodramatic as Smriti Irani, he was vociferous and assertive, putting his oratory skills to full use.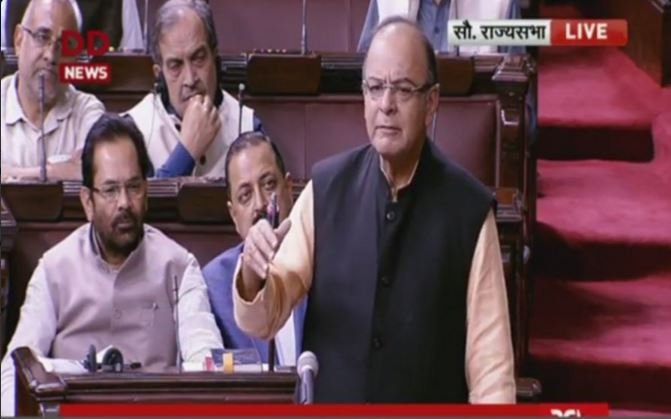 Citing the constitution and quoting Babasaheb Ambedkar several times, he expressed deep disappointment over the way opposition parties are lending credibility and respectability to slogans which talk about the breaking of India.
Here are the highlights of the 40 minute speech: 
Opposition giving respectability to those whose primary ideology is that they want to break this country.
System went out of the way to accommodate a person who blasted the city of Bombay and killed hundreds of people. 
After 6 to 8 rounds of SC hearing, how can you call it a judicial killing of Afzal Guru & Maqbool Bhat?
Nobody wants to campaign against a campus (JNU) which produced many scholars.
No academic freedom will ever be in peril in this country
What happened at Patiala House is condemnable. However, for the opposition, vandalism is condemnable but sedition is free speech. 
You can't condemn Yakub Memon and Afzal Guru's hanging on one hand and link it to Babasaheb's struggle on the other. Afzal Guru's wasn't exactly known for his struggle towards egalitarianism like Babasaheb. 
Can hate speech ever be free speech? Obviously it can't be.
Does free speech mean you have the right to break this country into pieces and there'll be war till such time it happens?
Who lives if India doesn't survive?
In Chhattisgarh, the maoist killed 73 CRPF jawans and everybody wanted Chidambaram, the then home minister to resign. I said why he should not resign because the moment he resigns, he gives them a sense of victory. 
If we have to fight separatist forces in J&K, the national parties will have to work with the mainstream parties of J&K be it NC or PDP despite the ideological differences.
What does the police do when if in the heart of Delhi, slogans are being raised about breaking India and the police shouldn't do anything?
Just because the West Bengal elections are round the corner doesn't mean that the Congress will now take a stand that you should never enter a university campus even if there are slogans of breaking this country.
A university campus is not a sovereign territory. JNU is part of India, so penal code applies.
Please don't by getting into side lanes camouflage this grave offence which was taken place.
Congress lost a PM of their party who lost his life to terrorism, they should in fact be more vigorous in their condemnation 
(Feature Image Source: PTI)