Continuous unrest and protests are leading to a crushing impact on schools in Darjeeling, where thousands of boarders from countries like Bangladesh, Nepal and Thailand come to study and are now caught in curfew-like situation.
On Wednesday, the Gorkha Janmukti Morcha (GJM) which is spearheading the protests gave a 12-hour window to some 23 schools in Darjeeling hills to evacuate students.
Strike in Darjeeling forces 528 boarding students of 128-year-old St. Joseph's School to stay on campus,day scholars unable to attend school pic.twitter.com/vAHv7XKOiF

— ANI (@ANI_news) June 21, 2017
Schools are worried not just about the depleting food stocks but also about sending boarders back home with scheduled vacations starting from June 23.
School authorities told the media that telephones have been ringing with anxious parents inquiring about the well-being of their children studying in schools in violence-hit Darjeeling.
Father Shajumon, rector of St Joseph's, North Point told Indian Express, "We are worried about how to send children home once the vacation starts. We have to plan an evacuation soon. I have been receiving many frantic calls from parents ever since trouble started. Day-scholars have also stopped coming."
The rector further told The Times of India that examinations are in progress and three sets of question papers have been prepared for emergencies. 
"We are trying to conduct examinations for the boarders as per schedule and they will end on June 23. However, we are keeping our fingers crossed. If the bandh is not called off soon, the students may have to be evacuated to Siliguri," he said.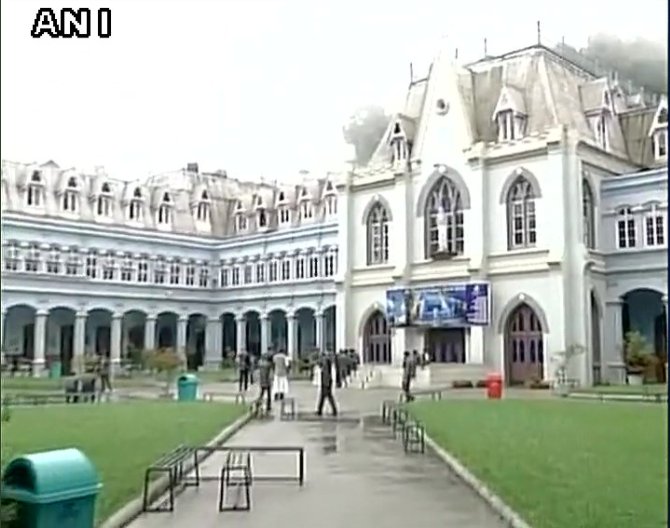 Amid such chaos, GJM leader Binay Tamag told PTI, "The students will be allowed to go to Siliguri and Rongpo only in school buses. The indefinite shutdown will continue. Only the students will be allowed to leave safely."
The city has faced this problem in the past too and school authorities fear it could become worse.
The demand for Gorkhaland has intensified many times in past too, like in the 80's and 2013 when it turned violent.
Robindra Subba, Director of  Himali Boarding School in Kurseong told Indian Express that after the agitation in 2013, they saw boarders and day-scholars dropping out. It took them four years to get back to full strength.
He fears that such agitations will spoil the hill station's reputation as a destination for good education.
(Feature Image Source: Twitter)