Sachin Tendulkar knows a thing or two about records. He started off early — breaking records in school cricket, then club cricket, before moving on to make international cricket look easy.
But even then, his first taste of fame came in the Harris Shield tournament in Mumbai. In February 1988, Shardashram's Tendulkar and Vinod Kambli went berserk in the semi-finals of the tournament, an inter-school competition, and put on a legendary 664-run stand.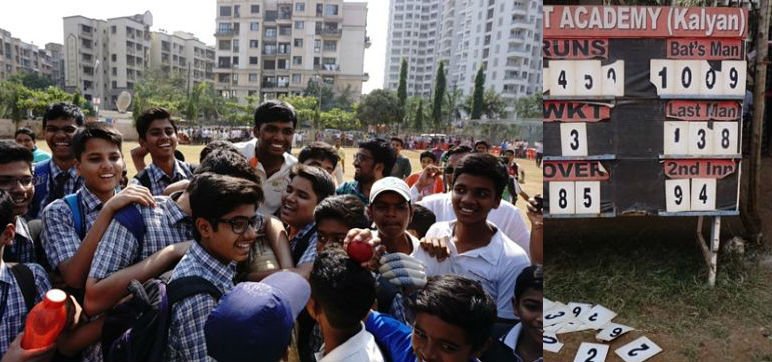 History will tell you that Kambli (349) outscored Tendulkar (326) but this was also the moment when word of his talent finally escaped from the confines of Mumbai's inter-school world. This was the moment, cricket connoisseurs around the world made a note in their diaries under the section 'Keep An Eye On.'
Today, when Pranav Dhanawade scored 1009 not out — one couldn't help but wonder whether this was his 'Tendulkar moment'; the moment when the world, for a brief moment, dropped everything and paid attention to him.
He was batting against Arya Gurukul School in a Bhandari Cup match and reached 1000 runs in just 323 balls on Tuesday. The tournament is an under-16 inter-school event organised by the Mumbai Cricket Association (MCA) mainly for the benefit of suburban schools.
While the attention will help — the Maharashtra government has announced it will look after the education and coaching expenses of the schoolboy, since his father is an auto rickshaw driver. But this will also mean that he will have to bear the burden of expectations at a very young age.
In a sense, Tendulkar was lucky too. He was brilliantly talented but at every step he was greeted with success – he scored a century on his debut in Ranji Trophy, Irani Trophy and Duleep Trophy. No one before or after him has managed the unique distinction.
But if nothing else, it should also alert Pranav to the difficulty of the task ahead. We have seen enough young prodigies come and go; we have seen even more disappear without a trace after one shining moment of genius. However, to keep playing consistently at a high level needs more than just luck. It needs an immense level of hard work and dedication.
Pranav has our attention now and Tendulkar chipped in with some valuable words in the form of a tweet. 
Congrats #PranavDhanawade on being the first ever to score 1000 runs in an innings. Well done and work hard. You need to scale new peaks!

— sachin tendulkar (@sachin_rt) January 5, 2016
These are words he should take to heart and keep telling himself that his job is far from done.