As Prime Minister Narendra Modi and his Japanese counterpart Shinzo Abe on Thursday launched the Ahmedabad-Mumbai bullet train project in Gujarat, a group of farmers from Boisar in Maharashtra's Palghar district protested against the project fearing acquisition of their lands.
The tribals and farmers affiliated to 24 organisations across Maharashtra and Gujarat have joined forces to oppose the Modi government's projects such as the Delhi-Mumbai Industrial Corridor (DMIC), the freight corridor, Mumbai-Ahmedabad bullet train and the Mumbai-Vadodara expressway, reports Hindustan Times.
The farmers held a demonstration outside Boisar railway station in Palghar. Kaluram Dodhade of Bhoomi Sena, who took part in the protest, told PTI, "There are mostly small farmers in Palghar and if their lands are acquired for the project, they will be ruined."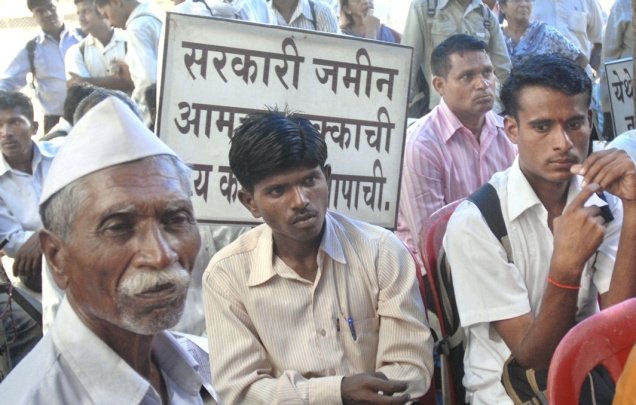 The protesters also alleged that the BJP-led government was going ahead with the project without taking the farmers into consideration. 
Palghar DSP Majunath Shinge asserted that the protests didn't get out of hand, "It was a symbolic protest and there was no law and order situation," he said.
Meanwhile, Palghar district collector Prashant Narnavre said the agitation was carried out peacefully.
Last month, the 24 organisations submitted a joint memorandum of their protest to the Prime Minister's Office (PMO). "While all these projects are being proposed, the cumulative effect of multiple projects in close proximity to one another will result in the physical, social and cultural upheaval of communities that live in relative symbiosis with nature. To understand the extent of destruction and upheaval it is necessary to view the multiple proposed projects not as individual separate projects, but as a composite whole," read the memorandum.