Even if you had your internet switched off all day to avoid the Game of Thrones season finale spoilers, there is no way you missed this news.
Lionel Messi is 'done' with Argentina. 
Messi sensationally announced his international retirement leaving Argentinian football in turmoil after a traumatic penalty shootout defeat to Chile in the Copa America final.
The heartbroken Barcelona superstar left the field in tears on Sunday after missing a spot-kick in the shootout — Messi's fourth straight defeat in a major final with Argentina.
The crestfallen 29-year-old told reporters: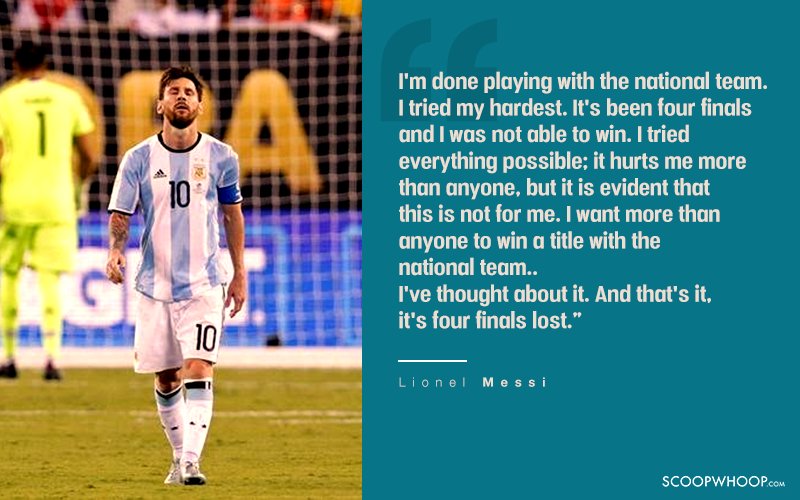 Manchester City star Sergio Aguero warned that other players could also quit the national side:
We were all devastated in the dressing room, particularly Leo, I'd never seen him in such a state. It's likely that Messi won't be the only one to go into international retirement. Several players are wondering whether to continue. It's our toughest defeat to take.
Aguero did not say whether he would follow Messi in quitting but his name and that of Javier Mascherano were mentioned in media reports.
Social media campaigns were immediately launched in Argentina in a bid to get the superstar to change his mind.
The hashtags "NotevayasLeo" — Don't go Leo — and "Messiquedate" — Messi stay — spread quickly in the fallout.
Messi's dramatic announcement followed Argentina's third loss in a major final in three years.
They were beaten 1-0 by Germany in the final of the 2014 World Cup and lost on penalties, also to Chile, in the 2015 Copa America final.
Messi also tasted defeat with Argentina in the final of the 2007 Copa America.
Despite a glittering career that has seen him named FIFA World Player of the Year five times, Messi has faced persistent sniping from critics in Argentina.
While universally regarded as one of the greatest footballers ever, he has regularly been targeted for his inability to land a major title with Argentina.
Messi's failure to match the achievements of Diego Maradona, who single-handedly carried the team to victory in the 1986 World Cup, has often been held against him.
Chile coach Pizzi said comparisons with Maradona were unfair.
"My generation can't compare him with Maradona, because of what Maradona did for Argentine soccer," Pizzi said. "But it seems that the best player in history played in the United States. For me the numbers are impossible to argue with."
Maradona has often taken potshots at Messi, criticizing him on the eve of the tournament in the United States for a perceived "lack of personality."
"He's a really good person, but he has no personality," Maradona said this month on the sidelines of Euro 2016.
"He lacks the character to be a leader."
ESPN Argentina now confirming Agüero and Mascherano "retirements"… also Lavezzi, Biglia, Higuain, etc. in the coming hours to days.

— Juan G. Arango (@JuanG_Arango) June 27, 2016
Messi's bombshell decision comes after a gruelling season disrupted by injury last year. Although he was injured for his team's opening group game against Chile, he came on as a substitute in a 5-0 hammering of Panama to score a hat-trick in 19 minutes.
He then equalled Argentina's international goalscoring record of 54, held by Gabriel Batistuta, in the quarter-finals before setting a new mark with his 55th international goal in the semi-final win over the United States.
But if reports are to be believed, "winter is coming" for Argentinean football!
With AFP inputs