Imagine this: You scroll down your Twitter timeline, stumble upon an image you find funny (depending on your political affiliations), retweet it with a careful rejoinder that it could well be fake and move on to other things in life. A day later, some leaders with political power and clout are baying for your blood. Next, you are even a matter of investigation by the union minister.
Sounds like a nightmare? This is how it must have unfolded for CNN-IBN journalist Raghav Chopra, who is under fire for sharing on Twitter a morphed photo of prime minister Narendra Modi.
The picture in question is a photo-shopped version of an old photograph of Modi touching the feet of senior BJP leader LK Advani. In the morphed picture that was widely circulated on the social media a few days ago, Modi appears to be touching the feet of the Saudi King. It hit the social media in the wake of Modi's Saudi Arabia visit.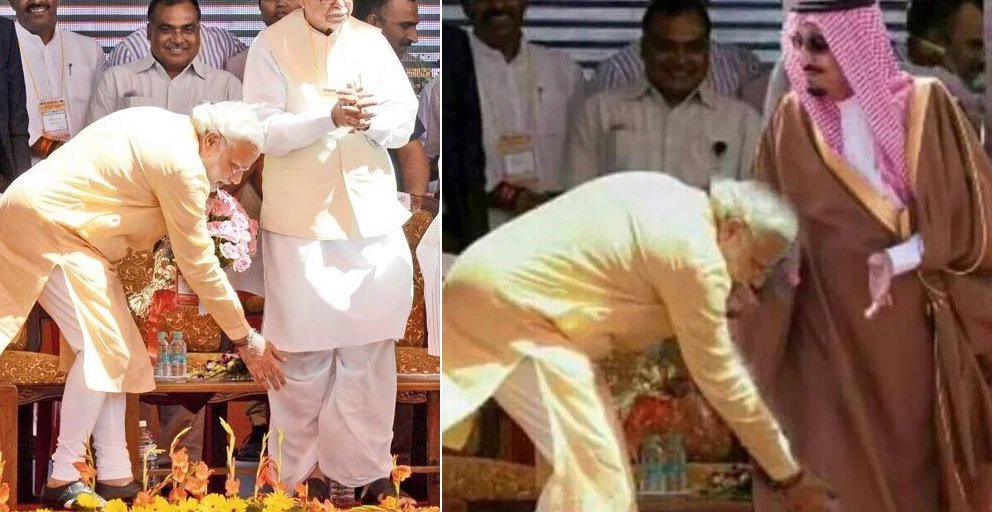 Indeed, to take the image at its face value is stupid, as PM Modi is unlikely to do such a thing. In this case, however, the journo wasn't convinced of the image's authenticity either, hence the rider in his tweet – "Will someone tell me what's Modi ji doing in Saudi. Can't be what it looks like surely."
Firstly, the government's handling of the issue shows it's a bad sport. If BJP lawmaker Maheish Girri took an extreme reaction to the tweet when he took up the matter with an authority no less than Union Minister for Information & Broadcasting Rajyavardhan Rathore, the latter's promise to "review the tweet for violations" had us stumped. There was also a police complaint lodged against Chopra.
So probably, the law will deal with Chopra now.
But, to be called stupid for the act is one thing, to be booked for it another. And to be lynched for it and have your character assassinated over it repeatedly, is something else entirely.
Since his fateful tweet on Sunday, Chopra has been literally lynched on the social media. A simple look at his Twitter profile, which he 'protected' after the row, will tell you that he is being bashed up and abused in the virtual world.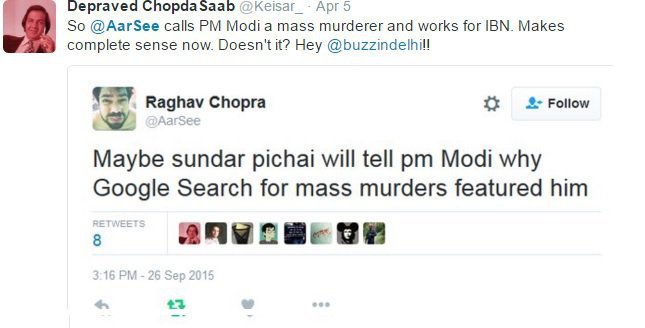 If comments calling him a "Dalal" or "pig" aren't enough, users are digging out his past tweets in which he has criticised Modi and presenting them as evidence to the world that Chopra is just another "presstitute" who should be driven away out of social media and, hopefully, his profession.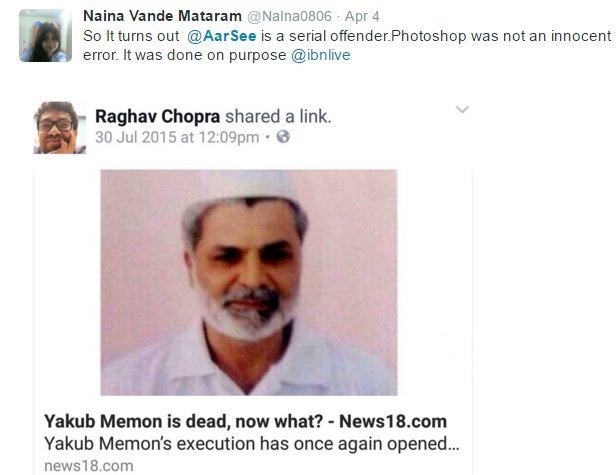 This sort of lynching is akin to trial by public. And if abuse is the criteria for booking someone for a tweet, then trolls qualify it too. This is scary, and should alarm every user of the social media. 
Not to forget the fact that what Chopra did doesn't exactly merit this extreme a reaction. Simply because morphed images are abundant on the web. Doctored videos of JNU were far more damaging, but those didn't face such outrage. We have had Modi's morphed images sweeping the floor (that told us of his humble beginnings), and of him looking out of the aircraft to a surprisingly clear view from the plane's window – tweeted by the Press Information Bureau no less. So the one shared by Chopra shouldn't even raise brows. There is no reason really to laugh off these two cases but treat Chopra's image as criminal.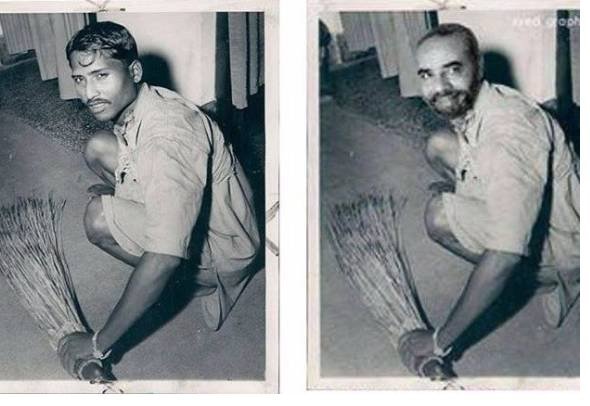 Given how the BJP and their 'trolls' are all over the social media, abuse can reach monumental levels. Well-known journalists like Barkha Dutt, Rajdeep Singh and Sagarika Ghosh have spoken about the trauma in the past.
Here, the BJP's social media strategy also contradicts its own stand. 
Paritosh Vyas, 47, who is a former national co-convener of the BJP's IT cell, told ScoopWhoop last month that if the trolls get it wrong, it isn't a big deal. In his own words, "To hell with mistakes. They happen on social media all the time. But after one day who will remember what was said. The most important thing at that point is to back our view."
Mistake, eh? But to abusers, Raghav Chopra's tweet is certainly not a mistake, it is threat to nationalism.