A 12-year-old Assamese girl has  written a letter to Prime Minister Narendra Modi requesting him to include the history of seven states in India's northeast, a report in Northeast Today says. 
Struck by the absence of history about her state and other northeastern states in her textbooks, Aaira Goswami – a student from Assam studying in Jaipur – decided to write a letter to PM, urging him that "all Indian children need to know Assam and the northeast's glorious history."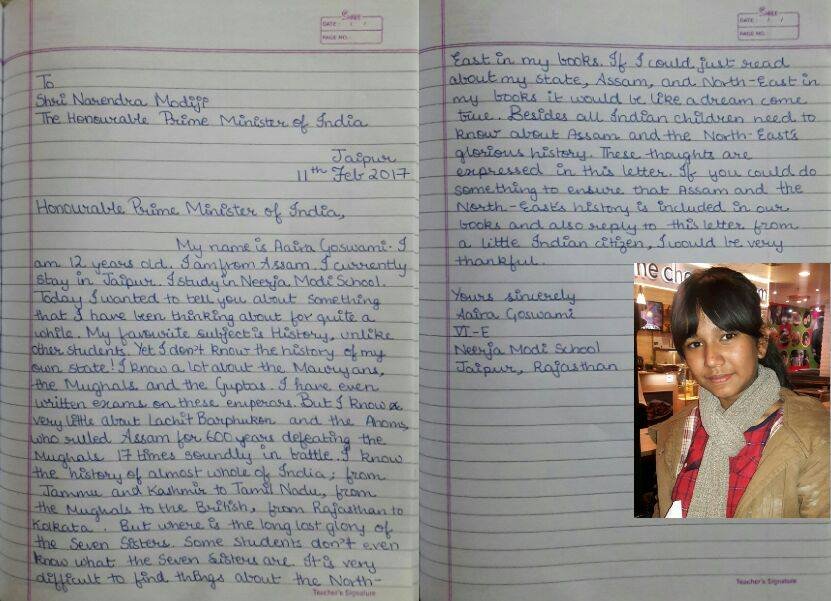 "…I know the history of almost whole of India; from Jammu & Kashmir to Tamil Nadu, from Mughals to the British, from Rajasthan to Kolkata. But where is the long lost glory of the seven sisters. Some students don't even know what the seven sisters are. It is very difficult to find things about the Northeast in my books. If I could just read about my state, Assam, and Northeast in my book it would be like a dream come true," reads part of Goswami's letter, published in entirety by Northeast Today.
"My favourite subject is history, unlike other students. Yet I don't know the history of my own state! I know a lot about the Mauryans, the Mughals and the Guptas. I have even written exams on these emperors. But I know very little about Lachit Borphukon and the Ahoms who ruled Assam for 600 years defeating the Mughals 17 times soundly in battle," the letter reads. 
Pleading before the PM as a "little Indian citizen", Goswami expects a reply from PM Modi writing "if you could do something to ensure that Assam and the Northeast's history is included in our books and also reply to this letter from a little Indian citizen, I would be very thankful."
Feature image source: ScoopWhoop/NorthEast Today